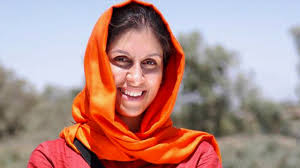 On a warm day last April, Nazanin Zaghari-Ratcliffe dressed her toddler Gabrielle, kissed her parents goodbye, and set off to catch her flight back home to London.
She never made it.
Instead, Islamic Revolutionary Guards apprehended the then-37-year-old at Tehran's Imam Khomeini airport and transported her to Iran's infamous Evin prison, where prisoners are routinely tortured and women subjected regularly to sexual abuse and rape.
In September, the dual British-Iranian citizen, who had been visiting her parents in Tehran before being apprehended, was sentenced to five years imprisonment on vague "national security charges."
To date, no evidence has been produced to substantiate the charge. Her family believes it stems largely from her work as an executive with the Thomson-Reuters Foundation, whose mission, to "stand for free independent journalism, human rights, and the rule of law," is not wholly compatible with the Iranian regime. Employees of charitable organizations are also a frequent target of Iranian officials, who often accuse them of being spies.
In the meantime, her daughter, who has British but not Iranian citizenship, remains with her grandparents, while Zaghari-Radcliffe's British husband, Richard Ratcliffe, continues to fight from the UK for her release.
Iranian arrests of dual-nationals are not uncommon – the current government does not recognize the second nationality of its citizens – and arbitrary arrests on trumped-up charges of spying are a signature of the regime. In addition, women, both Iranian and dual-nationals, increasingly are being targeted as they speak out against the misogyny of their rulers. As the Women's Committee of the National Council of Resistance of Iran (NCRI) observes, "Under the mullahs' rule in Iran, women are supposed to stay home and therefore, having any kind of political or civil rights activity is considered a serious crime for women and evokes greater retaliation by the government."
Zaghari-Ratcliffe has felt that retaliation. For nine months, she withstood agonizing conditions in solitary confinement: "Every day and every second I would submerge more and more in an ocean of doubt, fear, threat, loneliness and more than anything mistrust," she wrote in a letter to her husband earlier this month. "... My wails would go unheard in that tiny, dingy, cold, grey cell ... In solitary, there was a moment when I realised that there is a level of pain that I hadn't experience before, a pain thousands of times longer, more overwhelming than child birth, without a happy ending."
But prison conditions for women, who endure the same forms and level of torture as male prisoners, can be even more horrific. They are raped, groped, and subjected to other forms of sexual abuse. Their genitals may be forcibly subjected to invasive "searches."  Even their fellow female prisoners can pose a threat: except at Evin, where prisoners are segregated according to the nature of their crime, women prisoners are held together regardless of the charges against them. Consequently, political detainees can be housed "amongst ordinary and often dangerous inmates," the NCRI reports.
But Evin, where most political detainees are incarcerated, is in every other way far worse than most other prisons. Women are thrown immediately into solitary confinement, where they will remain for months before being released into an overcrowded, vermin-infested women's ward. And it is at Evin that some of the most horrifying torture takes place, particularly against political prisoners. The NCRI report describes women detainees hung by their hands and feet, subjected to repeated cigarette burns, and suffering beatings severe enough to cause internal bleeding. They may be threatened with rape or execution and, as at all Iranian prisons, denied communication with family or even an attorney.
Conditions are even worse at Qarchak Women's Prison, where a single hall holds 600 beds for 2,000 prisoners, most of whom therefore sleep on the floor, according to Al-Arabiya. In addition, the NCRI notes, "there is no good drinking water. The prisoners who [can] not afford to buy mineral water have no option but to drink salty water." And regular inspections of women's genitals in the name of "security" can be violent, resulting in severe injury. Those who dare protest are subjected to physical torture, or placed in solitary confinement with a "psychologically disturbed prisoner," reports Al-Arabiya.
Added to this are the abysmal physical conditions of women's prisons overall, which receive a miniscule portion of the overall prison budget. Most are therefore situated in repurposed warehouses and other abandoned buildings. Some lack walls or roofs. At others, AIDS, hepatitis, and other infectious diseases are rampant, the possibility of contamination made worse by lack of ventilation in the wards.
Yet despite the disease, the abuse, and the injuries that result, political prisoners – male or female – are generally denied access to medical care. Some have gone blind as a result of their treatment. At Evin, Zaghari-Ratcliffe reportedly is having trouble walking, considered suicide, and recently collapsed when finally permitted to visit the prison clinic.
None of this is particularly new. Iran has a long history of abusive treatment of women prisoners, reaching back to the 1980s when virgins were routinely raped before being executed, a practice that became "systematic," according to the British Foreign Policy Centre. Often, such rapes were justified on religious grounds, based on Quranic verses that describe virgins as inherently innocent. In other cases, female political prisoners were married off to their jailor rapists or even lawyers in exchange for avoiding execution. Such practices continued, according to several reports, well into the 1990s and later.
Moreover, the misogynistic nature of Iranian society makes women especially vulnerable to psychological torture. The Foreign Policy Centre report describes a history of women forced to choose between "confessing" to promiscuity, describing often invented details of their sex lives to their families or even on television, or serving sentences for political crimes they had not committed. Given the possible repercussions women can face for sexual promiscuity – honor killings among them – many have chosen prison. Those who do not, frequently now live, even after their release, in continued fear of the vengeance of family and community.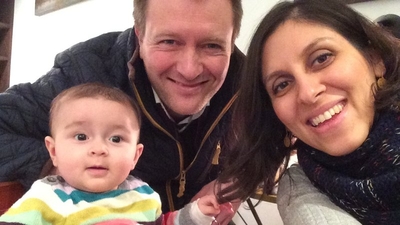 Nazanin Zaghari-Ratcliffe and family.
Yet even these kinds of choices do not seem to have been made available to Zaghari-Ratcliffe, whose husband
provides continuing reports
online on her condition. Moreover, because Iran does not recognize her British citizenship, she has had no access to UK consular services, and the British government can do little to help her. Diplomatic pressures may not matter anyway. In 2011, Iran
executed
a Dutch-Iranian woman despite assurances to the Dutch government that her life would be spared.
Nonetheless, in her March 14 letter to her husband, Zaghari-Ratcliffe described her determination to fight back, despite "my shattered dreams and their broken, empty promises....We shall overcome this pain. Today freedom has got one day closer."
Abigail R. Esman, the author, most recently, of Radical State: How Jihad Is Winning Over Democracy in the West (Praeger, 2010), is a freelance writer based in New York and the Netherlands. Follow her at @radicalstates.