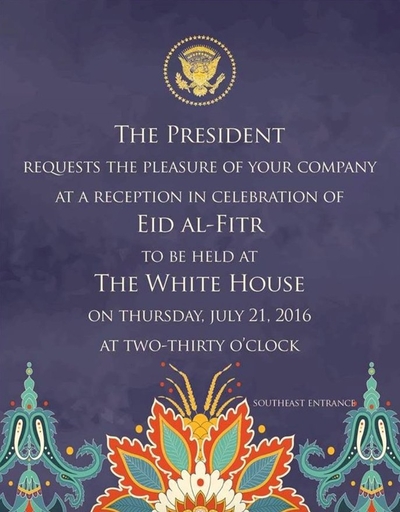 The White House held a celebration Thursday afternoon to honor Eid al Fitr, the end of the Muslim holy month of Ramadan. While no guest list has been made public, the Investigative Project on Terrorism (IPT) has learned that it includes a number of Islamist activists who have espoused views in direct contrast with American policy.
Among them were several officials from the Council on American-Islamic Relations (CAIR) and a former official who remains close to the organization. In contrast, Muslim Americans who believe CAIR and other Islamist groups are not representative of the community's diverse viewpoints were not invited.
The White House declined to comment to the IPT or release a complete list of invitees.
The inclusion of so many CAIR officials shows that the United States government has wildly different views about the organization.
FBI policy since 2008 prohibits engagement with CAIR, which touts itself as "a grassroots civil rights and advocacy group" and the country's "largest Muslim civil liberties organization."
But the FBI cut off CAIR's access after its agents uncovered CAIR's darker history. Internal documents and eyewitness accounts prove that CAIR was born into a network of Muslim Brotherhood-created support groups in the United States. Each branch of that network, known as the "Palestine Committee," shared a mission of boosting the Islamist movement in general and Hamas in particular.
Until it determines "whether there continues to be a connection between CAIR or its executives and HAMAS, the FBI does not view CAIR as an appropriate liaison partner," a senior official explained in writing in 2009. [Emphasis added]
Here's what federal prosecutors privy to the same evidence wrote in 2007:

CAIR has tried to ignore or minimize these statements. But it has never acknowledged the connections to the Hamas support network or ever tried to claim that it has evolved since then and no longer pursues its original secret agenda. It has had only one executive director in its history, and he was listed in a roster of the network's members (see No. 25, Nihad Awad).
Despite this wealth of evidence, Thursday's Eid celebration shows that the message to CAIR is a little different at the Obama White House: Come on in!
At least four CAIR officials were invited. Among them, a man who called the 2008 war between Israel and Hamas in Gaza a "genocide" and who likens the Israeli Defense Forces (IDF) to ISIS, and a man who accuses the FBI of setting up innocent Muslims and of cold-blooded murder.
In addition, Ahmed Bedier, a former CAIR official in Florida who continued to raise money for the organization as recently as 2014, posted links to videos from the event on Twitter Thursday afternoon.
Honoring a holiday celebrated by several million Americans is fine. But the Obama administration's insistence on inviting – thereby empowering – radical Islamist voices like the CAIR officials included Thursday overlooks the work and conclusions of its own career agents and prosecutors.
Once again, the White House guest list omits any members of the fledgling Muslim Reform Movement. That movement, representing more diverse opinions and arguably a more representative face of American Muslims, published a declaration that should be embraced by people of all stripes. It is worth reading in its entirety, but its preamble says they are fighting for "a respectful, merciful and inclusive interpretation of Islam" and clearly rejects "interpretations of Islam that call for any violence, social injustice and politicized Islam."
In addition to explaining what they reject, the reformists articulate what they stand for. "We are for secular governance, democracy and liberty. We are against political movements in the name of religion. We separate mosque and state. We are loyal to the nations in which we live."
Someone needs to explain why that message can't get a seat at the table.
"The saddest thing is not only the complete monopoly and dominance of American Islamist groups in the [White House] Eid celebration invitation," Reform Movement member Zuhdi Jasser told the Investigative Project on Terrorism, "... but imagine how insulting it is that the [White House] also includes representatives of all the 'petro-Islam' and [Organization of Islamic Cooperation]'s 'neo-caliphate' tyrannies from Embassy Row. So the nations like Saudi Arabia, Qatar, Egypt, Afghanistan, and Pakistan who imprison, torture, and assassinate Muslim reformers like us are honored and invited down the red carpet along with their choir of American Islamist lobbyists (as Asra Nomani calls them: the #HonorBrigade) and yet genuine, honest free-thinking American Muslim reformers are completely ignored and blackballed. This has been the SOP for the Obama administration for now over 7 years. Their 'Muslim' related policies are dominated by the Islamist mafia at home and abroad. The Obama administration and their friends on the Left claim to be about diversity yet when it comes to diversity it's all about racial and ethnic diversity and no ideological diversity within the House of Islam."
The ideology two CAIR officials brought to the White House is inherently hostile toward U.S. policy.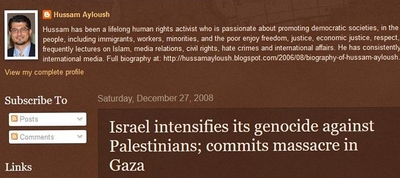 In addition to comparing the IDF to ISIS, CAIR Los Angeles Executive Director Hussam Ayloush repeatedly accused Israel of committing genocide and a holocaust against Palestinians in Gaza. These accusations seem to redefine what constitutes a genocide or holocaust, since Gaza's population is increasing steadily.
Ayloush also reacts similarly to most CAIR officials when asked about Hamas, the beneficiary of support from the American "Palestine Committee" to which CAIR was born. He refuses to acknowledge Hamas as a terrorist organization and quickly grows angrily defensive.
Hasan Shibly, Ayloush's Florida counterpart, returns to the White House for at least the second time since December, when he was included in a discussion on religious discrimination. Like Bedier, he posted video from the event on his Facebook page Thursday afternoon, also showing Ayloush with him.
In the video, Shibly says the White House event triggered debate, since U.S. military strikes in Syria killed civilians. Ayloush, Shibly said, planned to deliver a letter "about the atrocities in Syria" to Obama. "Right now U.S. drone strikes – they're the biggest creators of terrorism in the Middle East," Shibly said.
That, presumably, means Shibly thinks drone strikes create more terrorism than ISIS.
Shibly said he and his colleagues also planned to criticize "consistent abuse by the FBI" and Customs and Border Protection "against the American Muslim community," saying Muslim activists are harassed and accusing the FBI of "brainwash[ing] mentally disturbed youth to plan terrorist plots so they can justify the continued surveillance of the community."
The White House embrace comes despite the fact that Shibly is helping a family sue the FBI, for allegedly shooting a Muslim without cause. Agents shot and killed Ibragim Todashev, a "skilled mixed-martial arts fighter," after hours of questioning in 2013 tied to an unsolved triple murder. Todashev also was a friend of Boston Marathon bomber Tamerlan Tsarnaev. After reportedly acknowledging some involvement in the murder case, agents say Todashev attacked.
CAIR asked for independent investigations. But after two reviews found no wrongdoing, Shibly refused to accept the outcome. He also accused FBI agents of shooting a Detroit imam in 2010 after he had been "tied and bound." Separate independent investigations and an actual video of the shooting showed this was not remotely true, but Shibly repeated the smear anyway.
He also defended a terror suspect who was arrested after loading what he thought was a bomb into his car. Sami Osmakac repeatedly expressed interest in violent jihad and dreamed of carrying out a "second 9/11."
"I want to do something," he said. "Something terrifying." Before his arrest, he made a martyrdom video in which he called his attack "payback for Sheikh Osama Bin Laden."
Still, Shibly cast Osmakac as a man who posed no threat to the public and blamed the FBI for setting him up.
He gets the White House invitation – again, at least his second – but Jasser and his fellow reformists are shut out. The imprimatur that accompanies an audience with the president of the United States can be used for tremendous good. It can raise new voices to prominence, and it can stimulate much-needed debate. The Reform Movement declaration, for example, specifically emphasizes the rights of women to equal treatment.
Instead, President Obama and his staffers continue to tip the scales to favor the most monolithic, pro-Islamist voices and protect the monopoly they enjoy on public debate.
It is beyond shameful.