In the wake of Sunday morning's devastating and monumental Islamist terrorist attack that killed 49 men and women at a gay nightclub in Orlando, the Council on American-Islamic Relations (CAIR) convened a news conference to condemn the bloodshed.
It posted excerpts, presumably the parts CAIR most wants people to see, on YouTube.
It marks yet another missed opportunity for American Islamists to engage fellow Muslims in a debate about their faith's more incendiary commands. Instead, CAIR and the other assembled speakers spent more time telling non-Muslims what to think. Several speakers also seemingly contradicted one other regarding Islam's view of homosexuality.
"Homophobia, transphobia and Islamophobia are interconnected systems of oppression. And we cannot dismantle one without dismantling the others...," said CAIR co-founder and Executive Director Nihad Awad.
Saif Inam of the Muslim Public Affairs Council was more impassioned.
"To the LGBTQ community, let me be very clear. The American Muslim community stands with you. We are your allies" who "stand shoulder to shoulder with you."
Two other speakers, Naeem Baig of the Islamic Circle of North America, and Abu Nahidian of Virginia's Manassas Mosque, referenced Islam's prohibition on homosexuality, though they said that it did not justify violence against gay people.
"Our issue here is not about the LGBT community. It is totally un-Islamic to do such a ghastly act, and not to mention the level of aggression and violence that followed," Baig said, quickly pivoting to his concern that the slaughter at the Pulse nightclub reflects poorly upon Muslims: "It brings total chaos in society and Muslims now would have to undeservedly carry this crime on their heads."
Nahidian compared gays and lesbians to drunks and people who consume pork. Islam prohibits many activities, he said, but "that does not mean that we have to go ahead and attack every bar because we are against drinking, every supposedly, grocery store because we are against the porks and eating that. Go ahead and attack all kind of areas that it is against our religion. No. We have to live with the people and we have to dialogue only and talk. We are not allowed to take arms against anyone."
Terrorist Omar Mateen's father echoed the message in a statement early Monday. "God will punish those involved in homosexuality," he said, adding it is "not an issue that humans should deal with."
Nahidian, meanwhile, stands out as an odd representative for an event aimed at enhancing the image of Muslims in America. He maintained close ties with Iran, and during a 2010 anti-Israel rally in Washington's Dupont Circle, he insisted the 9/11 attacks were "not done by Muslims. It is done by the plot of the Zionists in order to justify to occupy the land of the Muslims such as Afghanistan, such as Iraq, such as Pakistan, now moving on to the rest of the areas. They plot and they scheme and no doubt God is plotting and scheming against them too."
Another speaker included at the CAIR event, Kristin Szremski, represents the vehemently anti-Israel group American Muslims for Palestine (AMP). Several AMP officials and speakers have direct ties to a U.S-based Hamas support network, the Investigative Project on Terrorism first reported last year. Internal records reveal that CAIR was part of that network, known as the Palestine Committee, and Awad was listed as among its members.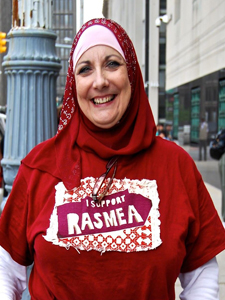 Szremski also is a prominent and vocal advocate for Rasmieh Odeh, the Palestinian woman convicted in a 1969 terrorist attack in Jerusalem that killed two college students. Odeh and an accomplice have publicly discussed their roles in the attack.
Meanwhile none of the speakers mentioned that attacks targeting gay people – often by throwing them off the tops of buildings – are frightfully common in areas controlled by ISIS, the group to which Mateen pledged allegiance during his slaughter.
Awad said ISIS claims to speak for Islam, but "the 1.7 billion [Muslims in the world] are united in rejecting their extremism and their interpretation and their acts and senseless violence."
The evidence says otherwise.
In 2014, the Washington Post listed 10 countries where homosexuality can lead to the death penalty. They are Saudi Arabia, Iran, Iraq, Yemen, Sudan, Somalia, Qatar, Nigeria, Mauritania and the United Arab Emirates. In some of those states, any sex outside of marriage is prohibited.
After the Orlando attack, political scientist Ian Bremmer noted the overwhelming majorities in Muslim countries which exhibit intolerance toward gay people. In addition, more than half of British Muslims surveyed earlier this year said homosexuality should be outlawed.
It was widely reported before CAIR's news conference that in April, a mosque near Orlando hosted an Iranian-born cleric who was on videotape saying, "Death is the sentence" for homosexuality. If it was mentioned during the news conference, CAIR cut it out of the video it posted on YouTube.
In 2008, the Middle East Media Research Institute (MEMRI) flagged the condemnations of Abd Al-Qader Shiba Al-Hamad, a Saudi scholar in Medina, who called homosexuality "a great corruption" and a "heinous crime." He then recounts the various punishments discussed in the Quran and among the followers of Islam's prophet Muhammad. They range from "merely killing them or burning them" to beheading to climbing the highest mountain and rolling "them down the mountain until they are killed."
There was no recognition during CAIR's news conference that prominent imams espouse such violent rhetoric toward gay people. Instead, two people invoked the Quranic passage that states, "Whoever saves a life, it's as if they have saved the life of all of humanity. And if you take a life, it's as if you have taken the life of all of humanity."
They stopped short of the next verse, which commands, "the penalty for those who wage war against Allah and His Messenger and strive upon earth [to cause] corruption is none but that they be killed or crucified or that their hands and feet be cut off from opposite sides or that they be exiled from the land."
Similarly, Rizwan Jaka, a national board member for the Islamic Society of North America, noted the Quran's instruction that "There shall be no compulsion in [acceptance of] the religion." But no one tried to tell impressionable Muslims, like Mateen, why that is more relevant today than the verse that tells them to "kill the polytheists wherever you find them and capture them and besiege them and sit in wait for them at every place of ambush."
It isn't that difficult. The American-Islamic Forum for Democracy, whose founder Zuhdi Jasser has been attacked by CAIR, issued a statement expressing its sorrow over the Orlando attack and committing during the holy month of Ramadan to "triple down on acknowledging the deep reforms necessary and the responsibility of every Muslim in countering the ideologies that inspire these Islamist savages ... Make no mistake. We are again horrifically reminded that our nation and the free world are in a long war that has been declared upon us by global militant Islamists and their Salafi-Jihadi ideology.
"Understanding this ideology demands that we finally move beyond the false 'lone wolf' and 'violent extremism' narrative and counter the enemy's ideology of Islamism and its jihadism."
After terrorist attacks like Orlando, San Bernardino, and too many others, CAIR's message focuses on non-Muslims and their thoughts on Islam. Perhaps they would better serve the public by encouraging Muslims to relay to other Muslims why the theological underpinnings that drive the bloodshed are wrong. When other Muslims try to do so, they too often are derided as sellouts.