The National Union of Students, a confederation of 600 student unions representing more than 95 percent of all higher education unions in the United Kingdom, passed a motion Tuesday to align with the Boycott, Divestment and Sanctions campaign as part of a worldwide effort to boycott Israel.
The same group rejected a motion in October condemning ISIS out of concerns it would "become a justification for war and blatant islamophobia." The failed motion called for support to "Iraqis trying to bridge the Sunni-Shia divide to fight for equality and democracy, including defence of the rights of the Christian and Yazidi-Kurd minorities." It also specifically condemned the Islamic State and expressed support for the Kurdish Peshmerga fighting it.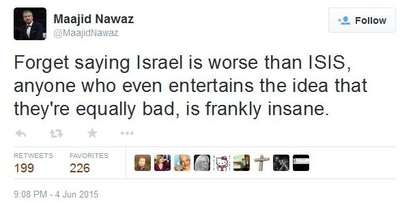 Seeing that fail, but a boycott of Israel pass, prompted Maajid Nawaz, a Liberal Democrat candidate in the 2015 parliamentary elections and prominent anti-extremism activist, to tweet his disapproval, saying it represents "Everything wrong with the Modern Left." In a subsequent comment, Nawaz, a former recruiter for the radical Islamist group Hizb-ut-Tahrir who now combats the Islamist narrative, said that anyone who "entertains the idea" that Israel is as bad as ISIS "is frankly insane."
As we reported in February, several prominent American Islamists have tried to push that very comparison. Two of them, Hussam Ayloush and Zahra Billoo run California chapters for the Council on American-Islamic Relations (CAIR). Ayloush, who runs CAIR's Los Angeles office, told an audience at the Islamic Center of Orange County in January that Muslims receive too much attention when it comes to extremism, especially involving foreign fighters. "So let's talk about the Jewish American kids who join the Jewish State before we talk about Muslim Americans who join the Islamic State. Neither one represents Judaism or Islam," he said.

Billoo, who runs the CAIR San Francisco office, made similar arguments in Twitter posts in September and again in February.
"Is one genocidal group different than the other?" her Feb. 16 post read.
It's remarkable that she sees that as a legitimate question. Or, as Nawaz sees it, "frankly insane."