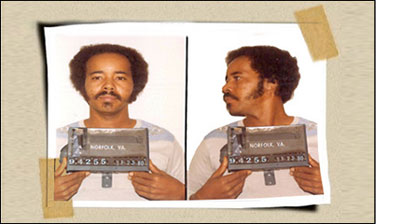 It's difficult to call Mahdi Bray a private man. He leads the Muslim American Society's (MAS) political arm, MAS-Freedom. His picture appears on numerous MAS and personal websites and he co-hosts a weekly radio program in Washington, D.C. He spent most of Saturday riding on the back of a flat-bed pick-up truck, leading demonstrators on a march through Washington and to the Pentagon in protest of the Iraq war's sixth anniversary.
The procession stopped outside the offices of military contractors, where demonstrators left cardboard coffins and chanted slogans. Bray, megaphone in hand, led the way:
"We say no more! I hope your stocks plummet to the ground. I hope it goes in the toilet. I hope your stock just goes to hell ... The justice, and the peace, and the humanity and the solidarity that we have with the Palestinian people, the solidarity we have with the people of Iraq, and Afghanistan, Pakistan, the solidarity we have with the veterans who have been hoodwinked by this government, we say not in our names!"
As the crowd marched, Bray led them in a time-worn anti-war chant:
"We're the people. We, the people, and the people united can never be defeated."
For all his public activity, Bray has rarely, if ever, discussed his life story in detail. His own MAS biography offers vague descriptions of his work as "a long time civil and human rights advocate."
A charismatic African-American convert to Islam, Bray spent this entire decade working for Islamist organizations. Prior to joining MAS, Bray was political director of the Muslim Public Affairs Council (MPAC). Those jobs have helped him build a growing public profile and given him access to politicians and policy makers.
And that may explain his reluctance to discuss his life before political activism. The Investigative Project on Terrorism (IPT) tracked down court records involving Bray and found a history of legal run-ins and deceit. Bray was no kid – he was born in 1950 and was more than 30 years old when he amassed at least three felony convictions during the 1980s. And, if his recollection of the timing of his conversion to Islam is accurate, it did not straighten him out. He had changed his faith years before becoming a felon.
Bray declined to comment Wednesday after hearing a summary of the IPT's findings. "You guys write the stories as you see fit to write them," he said.
He even spent a couple of days in a Virginia jail cell as recently as March 2008 due to a series of traffic violations. Finally, there are questions today about his Washington, D.C. voter registration.
Back to back arrests
The 1980s proved to be a difficult time in Bray's life. The trouble started with an arrest in February 1981 for marijuana and cocaine possession. Then came grand larceny charges for cashing checks off a dead account just two weeks later. He was convicted on the cocaine and larceny charges and sentenced to three years in prison, only to find himself in even bigger trouble toward the end of the decade.
Throughout these ordeals, and even while incarcerated, Bray secretly was keeping hundreds of dollars a month in workers' compensation money intended for his grandfather. Wrighty Bray, Jr. was injured while working at the Norfolk, VA Navy Shipyard as a "helper-boilermaker." During his shift on December 2nd 1929, the 25 year-old Bray slipped, causing his right leg to be pinned in the hold of a ship. Wrighty Bray bled heavily and the leg had to be amputated. As a result of that injury, he qualified for - and began receiving – workers' compensation under the Federal Employee's Compensation Act, known as FECA.
Those payments, regulated by the U.S. Department of Labor, continued to be sent properly and without incident for the next 46 years. Wrighty Bray, Jr. died on December 1st, 1975 of a ruptured abdominal aortic aneurysm. He was 71. His workers' compensation payments should have ceased at this point.
But court records show his grandson, then called Wright Bray IV, "devised and intended to devise a scheme and artifice to defraud the United States of America … by means of false and fraudulent pretenses, representations and promises."
The payments continued while Mahdi Bray was in prison for the drug and larceny charges. They continued after the Labor Department sent forms to Wrighty Bray, Jr. to update his status. He was indicted in June 1988 on 64 counts of mail fraud and receipt of stolen U.S. Securities. According to the indictment, Mahdi Bray submitted a signed "false and fraudulent" form saying Wrighty Bray was living in Washington and was unemployed. He "well knew [it] was false and fraudulent in that the defendant's grandfather was dead and no longer entitled to benefits," the indictment said.
Department of Labor investigators were growing suspicious about the Bray claims by September 1986. Handwritten notes show an investigator had determined that the "last medical expense paid for the clmt (was) on 3/18/68" and that Wrighty Bray had no medical procedures on file since 1975. Repeated attempts to receive signed forms required to continue the benefit checks were met with no response.
The investigator concluded: "The facts of this case lead me to believe the client may be dead."
A December 14, 1988 report from a Labor Department Inspector General's Office agent indicates Bray changed the mailing address on the benefits at least twice after his grandfather died. The agent also traced a 1984 check and found it deposited in Bray's bank account.

The payments ended shortly after a March 1987 visit to a Department of Labor office, where Bray tried to drop off a form that had been due months earlier to update his grandfather's status. According to a Labor Department claims examiner's handwritten account of the visit, Bray attempted to talk his way through dropping off a late, fraudulent form by claiming he was "Herbert Bray," and could not stay to answer questions because he was double parked. The note says Bray reluctantly agreed to wait five minutes, and when he did start talking, "indicated that grandfather was old but proud and would not let any family members assist him with the paperwork until it had stacked up and then he would call grandson or granddaughter to assist, which is why he was now bringing" in the form.
When asked where Wrighty Bray was, Bray said he was staying with a granddaughter, but that no change of address was needed since the elder Bray still picked up his mail at home. Asked for a telephone number where his grandfather could be reached, Bray said he couldn't remember it.
In all, Bray kept more than $71,000 that the U.S. Government intended go to his grandfather. He pled guilty to one count of mail fraud on June 26, 1989 and was sentenced to 36 months in prison and ordered to make full restitution.
It is unclear how much Bray has disclosed publicly about his past. He does not refer to his criminal history in speeches or on his radio program, called "The Crescent Report." The show, which Bray co-hosts, airs Sunday mornings on WUST, 1120 AM in Washington.
He often dismisses criticism of his statements and connections as smear campaigns from Muslim bashers.
That was part of his message when he spoke at a conference entitled "Islamophobia: Its rising threat and policy challenges," hosted by the Brookings Institution's Saban Center for Middle East Policy. The December 2006 conference attracted officials from the departments of State and Homeland Security including Alina Romanowski, then Deputy Assistant Secretary of State for Educational and Cultural Affairs and Dan Sutherland, Homeland Security officer for Civil Rights and Civil Liberties.
Muslims in America are professionally successful, Bray said:
"Yet there are certain interest groups, in and outside of America, that have long used bigoted distortions of Islam, portraying particularly the Muslims in America as seditious, dangerous, disloyal, or a fifth column, totally incompatible with democracy. This is, I think, the underpinning, in terms of when we start talking about Islamophobia."
He has been at the forefront of MAS efforts to increase Muslim voter participation. Under his leadership, MAS even taps Girl and Boy Scout troops it sponsors for get-out-the-vote telephone banks. After the 2006 election, he claimed credit for helping elect Democrat Jim Webb to the U.S. Senate from Virginia and electing Tim Kaine to be Virginia's governor a year earlier:
"Ask Jim Webb what kind of impact we have. Ask the Governor of Virginia what kind of impact we have."
A biography on one of his personal web sites boasts that he has "appeared on CBS News, Fox, MSNBC, CNN, C-SPAN, Aljazeera and many TV and radio talk shows. He has served as a major consultant and a political adviser to various Washington-based political and advocacy groups and to several national, state, and local political campaigns."
As a result of that political ground work, Bray was among a group of Islamist leaders to meet secretly with an outreach coordinator for Barack Obama's presidential campaign last September. The Obama campaign acknowledged the meeting, which also included representatives from the Council on American-Islamic Relations (CAIR), was a mistake. CAIR is an unindicted co-conspirator in the Hamas-support trial of the Holy Land Foundation (HLF) and the organization's founders were linked to a Hamas-support network in the U.S. CAIR challenged that designation in September 2007. The trial court never ruled on CAIR's motion.
As NBC News reported:
"A second meeting participant speaking on condition on anonymity said he was stunned to learn that [CAIR Executive Director Nihad] Awad and Bray had been invited to an event where Obama representatives would be present. The participant said Awad and Bray are considered politically 'radioactive.' He said that some in the Obama group knew ahead of time that top CAIR officials would be in attendance--an allegation the Obama campaign disputes."
On the eve of the election, Bray told London's Guardian newspaper:
"No Muslim wants to be sacrificed at the altar of political expediency. I think Barack Obama has practiced that. I think that for his own candidacy that Obama has kind of thrown us under the bus."
Perhaps his closest and most powerful political ally is U.S. Rep. Keith Ellison (D-MN), who has appeared on Bray's radio talk show, and has spoken at MAS fundraisers.
Bray and Ellison's offices provided conflicting information about the congressman's trip to Saudi Arabia last year during the hajj, or Muslim pilgrimage. Ellison's office said MAS Minnesota chapter paid for his travel, after clearing it with the House Ethics Committee, but Bray said Ellison paid his own way because such a gift from MAS "would be a breach of congressional ethics."
Cloudy Conversion Story
If his recollection of the timing of his conversion to Islam is accurate, a spiritual awakening was not enough to straighten him out throughout the years he kept money intended for his late grandfather. In an interview just before the November election, Bray said he was "celebrating 30 years of being a Muslim." That places his conversion in or around 1978, a timeframe that matches information cited elsewhere. In 2003, Associated Press reporter Bob Lewis wrote "Bray, a former Baptist who converted to Islam 27 years ago and now heads the Muslim American Society's Freedom Foundation, urges Muslims to become active in their communities to show Americans all the good they have to offer."
And Bray repeated his claim of a 30-year life as a Muslim during a convention sponsored by MAS and the Islamic Circle of North America at the Hartford Convention Center in July 2007:
"Let me just say from the offset that as a practicing Muslim for 30 years and as an African American all my life and that's 57 years give or take, for me what I see taking place in America is déjà vu all over again."
In 2002, he told a CAIR conference in Columbus, OH "I embraced Islam some 27 years ago." That would place his conversion around 1975.
In 1981, however, Bray told his probation officer "that he is of the Baptist/Unitarian faith and is a member of the Central Avenue Baptist Church in the Berkley section of Norfolk." It was part of an interview in his pre-sentence investigation related to the drug charges. "The defendant reports that he attends church services every Sunday and believes in God."
He told the probation officer "that he would like to return to college and continue his education with an emphasis in theology with the ultimate goal of becoming a minister."
Bray declined to say when he became a Muslim during his brief conversation with the IPT. "You guys write whatever you want," he said. "I gotta go."
His drug arrest came after police saw him and a woman in his parked car just after midnight in Norfolk on February 1, 1981, records show. As they approached, they saw marijuana and a bag of white powder in plain view. The officers reported that when they ordered Bray to open his door, "he ate the packet of white powder." They still seized some marijuana and a mirror and straw with residue on it. The powder tested positive for cocaine. Bray told officers the marijuana was his and the cocaine belonged to his companion.
He was convicted September 18, 1981 and sentenced two months later to 30 days in jail for the marijuana and a year for the cocaine possession – with 10 months of that suspended.
As probation officer Michael Gordon noted in the pre-sentence report on the cocaine charge:
"Of concern in determining a disposition in this case is the fact that the instant offenses are not subject's first conflict with the law."
He had a history of traffic citations, a pattern that continues even now. More troubling, though, between his arrest and sentencing on the drug case, Bray was arrested in Chesapeake, VA and charged with three counts of grand larceny for cashing bad checks at area stores. He pled guilty to grand larceny November 19, 1981. He was sentenced to three years in prison on January 6, 1982, with two years suspended.
He admitted passing the bad checks under the name "Dwight Bray," saying:
"He advises that the three checks were cashed during a time period when his company was having financial difficulties and he intended to cover the checks later. The defendant advises that the checks were prepared in the name of Dwight Bray because subject believed that making out checks to himself might cause problems."
Bray has not had any felony arrests since the workers' compensation case, and his 1991 release from prison. Evidence uncovered by the IPT details Bray's history of providing false and misleading information to the public, and to government, including a sworn application used to maintain his voter registration. That is the focus of the second part of our investigation, which can be read here.