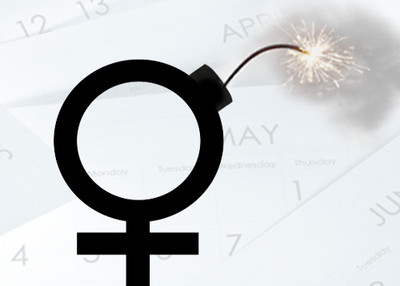 There is outrage among many pro-Palestinian activists in Chicago after Tuesday's indictment of a woman accused of hiding her conviction for two 1969 Jerusalem bombings when she applied to become an American citizen.
The anger is not about Rasmieh Yousef Odeh's alleged lies and secret, murderous past. Rather, the activists are upset with federal law enforcement officials for daring to charge her.
"An attack against any community organizer is [an] attack against us all. Rasmieh Odeh is not alone," the US Palestinian Community Network wrote in a Twitter post Tuesday.
Odeh's arrest represents "another example of the continuing repression of Palestinians and people who stand in solidarity with them," a group called the Committee to Stop FBI Repression said in a statement. "Homeland Security, the FBI, Immigration and Customs Enforcement and the U.S. Attorney's office now are carrying out enforcement of the Israeli occupation of Palestine."
Odeh spent 10 years in an Israeli prison after being convicted in connection with two February 1969 bombings by the Popular Front for the Liberation of Palestine (PFLP); one at a crowded supermarket that killed two people, and one at the British Consulate in Jerusalem which left property damage.
She failed to disclose her arrest, conviction and incarceration when she applied first for a visa to come to America and then, in 2004, for naturalization as a citizen. Immigration forms specifically ask about an applicant's background and associations. Odeh's failures to disclose, and her sworn signature that her applications were true, are the basis for the new prosecution.
"The United States will never be a safe haven for individuals seeking to distance themselves from their pasts," said William Hayes, acting special agent in charge for Homeland Security Investigations in Detroit, said in a statement. "When individuals lie on immigration documents, the system is severely undermined and the security of our nation is put at risk."
Odeh is an associate director with the Arab American Action Network (AAAN) in Chicago. Last spring, she was honored as a "2013 Outstanding Community Leader" by the Chicago Cultural Alliance, a group which describes itself as a "consortium of Chicago's ethnic museums, cultural centers, and historical societies whose mission is to effect social change and public understanding of cultural diversity through first voice perspectives."
The AAAN is a "core member" of the alliance.
In a video biography posted in concert with the award, Odeh describes how her family lost its land and home "in 1948, when the Zionists occupied Palestine." Her father moved to the United States to find work, she said through a translator, permanently dividing the family. She makes no mention of the bombing or of her time in an Israeli prison, saying she went to college in Beirut in 1967, and returned a year later to visit family.
"[A]nd I was never able to go back because the Israelis wouldn't let me out," she said in the video.
In its statement, the Committee to Stop FBI Repression makes no reference to the 1969 PFLP bombings. Instead, it makes a blanket accusation against the Israeli court system, saying it "detains Palestinians without charge - a court that has over 200 children in prison today and does not recognize the rights of Palestinians to due process."
AAAN Executive Director Hatem Abudayyeh also seemed disinterested in Odeh's connection to terrorist bombings, telling a Chicago reporter Tuesday that Odeh has dedicated "her life to racial and social justice, that's the Rasmieh Odeh I know, and that's the Rasmieh Odeh who's under attack here."
In a Twitter post, Abudayyeh wrote that "Rasmieh Odeh will be demonized in media by people who do not know her, her life and her struggles against oppression. I stand with her."
Abudayyeh is believed to be among two dozen people under investigation for possibly providing support to the PFLP and the Colombian Revolutionary Armed Forces of Colombia (FARC). FBI agents raided homes and offices of radical peace activists in Chicago and Minneapolis in the fall of 2010.
No charges have been filed and it's not clear whether the investigation remains active. But the Stop FBI Repression statement argued that Odeh's arrest is related, noting the presence of the same federal prosecutor handling the PFLP/FARC investigation in the courtroom Tuesday for Odeh's initial appearance.
The 2010 raids also drew the ire of national Islamist groups like the Council on American-Islamic Relations (CAIR) and the Muslim Public Affairs Council (MPAC). Both dismissed the raids as a "fishing expedition."
CAIR Chicago Executive Director Ahmed Rehab called the investigation "a waste of taxpayer dollars," "a new low," and "an example of FBI overreach when it comes to activism or commentary on the (Middle East) conflict."
If Odeh is found guilty, she would become the latest in a long series of people who enjoyed community support even after their ties to terrorists and the support for terrorist groups has been exposed. Cleveland Imam Fawaz Damra was convicted on a similar immigration fraud and later deported. He is shown on video openly raising money for the Palestinian Islamic Jihad. Brothers Bayan and Basman Elashi were deported last year after being convicted for their parts in a Hamas-financing network. And former Florida professor Sami Al-Arian, exposed as a Palestinian Islamic Jihad board member, faces a deportation order once a pending contempt case against him is resolved.
Odeh will get her day in court. But her first trial found her guilty of participating in two terrorist bombings that killed two people. Maybe her supporters never knew that. If so, their anger is directed at the wrong targets.