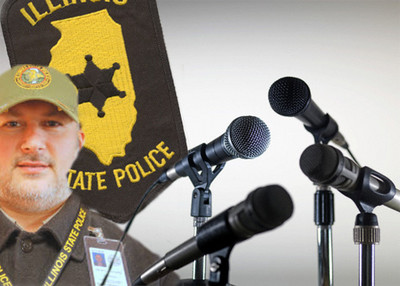 As her assistants defend the state against a discrimination suit brought by a Chicago-area imam, Illinois Attorney General Lisa Madigan is among a slew of state officials saluting the group representing him in advance of its annual fundraising banquet.
And the imam, rejected by the Illinois State Police (ISP) due to his past work for a Hamas-support network, is being honored at the Council on American-Islamic Relations (CAIR) Chicago chapter banquet Saturday evening and will help with the fundraising.
CAIR represents Kifah Mustapha in litigation claiming the state discriminated against him and violated his free speech rights when the ISP rescinded a 2009 invitation making Mustapha the agency's first volunteer Muslim chaplain.
The reversal followed a report by the Investigative Project on Terrorism showing Mustapha had been a fundraiser for the Holy Land Foundation, which was convicted in 2008 of being part of a multi-million dollar American-based Hamas-support network. Mustapha was an unindicted co-conspirator in the case and had been on the Holy Land payroll.
The Attorney General's office is defending the state police. It has moved for summary judgment in the case, arguing that Mustapha lacks standing to bring the lawsuit since the position was unpaid, so that Mustapha was not deprived of pay or benefits, as required by the federal statute which covers workplace discrimination. The ISP revoked Mustapha's invitation after decision makers saw a confidential FBI report on him and were told he would not have passed the FBI's background check for chaplains.
Madigan's office also cited this video from the 1990s, showing Mustapha as part of a performing troupe singing the praises of Hamas and jihad as a young boy dances with a rifle. "O Hamas, raise the banners of Jihad," the singers say. "The victory of God comes through it or through martyrdom. O Hamas, teach us the rifle."
But Mustapha is a staple at CAIR-Chicago events, helping raise money for the chapter for the past eight years. For that, CAIR has dubbed him "The Mobilizer."
"As a Muslim Chicagoland mobilizer," CAIR's promotion says, "Sheikh Kifah Mustapha has garnered the support of the Muslim and interfaith community around various causes while enlightening them through Islamic teachings and thought. Sheikh Kifah has mobilized each and every one of our past eight fundraisers.
Illinois attorneys say the video and other evidence paint a disturbingly different picture of the man. They were horrified by the video's imagery and message, Madigan's attorneys wrote. Keeping Mustapha as a volunteer chaplain "could lead the public to believe that ISP looked the other way when confronted with evidence that Plaintiff aided and abetted, or at least cheered for, terrorism."
They urged the judge to watch the video, too, saying the state police "had to decide whether somebody cheering for violence while a child holds a gun is fit to be a state police chaplain. A reasonable person would decide the answer to that question is an emphatic 'no.'"
The Holy Land Foundation was part of a larger Hamas-support network created by the Muslim Brotherhood in America called the Palestine Committee. According to one internal document seized by the FBI, the committee's role was "to make the Palestinian cause victorious and to support it with what it needs of media, money, men and all of that." The next paragraph describes Hamas as "an original and an effective movement in leading the Palestinian people" by showing "that the flare of Jihad has not died out and the banner of Islamic Jihad is still raised."
Rejecting Mustapha, therefore, was not discrimination, Illinois attorneys argued in seeking summary judgment, "just a law enforcement agency denying a candidate who failed a background check due to his ties to terrorist organizations."

Yet Madigan, who is expected to run for governor next year, praised CAIR in statements given in advance of the chapter's annual fundraising banquet this weekend.
"We are fortunate to live in an exceptionally diverse nation," Madigan says. "The diversity is a great strength of America, yet it also poses challenges. We are blessed that groups such as CAIR are devoted to building mutual understanding and trust among the many creeds, colors, religions, and backgrounds that make up our community and our country."
Similar endorsements were issued by her father, House Speaker Michael Madigan, Gov. Pat Quinn, Secretary of State Jesse White and Treasurer Dan Rutherford. Quinn, Madigan and others similarly praised CAIR before its 2011 banquet. The CAIR Chicago chapter has separate pages this year devoted to plaudits received from members of Congress and Illinois state legislators.
But if Mustapha is disqualified from acceptance by state officials due to his HLF/Palestine Committee roots, logic dictates that CAIR must be, too. Like Mustapha, CAIR was a member of the Palestine Committee. CAIR Executive Director Nihad Awad is listed on a Palestine Committee telephone list. He participated in 1993 meeting aimed at derailing U.S.-led peace efforts in order to protect Hamas's interests. And he was present as the group discussed lying to Americans about their true agenda to avoid being labeled as terrorists.
As Assistant U.S. Attorney General Ronald Weich wrote in 2010, "evidence that was introduced in that trial which demonstrated a relationship among CAIR, individual CAIR founders and the Palestine Committee. Evidence was also introduced that demonstrated a relationship between the Palestine Committee and HAMAS which was designated as a terrorist organization in 1995."
That evidence includes this Palestine Committee meeting agenda listing CAIR among the committee's other branches. The evidence prompted the FBI to cut off feel-good outreach contact with CAIR.
"Nevertheless," a senior FBI congressional liaison wrote in 2009, "until we can resolve whether there continues to be a connection between CAIR or its executives and HAMAS, the FBI does not view CAIR as an appropriate liaison partner."
And the presiding federal judge later ruled that there was "ample evidence to establish the associations of CAIR …with HLF … and with Hamas."
The Illinois State Police and Lisa Madigan's attorneys see the problem when it comes to Mustapha. They know Mustapha raised money for Hamas through HLF. They know he wouldn't pass an FBI background check. They should know – because it is in the public domain – that the FBI cut off such feel-good outreach with CAIR due to these very same issues dogging Mustapha.
His attorneys say none of that should have disqualified him from serving as a state police chaplain. In a court filing, Madigan's attorneys scoffed at Mustapha's recommendation:
"Plaintiff (incredibly) suggests ISP should have issued a statement explaining ISP was aware of his ties to terrorism, but in an effort to not offend the First Amendment, selected him as a chaplain," they wrote. "Such a statement would undoubtedly rock the public's confidence, suggesting ISP condones intolerance, is 'soft on terror' and perhaps worse, takes calculated safety risks at the public's expense."
What, then, should the public think when it sees Illinois political leadership line up behind CAIR?