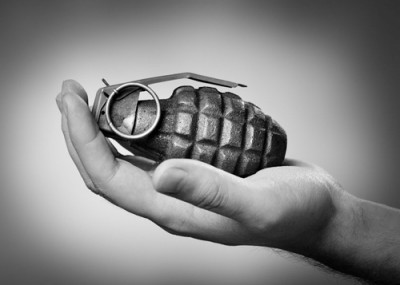 With a few lucky breaks, last week's Boston Marathon bombing could have had a dramatically different outcome. Had Tamerlan or Dzhokhar Tsarnaev sought help building their bombs on jihadist web forums, FBI agents likely would have detected it.
They would have sent in an undercover operative or an informant. And the Tsarnaevs would have been arrested as they tried to detonate their bombs, which had been rendered inert by the FBI.
And it would have elicited howls of protest from Islamists and their supporters.
Instead, four people are dead, including the MIT police officer killed in Friday's shootout, and more than 150 people are injured. Many have lost limbs. Dzhokhar Tsarnaev was charged Monday with using a weapon of mass destruction.
It is easy to imagine the reaction had investigators discovered him and his brother sooner.
"Entrapment!" defense attorneys would argue. "The FBI is fabricating terror threats, using hapless stooges incapable of harming anyone," Islamist advocacy groups would say.
We know this because this is how the scenario has played out dozens of times in recent years. But last week's bombing shows you don't need to be a master criminal to murder and maim innocent people. The ingredients to build the pressure-cooker bombs came straight out of al-Qaida in the Arabian Peninsula's Inspire magazine. The brainchild of American-born operative Samir Khan – killed in a 2011 drone strike along with fellow American Anwar al-Awlaki – Inspire offered suggestions for small-scale, homegrown jihadi attacks in each issue.
Instructions for the pressure-cooker bomb came from an article headlined "Make a bomb in the kitchen of your Mom." A subsequent article referred to that recipe and advised that pressure cooker bombs should be "placed in crowded areas and left to blow up. More than one of these could be planted to explode at the same time. However, keep in mind that the range of the shrapnel in this operation is short range so the pressurized cooker or pipe should be placed close to the intended targets and should not be concealed from them by barriers such as walls."
The Boston Marathon bombs blew up within 12 seconds of each other, about a block apart.
The Tsarnaevs succeeded in carrying out an attack where others have come close, but failed. At least two other would-be terrorists came chillingly close to attacks that likely would have triggered more casualties than were suffered in Boston. Faisal Shahzad parked an explosive-laden car in Times Square. But he made mistakes in the chemical composition and it failed to detonate.
In Texas, Naser Jason Abdo had copies of Inspire magazine in his hotel room, and ingredients for pressure-cooker bombs, when police swooped in. Abdo was nabbed thanks to an alert gun store owner who took notice and called authorities after Abdo arrived by taxi cab to a fairly remote outlet and acted suspiciously.
His plan was to detonate the bombs at a restaurant popular with Fort Hood personnel and then shoot survivors as they scrambled out of the debris. He did it out of a sense of religious duty.
But, as we have repeatedly chronicled, FBI sting operations meant to interdict terrorists before they strike, are condemned routinely as misguided and unnecessary. Islamist advocacy groups like the Council on American-Islamic Relations (CAIR) say the FBI is creating terrorists who otherwise would not turn violent.
The FBI, "by using informants acting as agent provocateurs, has recruited more so called extremist Muslims than al-Qaida themselves," CAIR-Michigan Director Dawud Walid said in 2010. The use of informants are among "self-deluding initiatives that seem to seek terror-case quotas," CAIR Chicago's Ahmed Rehab wrote in 2009.
"What the FBI came and did was enable them to become actual terrorists, and then came and saved the day," CAIR-San Francisco's Zahra Billoo said in 2010. The FBI "is creating these huge terror plots where they don't exist."
But Ali Soufan, a former FBI supervisory special agent and a veteran of some sting operations, defended the practice as vital for national security.
"As you can't prosecute someone just for professing a desire to kill Americans, and you can't read minds to determine if they really intend to carry out their threats, either you wait to see if the real al Qaeda gets in contact—and hope you can track them—or you intercede," he wrote in a Wall Street Journal book review. "Most Americans would no doubt prefer the latter option to taking a serious gamble with civilian lives."
How many Boston Marathon attacks does it take to emphasize that point? How many dead 8 year olds, exchange students or innocent young women are enough to make interdiction acceptable?
In these stings, agents are careful to give the target an out – offering other ways to serve the cause of jihad without killing innocent people. But the suspects reject those or there wouldn't be a prosecution.
In Portland, Mohamed Mohamud would not budge from his ambition to blow up a bomb at a crowded downtown Christmas tree lighting ceremony packed with women and children. He was arrested after trying to detonate the bomb, only to discover the FBI rendered it inoperable.
On Feb. 17, 2012, Amine El-Khalifi thought he was about to become the first suicide bomber in America. He planned to shoot guards at the entrance to the U.S. Capitol, force his way in, and detonate a suicide bomb packed into his jacket. He practiced the attack in a hotel room three days earlier. FBI agents arrested him as he walked alone, carrying the MAC-10 automatic and wore the bomb jacket.
Who would prefer leaving El-Khalifi alone to his own devices? Who doesn't wish the Tsarnaevs had met a similar fate?