Chicago area politicians again embraced the head of the city's Council on American Islamic Relations (CAIR) chapter during a public event, despite his organization's roots in a terror support network and ongoing hostility toward law enforcement.
Ahmed Rehab spoke Wednesday at an Illinois Coalition for Immigrant and Refugee Rights (ICIRR) DREAM Relief Rally with U.S. Sen.  Dick Durbin, Rep. Luis Gutierrez, Illinois Senate President John Cullerton, Mayor Rahm Emanuel, and Gov. Pat Quinn.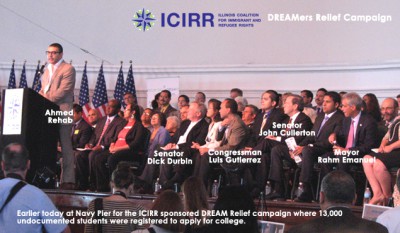 Organized by Gutierrez and the Illinois Coalition for Immigrant and Refugee Rights (ICIRR) the DREAM rally was in honor of the Obama administration's June 15 decision to permit "DREAM Act-eligible youth temporary relief through 'deferred action.'"

The FBI cut off its outreach to CAIR in 2008,
writing
that it was not an "appropriate liaison partner" due to evidence showing the organization and its founders were part of a Hamas-support network in the United States. And Rehab has
his own history
of radical activity, but the Illinois politicians haven't let that get in their way.
When asked during a 2006 BBC interview to condemn Hamas, Rehab evaded the question, like many of his CAIR counterparts. "Do I condemn the hospitals run by Hamas or the schools that help children learn, in Hamas? No. I don't condemn that," Rehab said. "But I do condemn the blowing up of Tel Aviv pizzerias or cafes."
Rehab also reflexively opposes law enforcement counterterrorism measures. In the wake of the New York Police Department's surveillance controversy, Rehab labeled the NYPD's actions as "illegal" and "unconstitutional."
"Anyone aware of such egregious violation of our Constitution and the very spirit upon which it stands ought to report it," he said.
Yet in January, Emanuel lauded CAIR-Chicago's efforts, saying it "has provided a comprehensive array of invaluable services to the Muslim-American community and has facilitated important partnerships and civil rights advocacy opportunities for Muslim Americans throughout the Chicagoland area."
Last month, Emmanuel appointed Rehab to his "New Americans Advisory Committee."
Durbin issued two letters of praise for CAIR-Chicago. In 2011, Durbin visited the Mosque Foundation, whose leadership has been cited in federal court documents as part of support front groups for Hamas.
Gutierrez also praises and works with Rehab. He lauded CAIR-Chicago's efforts at its March banquet and condemned the New York Police Department surveillance tactics. CAIR-Chicago honored Gutierrez that night with its Courage in Leadership Award.
Quinn also endorses CAIR, providing the group with a statement to display on its webpage. "I want to commend CAIR-Chicago for your ongoing commitment to serving the needs of Chicago's Muslim population and for working toward ensuring justice and civil rights for all the communities you serve," Quinn said.
It's natural for government officials to include a Muslim representative in their functions, especially one involving the plight of immigrants. The issue, as the FBI put it, is whether CAIR makes an "appropriate liaison partner," given its documented history in a Hamas-support group. CAIR has never addressed this, other than issuing blanket denials which are directly contradicted by the record. By embracing Rehab and lauding his organization, these politicians legitimize CAIR in a way in which law enforcement clearly disagrees.