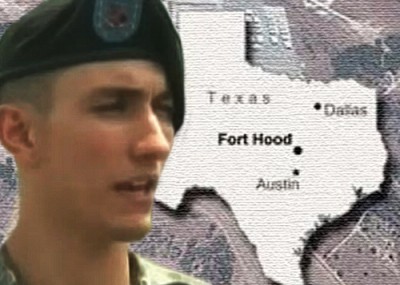 Updated July 29, 2:28 p.m.
Naser Jason Abdo made an initial court appearance in Waco, Tex. Friday, where he was charged with possessing an unregistered weapon.
Press reports indicate that Abdo defiantly invoked the name of 2009 Fort Hood shooter Nidal Hasan as he was taken out of the courtroom. "Nidal Hasan Fort Hood 2009," spectators heard him shout.
Hasan is charged with killing 13 people during a shooting spree at a readiness center at Fort Hood in November 2009. Hasan had been in contact with American-born al-Qaida cleric Anwar al-Awlaki before the attack, and Awlaki hailed Hasan as a hero after the shooting.
Investigators have not found evidence that Abdo had similar communication with terrorists, but he did have a copy of an article from al-Qaida's English-language magazine, Inspire, with instructions on home-made bombs. Abdo, who had been granted conscientious objector status, claimed he could not kill fellow Muslims if deployed to Afghanistan.
His target and his shouting of Hasan's name indicate he felt no hesitation killing his fellow soldiers.
The possession charge may not be the extent of the charges Abdo ultimately faces. Rather, it may be a preliminary step to detain him while the investigation unfolds.
According to an FBI affidavit filed with the criminal complaint, Killeen Police arrested Abdo on outstanding warrants when he was found at America's Best Value Inn and Suites. He told arresting officers that "he intended to conduct an attack against Killeen and Ft. Hood," wrote Special Agent James Runkel. Abdo also acknowledged there were explosives in his backpack.
When agents searched it, they found "two clocks, two spools of auto wire; Winchester .40 caliber ammunition; Springfield .40 caliber handgun, model XD. Also included in the backpack was an article entitled "Make a bomb in the kitchen of your Mom." Also found a notebook with a handwritten list of items including pressure cookers, a power drill, gunpowder, shotgun shells and wires.
An FBI bomb technician said the items found in the hotel room "can be used to construct a destructive device, as that term is defined in federal law."
During subsequent questioning, Abdo "admitted that he planned to assemble two bombs in the hotel room using gun powder and shrapnel packed into pressure cookers to detonate inside an unspecified restaurant frequented by soldiers from Fort Hood, Texas."
See the full affidavit here.
-----
Originally posted July 28:
A U.S. Army private was arrested Wednesday in possession of explosive material which officials fear may have been part of a plan to launch another attack on the Fort Hood Army base in Texas.
The serviceman, identified by the FBI as Pvt. Naser Jason Abdo, 21, was taken into custody by the Killeen Police Department near Fort Hood after the owners of a local ammunition store, Guns Galore, alerted the police to Abdo's "suspicious" behavior in the store.
Abdo reportedly told law enforcement that the goal of his planned attack was to "get even."
"I would classify it as a terror plot," Killeen Police Chief Dennis Baldwin told reporters in an afternoon briefing.
After only one year in the army, Abdo reportedly realized he could not kill fellow Muslims and applied for conscientious objector status, preventing deployments to Iraq or Afghanistan.
"A Muslim is not allowed to participate in an Islamicly unjust war," he said in an interview with ABC News last August. In a separate statement he said that he did not "believe I can involve myself in an army that wages war against Muslims. I don't believe I could sleep at night if I take part, in any way, in the killing of a Muslim…"
Similar sentiments were expressed by Nidal Hasan, an Army psychiatrist charged with killing 13 people at Fort Hood in November 2009. Hasan had told classmates that he considered himself to be "a Muslim first and an American second" and he was found to have had email interaction with American-born al-Qaida cleric Anwar al-Awlaki in Yemen.
Awlaki hailed Hasan after the shooting, calling him "a man of conscience who could not bear living the contradiction of being a Muslim and serving in an army that is fighting against his own people."
One report indicates Abdo hoped to follow-up Hasan's attack by bombing a restaurant off the base that was popular with personnel stationed there.
Abdo was based at Fort Campbell, Ky. with the 101st Airborne Division. In June, 2010, after only one year in the army, Abdo applied for conscientious objector status on religious grounds before his first deployment to Afghanistan. Though initially denied by his superiors at Ft. Campbell, the objector status was ultimately granted to Abdo in June by the Assistant Deputy Secretary of the Army review board. But that was put on hold soon after when he was charged with possession of child pornography and he went AWOL on July 4th weekend.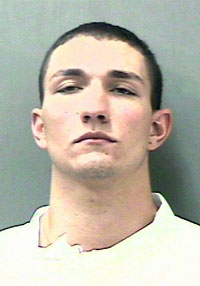 Naser Abdo's booking mug shot from Killeen, Tex. police.
In an online posting, Abdo claimed his arrest was in retaliation for his conscientious objector status.
"It has been nearly 10 months since the investigation started," he said in a June 23 Islampolicy article, "and I am only now being charged with child pornography when my C.O. claim is approved. I think that all sounds pretty fishy."
The army's decision to grant conscientious objector status was blasted by the American Islamic Forum for Democracy (AIFD). In a statement, the group called Abdo a traitor with an interpretation of Islam that "is dangerous and part of radical Islam globally."
"Abdo's obsession with Islamophobia is the same logic that drove the murderous rampage of Maj Nidal Hasan on Nov. 5, 2009 at Fort Hood," AIFD President and Navy veteran Zuhdi Jasser said in the statement. "Abdo's adherence to the global Islamist ideology above his American loyalty runs to the core of what we Muslims need to fight in real counterterrorism."
According to the congressman whose district includes Fort Hood, Abdo told FBI agents that he was "planning an attack on Fort Hood."
Rep. John Carter, R-Round Rock, credited "quick action by a Texas gun dealer" in helping prevent "a repeat of the tragic 2009 radical Islamic attack on our nation's largest military installation."
The gun dealer, Greg Ebert, told the police that he was "concerned with the quantity of his [Abdo's] request and his general demeanor." Ebert added, "There was clearly something wrong with him."
Abdo allegedly went into the store requesting gunpowder and "reloading options." After asking about 40-caliber ammunition, he bought three boxes of 12-gauge ammunition and a magazine for a pistol. Abdo paid in cash and then left in a cab.
FBI agents searching his hotel room later reportedly found gunpowder, shotgun shells, a pressure cooker, 18 pounds of sugar and ammunition. FBI Special Agent Eric Vasys said that Abdo "had some components which could be considered bomb-making materials." Abdo also purchased an Army uniform with Fort Hood patches from a local surplus store.
CNN reports that "Islamic extremist literature" was found in his backpack.