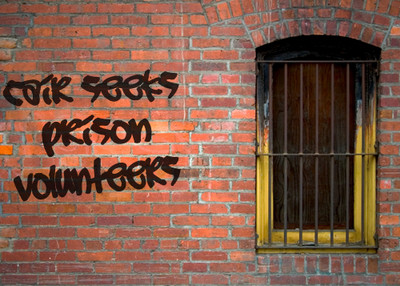 The Council on American-Islamic Relations (CAIR) chapter in Washington State is seeking religious Muslim volunteers to work with state prison inmates. That has veteran corrections official Patrick Dunleavy concerned that the program could result in the radicalization of prisoners and create security problems.
It's not the presence of Muslim volunteers, but the track record of the people and organization involved.
Syed Arsalan Bukhari, executive director of the Washington CAIR chapter, issued an Internet call last week saying that "Muslim volunteers" are "direly needed in the 20 or so state institutions across our state to lead study/discussion/halaqah sessions for inmates, lead prayers and just generally insure that inmates are receiving the services they need."
CAIR's ties to Hamas and its chronic support for alleged terrorists and their financiers might give corrections officials pause about the wisdom of such a relationship with the organization. Those ties appear to be the focus of a federal grand jury investigation in Washington, D.C. Bukhari's own statements might add to that concern:
In December 2009, the Seattle Weekly reported that Bukhari was discouraging Seattle-area Muslims from cooperating with the FBI's efforts to investigate Al-Shabaab terrorist recruitment. "There's nothing to gain from talking to law enforcement," he said. "I can't emphasize enough…you have the right to remain silent, so use it."
In May 2009, Bukhari objected to a racial awareness program produced by the Simon Wiesenthal Center in Los Angeles, claiming the group has "an anti-Muslim agenda." Bukhari and CAIR said the Wiesenthal Center should be disqualified from training Seattle police because of the organization's role in producing "Ever Again," a film on anti-Semitism and European Jihadists.
At a CAIR-Washington January 24, 2009 banquet, Bukhari refused to condemn terrorism:
"How many of you are asked, 'why don't you condemn, I won't use the 'T' word. I call it 'political violence.' I assure you that every Muslim organization has condemned 'political violence.'"
In May 2008, Bukhari and other CAIR officials met with the chief of the Port of Seattle to express their concerns about a course entitled "The Threat of Islamic Jihadists to the World," conducted by Security Solutions International. They complained that the course, which claimed to be based on "Israeli experience" fighting terrorism, would "promote stereotypes and religious and ethnic profiling."
Such statements set off alarm bells with Dunleavy, who spent 26 years working in New York State's Department of Correctional Services. In that role, he witnessed first-hand the radicalization of inmates. Radical Islamists like Warith Deen Umar were placed in charge of hiring prison imams, and terrorists like Rashid Baz and El Sayyid Nosair were given privileged positions as Muslim religious leaders. Dunleavy, who served as Deputy Inspector General of the New York State Department of Corrections, was part of a special investigation called Operation Hades that monitored radical Islamist recruitment inside prisons.
Dunleavy (who now lives in Washington State) said he has two major problems with the regulations instituted by the Washington Department of Corrections: As written they contain inadequate vetting procedures for volunteers and insufficient security safeguards, and the role of CAIR in the state program.
In New York, corrections officials have been fighting a difficult uphill battle to maintain security and prevent radicalization of Muslim inmates for close to 30 years. Essential to this effort are limits on the ability of volunteers to interact with inmates, he said.
As a result, volunteers are barred from being on an inmate's visitor list and may not correspond with an offender. They are also prohibited from accepting telephone calls from inmates or allowing a released offender to live in their homes. But the Washington State regulations, Dunleavy pointed out, expressly permit volunteers to engage in these activities.
These restrictions (which apply to correctional officers in Washington and virtually every state) are necessary "for the protection of the volunteer, the inmate and the facility," Dunleavy told the Investigative Project on Terrorism.
"Inmates are always looking for a way around the rules," he added. If an inmate is able to say, "Take a letter for me; make a phone call for me" and a sympathetic volunteer complies, "that raises significant security problems." A volunteer could easily find himself or herself "bringing a package to an inmate not knowing if there are drugs, guns or other contraband in there."
The FBI has cut off communication and cooperation with CAIR that doesn't involve a criminal investigation amid mounting concern about the organization's roots in a Hamas terror-support network. The decision to end contacts with CAIR was quietly made during the summer of 2008 as federal prosecutors prepared to retry the Holy Land Foundation for Relief and Development, an Islamic charity whose senior officials were convicted of providing money to Hamas and sentenced to long prison terms.
CAIR and its recently retired chairman emeritus, Omar Ahmad, were named unindicted co-conspirators in the HLF case. Both Ahmad and CAIR's current executive director, Nihad Awad, were revealed as having been active participants in Hamas-related meetings in the United States. But Washington State prison officials have given no indication thus far that CAIR's questionable record will disqualify it from sending volunteers into state prisons.
When asked, a spokesman reacted dismissively to Dunleavy's concerns and expressed surprise over questions about CAIR's role in recruiting. "We're not going to check whether somebody is a member of an Islamist group," said Chad Lewis, a spokesman for the state Department of Corrections (DOC). "We're not going to check whether somebody is a member of Hamas or Hizballah…or Al Qaeda," he said. Corrections officials are much more worried about gang violence, he added.
It's not clear what background checks Washington officials will run on the prospective volunteers. Former New York Police Department Deputy Chief John Cutter said that Washington State's regulations allow "applicants with a past felony or gross misdemeanor conviction" to participate in the prison volunteer program and allow former convicts to participate so long as they had been out of prison for a year.
"So they are saying that if you killed someone or committed another violent crime two years ago" you are eligible to participate, said Cutter, who worked closely with New York corrections officials in their efforts to stop Islamist radicalization. A better approach would be to say "if you have any history of violence, you cannot participate in the volunteer program."
Dunleavy noted that in 2004, the Justice Department's Inspector General issued a report urging the U.S. Bureau of Prisons (BOP) to take steps to bolster its defenses against Islamist radicalism. The report recommended that the BOP take steps to examine "religious volunteers' doctrinal beliefs to screen out anyone who poses a threat to security" and ensure that volunteers do not endorse violence "or support terrorism or other anti-U.S. activities." New York and many other states responded by strengthening their rules to bar religious extremists from prison volunteer programs. The Washington State regulations, by contrast, appear to "negate" efforts to keep radicals out, he said.
Cutter, who formerly ran NYPD's criminal intelligence section, believes DOC officials misunderstand the main danger posed by Islamist radicals volunteering in prisons: that they will use their access to radicalize inmates.
To some extent prison officials welcome the presence of radical Islamist organizations because "they keep a great deal of control of their people" when they're behind bars, he said. Muslim radicals usually don't want violence in prisons because "they understand the larger picture. This is a place to build something." The violent Islamist, Cutter said, "has a longer-term goal - recruiting a new generation of radicals."