Ex Brotherhood Official Showcases Islamist Doublespeak
IPT News
August 10, 2012
http://www.investigativeproject.org/3705/ex-brotherhood-official-showcases-islamist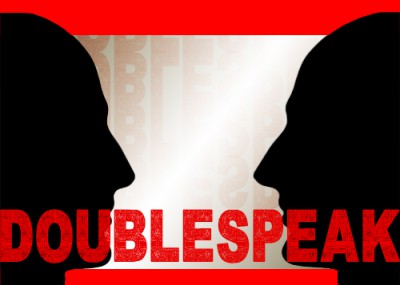 It "is no difficult task for Allah" to bring America to its knees, a prominent former Muslim Brotherhood official said at a recent discussion in Egypt.
American leaders are "all criminals" plotting to stifle Arab revolutions and defend "that criminal and plundering state of Israel," Kemal Helbawy, the Brotherhood's former spokesman in the United Kingdom, said in a video dated July 26 and posted this week by the Middle East Media Research Institute (MEMRI).
"If we use all the capabilities at our disposal properly, America will be brought to its knees and will be defeated like the Soviets in Afghanistan," he said. "This is no difficult task for Allah."
The remarks came during a sit-in outside the American embassy in Cairo.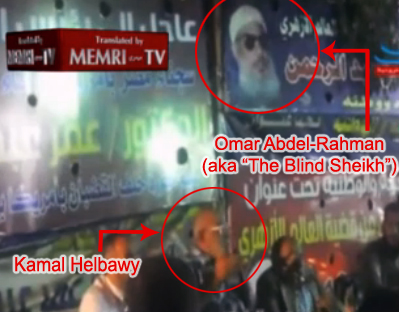 Behind him is a poster of Omar Abdel Rahman, the blind sheik considered the inspiration behind the 1993 World Trade Center bombing who is serving a life sentence in the United States for a subsequent plot to bomb New York tunnels and landmarks. New Egyptian President Mohamed Morsi has promised to seek Abdel Rahman's release when he meets U.S. officials.
Helbawy left the Brotherhood last spring, blasting the group for trying to monopolize power in Egypt after a peaceful revolution ousted former President Hosni Mubarak. But Helbawy remains a staunch Islamist and, despite a long record of violent rhetoric, is welcomed among American Islamists and academic groups.
He hailed Osama bin Laden as "a great mujahid" last year just after the American raid in Pakistan killed the al-Qaida leader. He prayed that bin Laden "join the prophets, the martyrs, and the good people" and questioned whether America's proof al-Qaida was behind the 9/11 attacks "was a trick and a bait … All evidences and indications refer that the Americans are the ones who planned this matter, not the Afghans who have weak resources."
The London-based Quilliam Foundation, which works to counter jihadist influence, called this "the latest example of senior Muslim Brotherhood members giving different messages to different audiences. When speaking to mainstream audiences Helbawy presents himself as a moderate reformer; when speaking to Islamists he praises Osama bin Laden. This doublespeak undermines trust between Muslims and non-Muslims and hinders genuine efforts to tackle extremism and terrorism."
Quilliam warned western governments to treat the Brotherhood "with the greatest suspicion," adding that there are moderates in the group, but "anyone who thinks that the Muslim Brotherhood as a whole has 'reformed' is clearly deluded."
Helbawy demonstrated that doublespeak two years earlier, during the 10th annual conference of the Washington-based Center for the Study of Islam & Democracy. The event attracted Secretary of State Hillary Clinton and U.S. Rep. Keith Ellison, the Minnesota Democrat and first Muslim elected to Congress.
He was on a panel on "Improving Relations between the U.S. and the Muslim World." In his abstract for the conference, Helbawy waxed fondly about the benefits of democracy and life in the West. As a Muslim, he said he he "deeply appreciate[s] most of the values and blessings of the democratic society and wish that Muslim countries were more like the UK or Europe in this respect."
"God created us into different nations, tribes, people, ethnic groups and races to know each other," he wrote, "so as a Muslim I am fulfilling one of the many aims and objectives of my existence when I meet and know and work with other people to improve community relations. More broadly, living in a multi-cultural and multi-religious society enables us to appreciate our differences and overcome obstacles towards greater understanding."
That lovely, humanistic embrace was absent in Helbawy's 1992 speech in Oklahoma City before the Islamic Association for Palestine – a Hamas propaganda wing – and the Muslim Arab Youth Association:
Do not take Jews and Christians as allies. For they are allies to each other. Oh Brothers, the Palestinian cause is not of conflict of borders and land only. It is not even a conflict of human ideology and not over peace. Rather, it is an absolute clash of civilizations, between truth and falsehood. Between two conducts – one satanic, headed by Jews and their co-conspirators – and the other is religious, carried by Hamas, and the Islamic movement in particular, and the Islamic people in general who are behind it.

Lastly I am going to say something about Imam Hassan al-Banna, may he rest in peace, who had been trying to establish 70,000 fighters, and he started with the first battalion with 10,000 fighters, and today the Palestinians became strong fighting battalions. Let us stand and support this great nation and the future is for Islam. And I ask God's forgiveness for you and for me and the Muslims. We ask God to give victory to our brothers and we ask God to release the leader of the Intifada, [Hamas founder] Sheikh Ahmed Yassin, praise be upon him.
Statements like that may have prompted government officials to prohibit Helbawy from coming into the United States in 2006 for a New York University conference. It's not clear why the Obama administration saw fit to reverse that course, or why Secretary Clinton would agree to appear at a conference with someone espousing such hostility toward Jews and Christians and outward support for terrorist groups like Hamas.
In addition, Helbawy frequently appears on Iran's official FARS News Agency, a rarity for someone from the Sunni Brotherhood movement. In 2010, he was interviewed on Iran's English-language television outlet, Press TV, along with Council on American-Islamic Relations (CAIR) national spokesman Ibrahim Hooper about "Islamophobia" in America. CAIR officials routinely appear on the Iranian media outlet.
Fear of Islam "has the highest level in America unfortunately," Helbawy said. "This implied democratic superpower in the world."
Hooper didn't challenge the statement, and blamed the Tea Party movement, saying it "unfortunately has given bigots a voice."
The discussion was prompted by a Florida pastor's threat to burn the Quran. Helbawy hinted darkly at widespread violence.
"You're seeing the demonization of the faith itself. If you demonize the faith of Islam and you have millions of American Muslims, what is going to be done with those people? There are logical conclusions to ideologies. If you say Islam is intrinsically evil and Muslims are intrinsically evil, you must have a policy that flows from that very dangerous thing."
It's an odd concern from someone who envisioned "America will be brought to its knees" because it continues to incarcerate a convicted terrorist and who praised Osama bin Laden as "a great mujahid." The Quilliam Foundation called on British Muslims to distance themselves from Helbawy's radicalism last year.
It's time American Muslims, along with government and academic officials, did too.
Related Topics: , Kembal Helbawy, MEMRI, Muslim Brotherhood, Omar Abdel Rahman. Mohamed Morsi, Quilliam Foundation, Hillary Clinton, Center for the Study of Islam & Democracy, Keith Ellison, Islamic Association for Palestine, Muslim Arab Youth Association, Ibrahim Hooper
Reader comments on this item
Mars Attacks!
Submitted by B, Sep 20, 2012 13:32
I have been watching the comments of these leaders when the violent extremists attack. They are good at what they do. I liken it to the spoof move some years ago featuring Jack Nicholson, where the alien invaders carried around the interpretor machine yelling "we mean you no harm" all the while vaporizing humanity. They in no way want to coexist with us. Rather they wish to tolerate us long enough to invade our society until they can erode our societies rights and replace it with their own. We have already seen challenges to our laws on the basis that a defendant acted according to sharia law. While they all appear to have been convicted, once it has settled in long enough, some well intentioned judge, or intentional muslim, will ultimately acquit and make sharie part of American law. Very disturbing.
thank you for the work you are doing
Submitted by Elsa, Sep 17, 2012 20:55
That's my main comment: thank you for the work you are doing. All the best to all of us against the double-speaking.
Comment on this item