DOJ: CAIR's Unindicted Co-Conspirator Status Legit
IPT News
March 12, 2010
http://www.investigativeproject.org/1854/doj-cairs-unindicted-co-conspirator-status-legit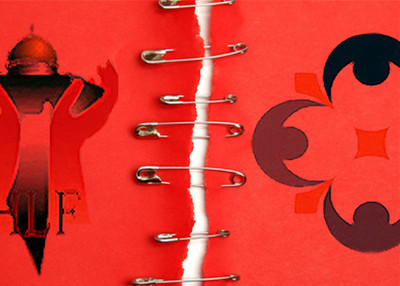 There's another letter circulating on Capitol Hill affirming federal law enforcement's belief that the Council on American-Islamic Relations (CAIR) is the product of a Hamas-support network in the United States.
Assistant Attorney General Ronald Weich sent the letter last month to four members of Congress who asked for details last fall on how CAIR was named an unindicted co-conspirator in the terror-finance trial against the Holy Land Foundation and its former officials.
He included trial transcripts and exhibits "which demonstrated a relationship among CAIR, individual CAIR founders, and the Palestine Committee. Evidence was also introduced that demonstrated a relationship between the Palestine Committee and HAMAS, which was designated as a terrorist organization in 1995."
Hamas is an offshoot of the Muslim Brotherhood, and trial exhibits show the Brotherhood created the Palestine Committee. CAIR officials adamantly deny any involvement with either Hamas or the Muslim Brotherhood. The Weich letter, however, shows that the Department of Justice has not wavered in its conclusion that the internal records it possesses prove a connection.
It echoes a letter last spring from an FBI congressional liaison explaining why Bureau policy bars communication with CAIR outside of a criminal investigation. In that letter, Richard C. Powers, an assistant director in the FBI's office of Congressional Affairs, said evidence "demonstrated a relationship among CAIR, individual CAIR founders (including its current President Emeritus and its Executive Director) and the Palestine Committee."
Other exhibits showed that the Palestine Committee was a fundraising and propaganda arm in the United States for Hamas, which has been a designated terrorist organization since 1995. "[U]ntil we can resolve whether there continues to be a connection between CAIR or its executives and HAMAS," Powers wrote, "the FBI does not view CAIR as an appropriate liaison partner."
Weich's letter to U.S. Rep. Sue Myrick and her colleagues points to two excerpts of trial testimony from FBI Special Agent Lara Burns. Both deal with conversations leading up to CAIR's original formation.
In one, she reads from transcripts from a secret 1993 gathering of Hamas supporters in Philadelphia where the group talks of creating a new organization with a fairly innocuous sounding name. She read comments from Holy Land Foundation President Shukri Abu Baker explain the new entity should present a benign face compared to existing Islamist groups:
"And let's not hoist a large Islamic flag, and let's not be barbaric-talking. We will remain a front so that if the thing happens, we will benefit from the new happenings instead of having all of our organizations classified and exposed."
In the other, Burns describes an exhibit which shows CAIR listed on a Palestine Committee agenda within weeks of its 1994 creation. In response to a question from federal prosecutor Barry Jonas, Burns said it was the first time CAIR's name appeared in internal Palestine Committee records seized by the FBI:
A. It did not exist prior to the Philadelphia meeting.

Q. So it came into being after Philadelphia?

A. That is correct.
After a 2007 trial ended with a deadlocked jury, a 2008 retrial resulted in guilty verdicts on 108 counts. CAIR petitioned the Dallas court presiding over the Holy Land trial to be removed from the co-conspirator list. Their complaint emphasized the unusual nature of making public the names of the unindicted co-conspirators and claimed the move unfairly tarnished CAIR's reputation. That request was denied last summer.
Weich's letter concludes by noting U.S. Rep. Sue Myrick requested "an investigation into the possible illegalities of CAIR," saying it was passed along to "appropriate FBI entities."
Recent filings in a civil case involving CAIR indicate that a federal grand jury investigation is looking at the organization's ties to Hamas.
Read the full DOJ letter here.
Related Topics: Prosecutions, The Council on American-Islamic Relations (CAIR)
Read More: Prosecutions, The Council on American-Islamic Relations (CAIR)
Reader comments on this item
Unindicted co-conspirator
Submitted by Gene, Oct 16, 2013 17:29
Would someone please explain what that term means? Just on the face of it, it sounds like "not enough evidence to even accuse, much less convict." I understand that CAIR was born out of the MB and I understand open acceptance of CAIR is dangerous but I have problems getting all twisted up about that particular status.
The power of Influence, Coercion, and subsequent an Islamization via Sharia
Submitted by DWSC, Jan 7, 2013 22:48
Now that Al-Jazeera bought over CURRENT Media in NY, there could be a new dawn on how some fundamentalists, whether from CAIR or another Islamic NGO can propagate their doctrines.
Most news media will be neutral and current. But some content (gradually) may be slanting towards stealthy Islamization. Islamic advocacy tends to look sheepish, harmless, nonchalant and perhaps agreeing to American freedom but they can and will cajole and use politicians, the judiciary and financial influence to initially infiltrate with Shari'a policies and administration.
Later, when there are many Muslims becoming US citizens or born American Muslims, they will advocate for more involvement and power. And then, suddenly, you have an Islamic organization in the US Gov. This is dangerous.
You need to be aware of this because there are a number of countries which used to be secular and because of these Muslims they turn a country from secular to wanting Islam to be recognized as one of the main religions.
I was not aware of anything until I found out some of the Honor killings in the US and Europe.
The only way to thwart this is to make the Gov aware of the Shari'a and Islamization implications. There is nothing wrong with Islam per se, its just that their rules and administration are archaic and affecting contemporary liberties.
Many human rights organizations do acknowledge that the Shari'a rules and laws are problems but they stopped short on criticizing Islam because they do not want to take sides on religious issues and implications.
Do not allow Muslims to take this upper hand, however, they can practice their religion freely without affecting Muslims who want to apostate, intermarry, own property and Muslims involved in criminal laws.
I am not an American but attended a tertiary institution in the US in my late teens and early 20s in the 80s. However, I am a nationality of a country which used to pronounce itself as secular and in the late 20th and 21st C the ruling Gov decided to recognize the country as an Islamic country - they also amended the Constitution to reflect as such.
The country does look adhering to modern and contemporary needs and understanding but that's on the surface. Below the surface, there are numerous problems facing minorities and Muslims who want to either apostate, convert to another religion or intermarry. Civil laws are not applicable to Islamic laws in my country because the Highest Court and the (amended) Constitution do not want such interference in Islam.
Now, US is under a Democrat Gov and perhaps the future looks like it as well. The Obama Administration needs to be highly aware and even though they droning out terrorists in South Asia and the Middle East, they need to thoroughly understand the implications how Muslims fund their cause.
A Muslim has to assist another Muslim and that's a Jihad. Charity in itself is a Jihad and the only way to stop Jihad is to stop Charities. It does not matter what sort of charity it is - all charities despite their cause will fund for their Islamic cause. Charity is one of the pillars of Islam.
I do not wish to brag on further here but after knowing the various Honor killings and the attempted killing of Rifqa Bary, I need to say something and with that I thank you for letting me highlight some of my concerns to you. I am also deeply proud that some in the US Gov is actually pursuing these issues.
Rgds
Dom
A Wolf In Sheep's Clothing
Submitted by Les Nesman, Aug 7, 2011 00:15
CAIR is a Trojan Horse of the highest order! Through their various fund raising and propaganda back channels they ultimately attempt to legitimize Hamas in the USA without using the name of that terrorist organization. FBI policy is absolutely correct to bar communication with CAIR outside of a criminal investigation.
The DoJ is also correct to designate CAIR an unindicted conspirator in the successful 2008 prosecution of several U.S.-based Muslims for smuggling funds to the Hamas terror group. The problem is they should not be "unindicted."
For the B.O. administration to include this outfit in its outreach to the American Muslim community as a partner in the White House's new plan to curb home-grown Islamic extremism would be an absolute outrage. And, would perfectly demonstrate the near total incompetence of the B.O. administration to date.
Read more: http://dailycaller.com/2011/08/04/anti-terror-plan-allies-white-house-with-muslim-groups/#ixzz1UJQKKHbw
Read more: http://dailycaller.com/2011/08/04/anti-terror-plan-allies-white-house-with-muslim-groups/#ixzz1UJOEqZF1
Read more: http://dailycaller.com/2011/08/04/anti-terror-plan-allies-white-house-with-muslim-groups/#ixzz1UJOEqZF1
Read more at: http://www.investigativeproject.org/1854/doj-cairs-unindicted-co-conspirator-status-legit
Where are the CD's
Submitted by CD's, Oct 27, 2010 10:41
It would be nice if IPT did an FOI on the CD's mentioned in the letter from USDOJ to Rep. Myrick. Those should be posted here as additional supporting evidence.
Further Exposing CAIR
Submitted by LouManati, Mar 13, 2010 12:52
A book that further exposes CAIR is "Muslim Mafia-Inside The Secret Underworld That's Conspiring To Islamize America"
Author is P. David Gaubatz, Former Agent of Air Force Special Operations
Co-Author is Paul Sperry, author of "Infiltration"
Both books can be purchased at World Net Daily www.wnd.com
Comment on this item