Breaking News: Pakistan Reportedly Detains Five D.C.-Area Muslims on Suspicion of Terror
IPT News
December 8, 2009
http://www.investigativeproject.org/1557/authorities-search-for-five-missing-dc-area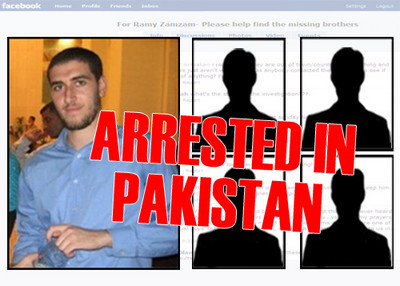 Editor's Note: For updates on this developing story, see the IPT Blog.
**Updated December 9, 9:00 a.m. EST
A Pakistani newspaper reports the arrest of five foreign nationals after a raid in a town called Sargodha. The raid took place at the home of a member of the Jaish-e-Muhammad, a Pakistani movement designated as a terrorist group by the U.S. Treasury Department in 2001.
According to the report, "The DPO told that these people had been living in Sargodha since Nov 30 and it was quite a possibility that they were engaged in acts of terrorism." It names the five as Ahmed Abdullah, Waqar Hassan Khan, Eman Hassan, Yasir and Rami Zamzam and describes them as two Yemenis, an Egyptian, a Swede and a U.S.-born Pakistani.
December 8: Federal investigators are searching for a Howard University dental student and four other missing Muslim men reported missing from the Washington, D.C. area, the Investigative Project on Terrorism (IPT) has learned. There is concern they may have been sent abroad to train for jihad. The five were last seen November 29.
The identities of two of the missing men, Howard student Ramy Zamzam and Waqar Khan, have been mentioned in online postings, including a Facebook page that was set up Monday for friends to offer their support. Some of those pages, however, appear restricted to friends and associates.
It is not clear where the men are believed to have gone, but an informed source told the IPT that at least one left behind a farewell video.
According to the Facebook and Twitter postings, Zamzam is among the missing. He has been active in the Muslim Students Association, serving as president of the MSA DC Council. A Howard University spokeswoman has not responded to questions from the IPT.
The disappearance comes as U.S. officials are increasingly concerned about the threat of homegrown Islamist extremism. This concern is prompted by a spike in attacks like the Fort Hood massacre, and conspiracies broken up by law enforcement before any attacks took place.
President Obama noted the increase during his speech last week at West Point explaining the Afghanistan surge:
"In the last few months alone, we have apprehended extremists within our borders who were sent here from the border region of Afghanistan and Pakistan to commit new acts of terror."
Homeland Security Secretary Janet Napolitano echoed that sentiment in a speech last week. "We are seeing young Americans who are inspired by Al Qaeda and radical ideology," she said.
On Monday, federal prosecutors charged a Chicago man with six counts of conspiracy tied to the 2008 terrorist attacks in Mumbai, India that killed more than 170 people, including six Americans. That attack was believed to be carried out by Lashkar-e-Taiba, a Pakistani terrorist group that has been implicated in conspiracies in Virginia, Toronto and elsewhere.
On the surface, at least, the situation in Washington resembles the case of 20 young Somalis who disappeared from the Minneapolis area a year ago. They are believed to have made their way back to Somalia, where they trained with the Al-Shabaab terrorist group.
At least three of those men have died, including one who became the first known American citizen to carry out a suicide bombing. Fourteen people have been indicted in relation to the Somali recruitment effort.
Little is known about Zamzam. In 2008, he was part of a student effort in northern Virginia to solicit mosques throughout the country to raise money to build a new mosque. He also posted a comment indicating he thought women were required by Islam to cover themselves and that Muslim women who did not faced punishment from God.
"Those that don't, then woe to them for a day where all will be held accountable for what they put forth in the life of this world, and Allah SWT wrongs no one, and He is the Most Just, Most Merciful."
Reader comments on this item
HYPOCRACY OF MANY
Dec 17, 2009 12:07
If African Americans had the same feeling about their white brothers back in the 50's, 60's, etc. "when lynching and bombing churches in the name of religion" was OK for the good ole boys and the KKK, and nobody was tried for those acts, where would this country be? If they blamed all white people for the acts of some, what would have become of this great country. Hypocrasy!!!!
All muslims are not to blame just as all whites were not to blame for the hate speaches back then. Maybe we should do a better job at bringing the guilty to justice now then what we did back then????
Mostly in Agreement
Submitted by Everyday American, Dec 10, 2009 21:01
Overymyhead,
I do not disagree with much of what you say. I completely agree that our police and other investigative agencies have dropped the ball and given in to political correctness. I firmly believe that Muslim organizations must be examined, mosques and mosque sermons surveilled, individual suspects detained and interrogated, illegals deported, and I would prefer that the penalties for terrorism be enhanced.
My point is that even if the innocent Muslims are in the minority, and I have no reason to believe that either way, innocent people must not pay legally for the sins of their coreligionists. We have the tools to root out evildoers, if only we will apply them properly and stringently. Political correctness is what will aid the Islamists in killing us, not living up to what is best in America.
We will win the war against fundamentalist Islam only by being smarter, stronger, and better than it. If we allow them to destroy our ideals, even if we win, it will be a pyrrhic victory.
Cost of morals?
Submitted by overmyhead, Dec 10, 2009 10:02
Dear EA,
Unfortunately technology allows just a few to cause great destruction. The point being if large percentages of young Muslims think killing us infidels is ok and Islam is their guide, then on principle of equality you willingly take this risk? So you can sleep well, er actually, die well seems more appropiate. It is the age we are in, like it or not. So what morals can we afford? Are some likely to get us killed? As my moniker suggest these are beyond my wisdom, but to ask what about the Muslims among us is not fear mongering, it is simply a obvious difficulty. It should be discussed.
Innocent People
Submitted by Everyday American, Dec 9, 2009 20:07
I do not agree with the above comment. Innocent people cannot and should not be held guilty for the actions of other adults, even their own family members. We are not at war with Muslims who abide by our laws and who wish to live up to American ideals, and there are many such people. Groupthink is unreasonable, unfair, and ultimately unAmerican.
We are at war with people who wish us harm. In the modern world many of these people are Muslim. They interpret their religion strictly, and use the cover of Islam to work out their own inadequacies and personal demons on the rest of the world. It is surely unfortunate that Islam has not gone through an Enlightenment and remains a primitive and unreformed faith. But many Muslims take the good things of their religion and ignore the bad. Many of the rest of us who believe in other religions do the same.
The evil which the Islamists do is real, and must be resisted and vanquished by civilized people for the good of humanity. But, in doing so, we must not lower ourselves to their level.
Muslim terrorists in the midst
Submitted by rose, Dec 9, 2009 16:50
If these individuals hate America to the point that they are willing to fight Americans in the battlefield, what the hell are they doing in this country? who are their parents? I think their parents together with the radicals should leave and go back to their muslim countries. These are not students or citizens of this country, but CANCER.
Comment on this item