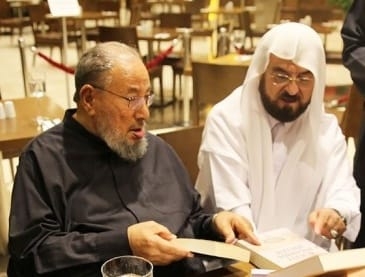 Ali al-Qaradaghi (right) with longtime Muslim Brotherhood spiritual leader Yusuf al-Qaradawi.
He already followed his mentor, Yusuf al-Qaradawi, as host of one of Al Jazeera's most popular television programs. And he is the
general secretary
at the Muslim Brotherhood affiliated, Qaradawi-founded
International Union for Muslim Scholars
.
So it makes sense that much of the Islamist world now sees Ali al-Qaradaghi as the Brotherhood's de facto spiritual leader after Qaradawi's September death.
Al-Qaradaghi disdains Christianity and calls it a "heresy" from its original form.
"They (Christians) are trying to exact revenge (against Muslims) just to satisfy their desire for revenge, which is a part of a misguided drive full of evil," he wrote in a 2012 article. "... The religion that is called Christianity that God Almighty revealed to our Lord Christ is not the Christianity of today. So how would our Lord Jesus Christ call for the Trinity to be three-in-one? And-one in-three? And calling for many other heresies, and to the destruction practiced by Christians."
"The only religion of monotheism is the religion of Islam," he wrote, "and it is the monotheism of God Almighty."
Like Qaradawi, al-Qaradaghi has a visceral hatred for Israel and is not shy about publicly expressing it.
He calls any normalization with Israel "high treason." But he has not mentioned Turkey's recent rapprochement with the Israeli government.
"Reconciliation or recognition of Israel means accepting the deduction of more than half of the blessed land of Palestine, and its expulsion from Islamic lands. The land of Palestine was liberated by Omar (Ibn al-Khattab), purified by Saladin, and watered with the blood of millions of Muslims throughout history" wrote Al-Qaradaghi for Islamonline outlet. "If Hamas had to choose between recognizing it [Israel] or relinquishing its prime ministry, it would have to choose the second option. The fatwas of all trustworthy scholars during the last century agree on the prohibition of conceding to Israel and recognizing it."
One of his radical tweets in 2020 criticized a video of a little Emirati girl saying words of peace in Hebrew to Israelis after the signing of the Abraham Accords.
"I watched several clips of Emiratis happy with normalization with the Zionists and I did not comment on them because they are just tools in the hands of the security services! But I was shocked when I saw an Emirati girl bless this betrayal! Even the countries that normalized with the Zionists decades ago did not put pressure on their children in this way! There are even popular campaigns to counter normalization," al-Qaradaghi wrote.
Al-Qaradaghi also issued fatwas for jihad and called for the boycott of French and Israeli products as a form of "economic jihad." His criticism of France followed President Emanuel Macron's statements describing Islam as "a religion that is in crisis all over the world."
"We pity a ruler who is still living in crisis and the specter of religious wars of the Middle Ages," al-Qaradaghi wrote on his Facebook account. "If there is a real crisis, it is due to the double standards of some western politicians."
"President Macron, you are in a crisis of a moral, humanitarian and political crisis; and Islam cannot bear the burden of fake cartoon leaders who created crises with your sponsorship," he added.
Al-Qaradaghi, who spends most of his time in Qatar, defends strict shariah law while backing Turkey's Islamist, authoritarian leadership. He condemned Saudi Arabia's moves toward a more open society in 2018, as cinemas and entertainment centers opened in the kingdom.
"Tyrants and tyrants squander the wealth of their peoples to please their masters, and they play their weak and oppressed peoples with trifles and trifles, such as opening cinemas and organizing profligate concerts," al-Qaradaghi wrote.
Qaradawi spent decades propagating Muslim Brotherhood ideology. His legacy is likely to continue through protégés like al-Qaradaghi.
Years before Qaradawi's death, al-Qaradaghi replaced him as the featured imam on Al Jazeera's program "Sharia and Life," which made Qaradawi a household name in the Middle East. Being the closest scholar to Qaradawi, he is now being treated as Qaradawi's replacement by Muslim Brotherhood websites, where his quotes and interviews are widely shared.
He is also teaching online fiqh (Islamic jurisprudence) and sharia courses costing $150. The successful applicants will receive a signed training certificate by al-Qaradaghi.
In a series of tweets, al-Qaradaghi eulogized his mentor showing his absolute devotion and gratitude to him.
"A letter to my Sheikh Youssef. I send my greetings to you, and I end with you. If your body is absent, your memory is present, and your knowledge is full of wisdom and goodness. I have been with you for nearly 40 years and have experienced your eagerness to facilitate and preach the victory of Islam. After your parting, all was revealed, so we learned of your greatness and the falseness of your opponents," al-Qaradaghi wrote Oct. 7.
Turkish state media often spotlights al-Qaradgahi's political opinions, which usually match the regime's stances.
"Western policy is characterized by shameless double standards," al-Qaradaghi told Turkey's state run Anadolu agency in 2016. He blamed the West for a failed coup attempt against Turkish President Recep Tayyip Erdogan. "They should have supported the legitimacy [of Turkey's democratically-elected government], but they failed to do so."
Al-Qaradaghi supported Erdogan's decision to convert the Hagia Sofia museum – a former Istanbul cathedral – into a mosque in 2020.
"Muslim mosques in Andalusia (Spain and Portugal) were converted to churches, bars and nightclubs! Babri Mosque in India was transformed into a temple for idols! And they want to turn Jerusalem, with all its sanctities, as the capital of the Zionists! We have not heard a Western or Eastern voice condemning these crimes!" tweeted al-Qaradaghi. "But converting Hagia Sophia into a mosque brought out the resentments and grudges of hearts from the East and the West!!"
Al-Qaradaghi has praised the Ottoman Empire. "The human demons are the ones who misguided the Islamic nation in the twenties of the last century under the pretext of nationalism, so they overthrew the Ottoman Caliphate, which had united and protected the Muslims for more than five centuries," al-Qaradaghi tweeted in 2017. "The descendants of these demons are now working to strike any Islamic movements or popular revolutions to abort any project that brings Muslims together again."
Despite being of Kurdistani-Iraqi descent, al-Qaradaghi has never explicitly condemned the continuous Turkish onslaught against his people.
Similar to Qaradawi, al-Qaradaghi has used position to issue fatwas against countries and governments deemed as enemies of the Islamist political agenda. Egypt waged an extensive crackdown against the Muslim Brotherhood after a series of 2013 terrorist attacks, jailing its top leaders and forcing others into exile. Al-Qaradaghi has labeled the purchase of Egyptian-made products as haram (prohibited). At the same time, he described the Turkish economy as being subjected to a war calling for the "formation of an international economic coalition to face the West and its pressures."
Al-Qaradaghi often quotes radical Muslim Brotherhood ideologue Sayyid Qutb, considered the godfather of jihadist terrorism. On the anniversary of Qutb's death, he posted a video in 2020 with a jihadist song: "Notice the gait of Professor Sayed, may God have mercy on him, the gait of glory and honor ... The military will learn one day that oppression does not build a society of dignity and freedom.
"Thought does not fail, truth is invincible, victory is coming, even if after a while, and with the oppressed human being, and this is how we draw closer to God Almighty" he added.
With the Muslim Brotherhood's influence receding in Egypt and the Middle East, it was essential for Islamists to preserve the legacies of their ideologues such as Sayyid Qutb and Yusuf al-Qaradawi through new protégés. With backing from Turkey and Qatar, Ali al-Qaradaghi emerges as one of the most prominent voices preserving these radical Islamist legacies.

IPT Senior Fellow Hany Ghoraba is an Egyptian writer, political and counter-terrorism analyst at Al Ahram Weekly, author of Egypt's Arab Spring: The Long and Winding Road to Democracy and a regular contributor to the BBC.
Copyright © 2022. Investigative Project on Terrorism. All rights reserved.