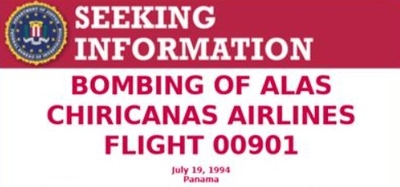 For the first time in a quarter century, forward motion has been detected in the moribund investigation into one of the world's most enduring, unsolved terrorist bombings: the 1994 downing of Panamanian airliner Alas Chiricanas Flight 901.
The mid-air, apparent suicide bombing killed all 22 people aboard the short commuter flight from Colon to Panama City, 12 of them leading local Jewish businessmen. Coming just one day after the more catastrophic attack on the Argentine Israelite Mutual Association (AIMA) that left 85 Jews dead, Chiricanas Flight 901 drew less media interest or a similarly muscular investigative effort that eventually led Argentina to indict Iranian leaders and Iran's proxy, the U.S.-designated foreign terrorist organization Hizballah. The bombing of Flight 901 has remained unattributed after some initial investigation vaguely suspected Hizballah, the affiliated Sidon, Lebanon-based Shia group Ansar Allah, or a local drug and weapons trafficking cartel.
Reenter the FBI
The FBI was initially involved in the case, but Panama controlled it as a matter of sovereignty. The Miami office of the bureau issued a bulletin in 1994 seeking public help about the recovered torso of a Middle Eastern man who carried the bomb aboard, "possibly" identified as Ali Hawa Jamal, the only body not claimed.
FBI photos of three "unknown Middle Eastern males" believed to be involved in the attack.
At the time, the FBI believed it had video of the attack support team, a group of "unknown Middle Eastern males" caught on surveillance cameras linked to South American weapons traffickers,
the 1994 bulletin
states. With a stolen American credit card some six weeks before the bombing, the men are believed to have rented cars and bought a Motorola two-way radio
FBI photos of three "unknown Middle Eastern males" believed to be involved in the attack
communications device that Jamal had on the flight. The vehicles were later found abandoned near Tocumen Airport in Panama City. The FBI believed the men traveled to Colombia, Venezuela, Costa Rica and Lebanon.
Then in September, in a move that drew almost no media notice, the FBI's Miami field office suddenly put up a new "Seeking Information" bulletin naming Ali Hage Zaki Jalil, a 52-year-old Arab parachutist and apparent arms trafficker, reportedly of Lebanese nationality.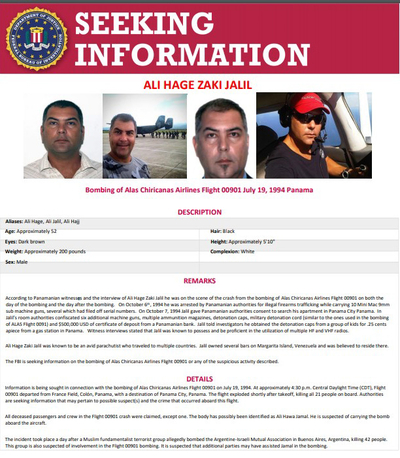 Jalil, the new document said, was at the crash scene that day and the next. Panama arrested him five months later for illegally possessing 16 Mini Mac 9mm submachine guns, as well as detonation caps, military detonation cord similar to that used in the bombing, and a $500,000 certificate of deposit from a Panamanian bank. Witnesses told investigators that Jalil often possessed and used hand-held radios of the sort found with the torso, the new bulletin states.
Jalil's public trail ends not long after his October 1994 Panama arrest. Did authorities let a prime culprit slip through their fingers long ago? Why?
The FBI bulletin identifies him only as a person of interest. It also shows the Bureau doesn't know where he is because the bulletin asks the public for information on his current whereabouts.
Jalil is said to own several bars on Venezuela's Margarita Island. Local media reporting recently places him in Panama, having a company registered there that was involved in sports skydiving as recently as 2018. He is said to have Colombian and Venezuelan passports.
How Jalil came to the fore some 26 years after he was placed at the bombing with detonation cord and machine guns in a Panama City apartment is unknown. Publishing the bulletin was indeed part of "ongoing investigations" in which agents are "actively pursuing leads and conducting interviews," the FBI's Miami office spokesman James Marshall told the Investigative Project on Terrorism.
"Despite the passage of time, investigators believe that Ali Hage Zaki Jalil may have information related to this investigation," Marshall wrote.
He declined to comment further. Panamanian officials did not respond to a request for comment.
A Long Cold Thaw in Panama
Decades after the bombing investigation was seemingly over, Panamanian President Juan Varela promised in May 2018 that Panama would reopen a full investigation. That vow grew from intelligence Israeli Prime Minister Benjamin Netanyahu provided to his Panamanian counterpart ascribing the tragedy squarely to the terrorist group Hizballah and Iran, a la Argentina.
But nothing seemed to develop after that.
The Varela government declined repeated requests in 2018 and 2019 asking about the status of the case. After businessman and politician Laurentino Cortizo was elected to replace Varela in May 2019, Panama's small Jewish community of 15,000 asked him to move the investigation forward.
Panama reportedly developed the new leads that included Jalil in October 2019.
Why It Matters
Any reluctance by Panama to aggressively investigate the Israeli intelligence indicating Iran-Hizballah involvement in the demise of Flight 901 occurs in the context of Argentina's highly tortured investigations of the 1992 Israeli embassy and 1994 AIMA bombings. Along with a 900-page indictment of senior Iranian government and Hizballah figures, those decades-long efforts produced pain for victim survivors, diplomatic rifts across the globe, the murder of its chief prosecutor, government corruption suppressing it, and not much punishment for any perpetrator.
But the Argentine investigations provided the victim families and international community some truth about how clandestine Iran and Hizballah operators were able to conduct at least two massive terror bombings. And it led Argentina to designate Hizballah as terrorist organization last year, setting off a chain reaction of similar designations by other Latin American nations, such as Colombia, Paraguay, Honduras, and Guatemala.
The designations allow those countries to work together to legally tighten the noose on Hizballah in Latin America, reduce the mobility of operatives and prevent its ability to finance and carry out operations like Flight 901, said Joseph Humire, executive director of the Center for a Secure and Free Society and an expert on Latin American security affairs.
"The real challenge we have with Hizballah is a question of presence; it's very difficult to ascertain who is Hizballah. There are operators who move around and blend into the Lebanese community," he said. "So it's largely an intelligence effort to figure this out. Without the (FTO) provisions, it's hard to go after these intelligence operatives in Latin America. They don't even look at them, don't even touch them. FTOs puts us in the same language and on the same page."
Todd Bensman is Senior National Security Fellow for the Center for Immigration Studies and a former manager of counterterrorism for the Texas Department of Public Safety's intelligence & Counterterrorism Division (2009-2018). His book, America's Covert Border War, will be released in February.
Copyright © 2020. Investigative Project on Terrorism. All rights reserved.