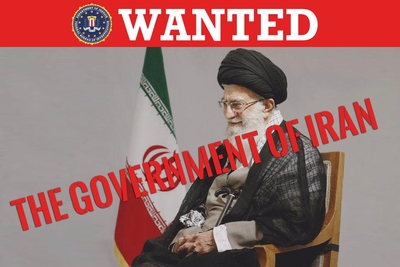 Iran's brazen plot to kidnap Massih Alinejad, an Iranian activist and journalist, in New York got a fair share of the Western media's attention and rightly so. The plot was organised and sponsored by the highest echelons of Iran's Ministry of Intelligence and Security (MOIS) and used agents within the U.S.
The plot to kidnap Alinejad is not the first time the Islamic Republic of Iran has kidnapped its dissidents from outside its borders. There have been a number of other previous successful abductions by Iran which have received little if any international reaction and condemnation.
The muted Western response has emboldened the regime to plan even more audacious plots.
In 2007, Foroud Fouladvand, a UK resident, who presented a one man TV show from London against the regime and called for a revival of Iran's ancient Zoroastrian religion was abducted from Turkey and was never seen again. Prior to his abduction, the UK police had arrested Fouladvand, on trumped up charges of terrorism, as a favour to the Islamic Republic of Iran when the UK's Foreign Secretary, Jack Straw and the EU representatives thought they had reached a feasable deal with Iran over its nuclear program.
Rouhallah Zam, another Iranian activist based in France who operated a popular Telegram social media channel, called Amad News, was abducted in Iraq in October 2019, taken to Iran and executed on 12th December, 2020. Amad News played a crucial role in covering the widespread anti-regime protests in 2017-2018. The French government along with its EU partners, showed no more than a token gesture to Zam's abduction and execution by the mullahs.
Jamshid Sharmahd, a 66 year old German national of Iranian origin who resided in the U.S. and broadcasted anti-Islamic programs from his satellite radio station, Tondar, was abducted in Dubai in July 2020, taken to Iran and awaits a similar fate to Zam. His family have not heard from him for the last two months. It is very likely that Jamshid Sharmahd will be executed too if he is still alive.
What is different about the plot to abduct Massih Alinejad, is that it was planned to be carried out on the U.S. soil and not from Iran's neighbouring countries. This increased audacity in the Islamic Republic of Iran's modus operandi in abduction is partly because Iran senses weakness and division amongst its Western adversaries and partly because there was not a strong international reaction to the previous abductions of Iranian dissidents by the regime.
The case of Jamshid Sharmahd's abduction demonstrates how a muted response not only by the German and the U.S. governments, but also by the mainstream media and even human rights organisations made Iran even more brazen to kidnap its dissidents even from far away from its immediate borders.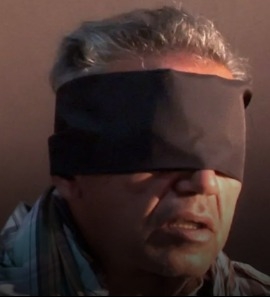 The blindfolded picture of Jamshid Sharmahd published in the Iranian state media.
Jamshid Sharmahd moved to Germany in 1983 when he was 7 years old, he was brought up there, had a German passport and worked as a software engineer. He is a German national of Iranian origin. At the age of 50, after a business opportunity came up in California, he moved to the U.S. with his family. In 2009, the FBI discovered a terror attempt against him and asked him to take extra measures when he travelled abroad. His U.S. visa however required him to leave and re-enter America, once every two years. He was promised assistance in obtaining his Green Card due to his exceptional circumstances but nothing came of it.
In 2019, he travelled to India to meet some potential business clients but with the start of the Covid pandemic, he was stuck there and could not leave until the Indian government eased the Covid restrictions. In June 2020, he finally managed to board a Bombaii-Amsterdam flight but was unable to fly back to the U.S. because only American citizens were allowed to fly back. He decided to fly back to India and conduct more business there while waiting to get back to America and got on an indirect flight that stopped at Dubai on 28th July, 2020. There he stayed in a hotel airport and video called his family to say he was ok and sent his Google Map location coordinates. Two days later however, Iran announced that they had abducted Jamshid Sharmahd and taken him to Iran.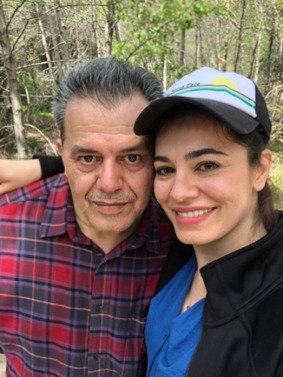 Gazelle Sharmahd pictured with her father during happier times.
His daughter, Gazelle sharmahd, has been frantically trying to get the media, the German government and the Biden administration to help bring her father back, but even the human rights organisations have not been very responsive to her calls.
It took Amnesty International six months to reply to Gazelle and finally issued this statement a year later. Gazelle believes her father's anti-Islamic stance may be the reason why human rights organisations have not been so keen to pursue his case.
In an exclusive interview from her California home this morning, Jamshid Sharmahd's daughter told me, "The German government's excuse is that they say my father is a dual national, but he is not. He is a German national and does not have an Iranian passport and has not willingly travelled to Iran"
She also told me, "No one from the Biden administration or the State Department has been in touch with me".
Domestically, the Islamic Republic of Iran is near collapse. Iran, as a country rich in oil and gas resources, should be one of the top energy superpowers, yet it has been suffering from crippling electricity and water shortages for the last six months. The problem is all to do with the incompetence and mismanagement by the regime and having the wrong priorities. The shortages are having a knock-on effect on production and the economy during a worsening pandemic which the regime seems unable to manage. Chants of "Death to Khamenei" are regularly heard during the recent blackouts and people wish for an immediate end to this nightmare of being governed by backward clerics.
The water and electricity shortage problems are being further exacerbated as the temperatures are rising further in the sweltering heat of the Summer. There have been protests against power cuts and water shortages throughout Iran, strikes are spreading and last night protests took place throughout the oil rich province of Khuzestan which is suffering acute water and electricity shortages when the daily temperatures are reaching over 120 Fahrenheit.
Yet on the same day that the FBI went public with the news of Massih Alinejad's kidnap plot, the Biden administration has given another lifeline to the mullahs. The State Department informed Congress it would waive sanctions on Iran's illicit oil trade so that the regime can access its frozen funds from South Korea and Japan. Iran holds around $7 billionworth of funds for sales of crude and energy products to South Korea before May 2019, in the Industrial Bank of Korea (IBK) and Woori Bank. This amount of money is enough for Iran, according to counter-terrorism officials who spoke to the Investigative Project on Terrorism, to collectively bankroll the annual budgets of all its various terrorist proxy groups including Hezbollah, Hamas, Islamic Jihad, Houthis and the Iraqi Shia Militia Groups for a minimum of at least 4 to 5 years to come. What makes it more bewildering is that it seems to be a unilateral concession by the Biden administration without any demands asked in return from Iran.
"And yet even more outrageous," said Steven Emerson, executive director of the Investigative Project on Terrorism, "is the fact that Secretary of State Anthony Blinken had repeatedly promised Congress that the US would demand that Iran make the first step and that there would be no partial deal with Iran in which Iran would be granted partial relief from sanctions without getting a comprehensive deal on nuclear, terrorism and missile issues. That commitment has turned out to be one giant lie." Emerson continued." Right now, the Biden Administration is not only prostrating itself to get Iran back to the negotiating table but it appears to be rewarding the regime for carrying out kidnappings, terrorism and major technical, military and intelligence assistance to its terrorist proxies. If the Biden Administration truly cared for the human rights of oppressed people, it would treat the current Iranian regime as the rogue, authoritarian and chief sponsor of worldwide terrorism regime it is. Its failure to do so is only going to further reinforce to the Iranian regime that they can get away with murder, which they already have."
Xiyue Wang, the Princeton scholar who was imprisoned in Iran reacted to the timing of the State Department's announcement by tweeting:
"The Biden admin making NO red line for IR Iran's malicious behavior will only foster such behavior and it WILL backfire. Going back to JCPOA without red line is to the interests of the Biden admin, not to the interests of the United States."
He further tweeted:
"Under overwhelming public opinion pressure @USEnvoyIran 's response to IRI's abduction attempt is FEEBLE & LAUGHABLE. After mere lip service, team Biden continues to MATERIALLY enable IRI regime malice, despite IRI's murderous crime & threat to the safety of Americans in America"
It is not the first time the Iranian regime has been at the edge of collapse but given a lifeline by a U.S. administration. This happened during the Obama administration too, when Iran received billions of Dollars in cash. Money that was not spent on the Iranian people but on terrorist groups who are ensuring the Islamic Republic's hegemony in the region.

IPT Senior Fellow Potkin Azarmehr is a London-based investigative journalist, business intelligence analyst, and TV documentary maker who was born in Iran. He regularly contributes to several newspapers and television stations on Iran and Middle East related news. You can follow him https://gettr.com/user/potkazar
Copyright © 2021. Investigative Project on Terrorism. All rights reserved.