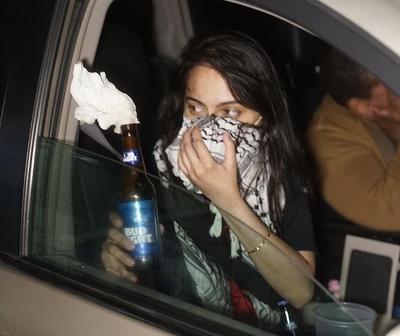 Outraged reactions from Islamist, Arab American, and Palestinian organizations have emerged since the May 30 arrest of Urooj Rahman and Colinford Mattis during a violent protest in New York City.
A picture included in court papers shows Rahman brandishing a Molotov cocktail in one hand while using a Palestinian keffiyeh to cover the lower part of her face with the other hand .
Rahman and Mattis were arrested after a Molotov cocktail was thrown through the broken window of a police car. Rahman was seen throwing the incendiary device, police say, while Mattis drove away from the scene. Other charges involve gathering gasoline and other materials required to construct Molotov cocktails, and encouraging others to do so. This took place at what was supposed to be a peaceful protest in response to the Minneapolis police killing of George Floyd.
The organizations' defense of the pair claims that the charges against Rahman and Mattis are motivated by racism and "structural Islamophobia."
But neither Rahman nor Mattis were arrested for anything they said, or for simply being present during a protest. The charges, it must be stressed, specifically refer to their violent actions that night and their possession of additional incendiary materials. According to the original complaint, "Video surveillance from the NYPD's 88th Precinct" showed Rahman get out of a tan minivan, light a Molotov cocktail, and then throw it into a police car. They also "sought to incite others to launch similar attacks and attempted to distribute other Molotov cocktails to other protestors in furtherance of this objective." Rahman then got back in the van with Mattis, who drove away.
"They conducted this improvised incendiary device attack in close proximity to other individuals on the street, placing those individuals in grave danger," the court documents state. "With that attack complete, Mattis acted as the getaway driver for Rahman, as the two sought to escape the scene and avoid arrest."
Police followed the van and stopped it moments later, leading to the arrests. Rahman and Mattis were subsequently indicted on seven federal counts, including use of explosives, arson, arson conspiracy, use of a destructive device, civil disorder, and making or possessing a destructive device. If convicted, each could face life imprisonment and be disbarred.
The Center for Constitutional Rights denounced the fact that the two initially were held without bail and demanded "the excessive and politically motivated charges against them be dropped."
A group of 56 former prosecutors joined an amicus brief June 16 in support of an appeal to get the pair released on bail pending trial. The U.S. Court of Appeals for the Second Circuit ruled for Rahman and Mattis on June 30. But in doing so, the court undercut the broader argument – that the charges are somehow excessive of politically-driven.
"There is no question that the evidence before the district court demonstrated that the crimes charged are serious and the defendants' conduct on the night of their arrests could well have resulted in significantly more harm than it did," wrote Judge Peter Hall. "By affirming the district court's order to release the defendants on the conditions imposed, we do not seek to minimize the severity of the offense."
Still, a letter from the "Fordham Law Community" similarly calls on the government to "drop these politically motivated charges." Letter organizer Leena Widdi, like Rahman, is a Fordham Law graduate and longtime activist for the Palestinian cause. Her professional biography describes her as a founder of Within Our Lifetime: United for Palestine, a "Palestinian-led community organization whose goal is to revitalize the revolutionary spirit of the Palestinian diaspora to complement the resistance in Palestine in pursuit of a free homeland." Widdi also was a member of the pro-BDS SJP (Students for Justice in Palestine) at Fordham. She was arrested in 2012 for vandalizing a controversial pro-Israel poster in the New York City subway.
Another letter backing Rahman and Mattis came from the "NYU Law Community," which dismisses the prosecution as a "gross overreach of federal law enforcement power and an attempt to stifle and delegitimize dissent against police brutality."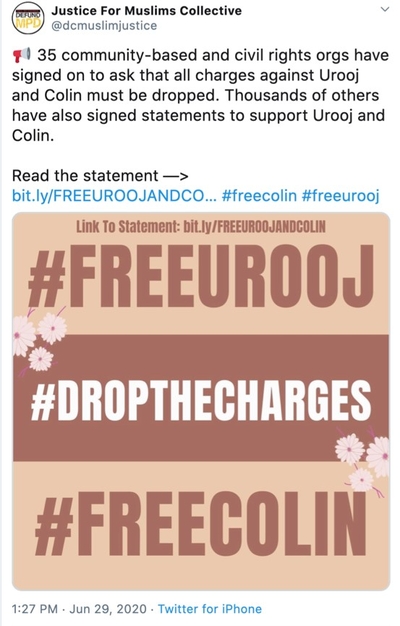 That has not stopped allies from ascribing the charges as emanating from institutionalized racism and "structural Islamophobia" in the United States.
"These excessive charges targeting Colin and Urooj set a dangerous precedent," said a letter from three Muslim American organizations that garnered signatures from 32 other organizations. The charges "function to instill fear and stifle protest by Black, South Asian, and Muslim protestors ..."
In recent weeks, some of the organizations which signed on to the letter have also promoted anti-law enforcement activities. The Justice for Muslims Collective, together with Linda Sarsour's MPower Change (MPC) and the Palestinian Youth Movement (PYM), the latter two both signatories to the letter, cosponsored an online teach-in on organizing campaigns to oppose the FBI's Joint Terrorism Task Force. Its theme was, "WTF is JTTF? A teach-in on FBI Joint Terrorism Task Forces." They promised participants that the session would cover the "history of state targeting against Muslims, activists, and BIPOC [Black indigenous people of color] in general. The teach-in will include stories from the ground on how to successfully organize against JTTF."
Additionally, the JMC is engaged in an ongoing campaign allied with other groups to defund the Washington, D.C. police called "Stop Police Terror Project DC."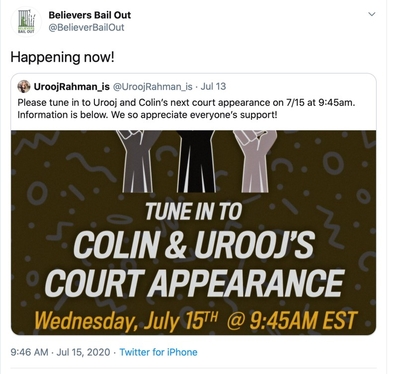 Believers Bail Out (BBO), one of the three groups which organized the letter, is a project established to "free Muslims who are incarcerated before trial." It was co-founded by Su'ad Abdul Khabeer and Kamilah Pickett, founder and senior editor and politics editor, respectively, of the Black Muslim blog Sapelo Square. BBO was established in partnership with Linda Sarsour's MPower Change, Sirat Chicago, and the Chicago Community Bond Fund. Sirat Chicago directs donations to BBO through its website.
"We must understand how the prison industrial complex, anti-black racism, anti-Muslim racism are all inherent to a capitalist system. And we must learn how to dismantle these structures from the freedom fighters who came before us." BBO says. BBO calls for police "Abolition, Not Reform," and asserts, "The history of policing in the United States is directly tied to the legacy of chattel slavery - there are no reforms to be made because the system is working exactly as it has been designed."
The Islamic Circle of North America Council for Social Justice (ICNA-CSJ) is a signatory with a long history of defending convicted cop killer Jamil Al-Amin. Al-Amin is a convert to Islam formerly known as H. Rap Brown, the "justice minister" of the 1960s radical Black Panther Party. Brown became infamous for a 1967 speech inciting violence, declaring, "If America don't come around, we're gonna burn America down!" Rioting and arson erupted shortly thereafter.
Al-Amin was convicted in 2000 and sentenced to life in prison for shooting two African American sheriff's deputies with an assault rifle in Atlanta, Georgia, killing one. ICNA joined a coalition of Islamist organizations, including CAIR, which condemned Al-Amin's conviction and asserted that someone else was responsible for the shootings, stating, "We do not believe the facts presented in court warranted a guilty verdict against Imam Jamil." ICNA-CSJ held an online webinar last month titled, "The Struggle Continues: Imam Jamil Al-Amin and the Path to Freedom." ICNA also reinvigorated a campaign to demand a new trial for Al-Amin.
Another of the letter's signatories is the San Francisco based Arab Resource and Organizing Center (AROC), led by Lara Kiswani, a BDS activist and co-founder of the Students for Justice in Palestine at UC Davis. In 2017, AROC was involved creating an "Arab Liberation Mural" celebrating "Arab leaders." Among them were the convicted PFLP terrorist Rasmieh Odeh, Leila Khaled, the PFLP terrorist who hijacked two planes in 1969 and 1970, and Basel Al-Araj, a Palestinian who was reportedly involved in a terrorist cell that was planning to kill Israelis. Al-Araj was killed in a 2017 gunfight with Israeli counterterrorism forces and was praised for his actions by Hamas.
AROC is also no stranger to anti-police activities and has claimed credit for ending the San Francisco area law enforcement yearly counterterrorism exercise "Urban Shield," proclaiming it "A victory against Israel and US militarism!" Additionally, AROC issued a 2015 report called "Developing Alternatives to Policing," which describes its anti-police political strategy as entailing "work to create conscious anti-Zionist community [sic] that is connected to opposing law enforcement."
The outrage coming from so many lawyers' groups is unusual, since throwing Molotov cocktails routinely leads to criminal charges.
For example, Cellicia Hunt was arrested in Miami a year ago after tossing a Molotov cocktail into a South Florida U.S. Citizenship and Immigration Services office. She was indicted on two federal felonies. Court records indicate she was committed for psychiatric treatment in May.
A Jacksonville man faces federal charges for having a Molotov cocktail at a May 31 protest similar to the one in New York where Rahman and Mattis were charged. Ivan Jacob Zecher was not seen throwing the explosive, but as a felon, was charged for possessing one in his backpack.
There is no campaign casting charges against Hunt or Zecher as excessive or politically motivated.
But based on Rahman's interest in the Palestinian cause, and her anti-police activities that dovetail with the radical interests of the organizations that have come out in support for her and Mattis, the support of these organizations for Rahman and Mattis is not surprising.
Copyright © 2020. Investigative Project on Terrorism. All rights reserved.