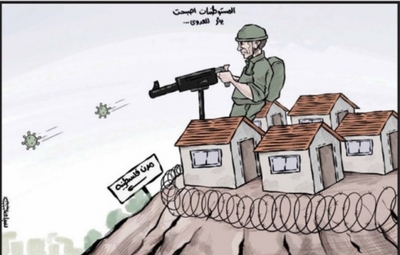 Al-Hayat al-Jadida published this cartoon depicting an Israel soldier shooting coronavirus at Palestinians
Radical Islamists of all stripes – from the Islamic State to the Islamic Republic of Iran – continue to spew conspiracy theories on the origins of the coronavirus. Jihadist groups like ISIS praise COVID-19 as divine punishment against infidels. Others, like Iran's Supreme Leader Ayatollah Ali Khamenei, claim that the United States developed the coronavirus to hurt its adversaries.
What is the Palestinian Authority (PA)'s official stance when it comes to the global pandemic?
Earlier this month, some experts claimed that Israel and the PA were cooperating effectively to combat a mutual concern. It appears that the Palestinian government was playing a double game, however, and integrated COVID-19 into its long-standing practice of inciting against Israel on a systematic level. The PA accuses Israel of purposefully spreading the virus to the West Bank in an effort to "annihilate" the Palestinian people, according to extensive reporting from Palestinian Media Watch (PMW).
But the numbers tell a different story.
As of Monday, 259 people in the West Bank are reported to have coronavirus and two people have died from the virus – a relatively low figure suggesting mitigation efforts are working well so far.
On Sunday, Israeli military officials warned the PA to cease its COVID-19 incitement campaign, according to Israel's Channel 12 and reported by the Times of Israel. The Channel 12 report states that most COVID-19 cases in the West Bank have been traced to Palestinians who work in Israel. The PA sought to spin this information to accuse Israel of deliberately targeting Palestinian areas with the virus.
For example, on April 5, the official PA daily al-Hayat al-Jadida published an article claiming that "Palestinian prisoners are being burned between the fangs of Israel and the Coronavirus."
The article, translated by PMW, featured a Fatah spokesman warning of Israel's "exploitation of the coronavirus in order to annihilate the Palestinian prisoners."
Another PA conspiracy claims that Israel is deliberately infecting Palestinian prisoners held in Israeli jails with the virus.
One video, posted to a Palestine Liberation Organization (PLO) Facebook page, depicts a tank taking aim at a Palestinian child while coronavirus particles threaten children imprisoned in Israeli jails.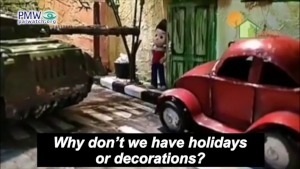 Palestinian Media Watch assembled a collection of Palestinian images depicting Israelis attacking Palestinians with the coronavirus.
The PA Prime Minister Muhammad Shtayeeh's voice is superimposed on another PLO-produced clip depicting this modern-day blood libel, calling for the release of all Palestinian prisoners.
Despite U.S. and international pressure, the PA continues to transfer payments to convicted terrorists and their families. The amount of money paid to imprisoned or released terrorists depends on the length of sentence, which is a function of an action's severity. The more brutal the attack or murder, the more money a Palestinian prisoner receives.
On March 30, after airing footage of an Israeli soldier simply spitting on the ground, the PA's official daily claimed that "dozens of occupation soldiers spit on cars of (Palestinian) residents and the door handles of the homes" to spread COVID-19. A day earlier, Fatah's official Facebook page stated that Israel is waging "a biological war against Palestine."
Another article in the PA's official daily last month claimed that Israel is attempting to "thwart" Palestinian efforts to combat the virus.
In reality, however, Israel continues to train Palestinian doctors and supply medical assistance to the West Bank to mitigate against a COVID-19 outbreak in areas controlled by the PA. Instead of encouraging Israeli-Palestinian cooperation, the PA would rather incite against the Jewish state amid a pandemic that does not discriminate against its victims.
West Bank-based leaders are not the only Palestinians engaging in coronavirus-related incitement.
In a sermon last month, a Gaza-based imam, Jamil Al-Mutawa, preached that God started COVID-19 to kill infidels and Israelis, claiming that Muslims were least impacted by the virus.
"Look how anyone who schemes against the Al-Aqsa Mosque is being shattered to smithereens by the soldiers of Allah," al-Mutawa claimed, adding "look how empty the [Israeli] cities are. Look how empty their streets are and look how crowded this mosque is. Who is it that has given us security and terrified them? Who is it that has protected us and harmed them? It is Allah!"
The imam noted that "there is not a single case (of COVID-19) in Gaza." The next day, Palestinian health officials confirmed two cases of the virus in the Strip.
Last week, Hamas arrested several peace activists in Gaza for participating in a video conference call with Israeli activists seeking to find common ground on several issues, including the COVID-19 pandemic. Hamas views any engagement with Israelis as a treasonous offense.
Several Palestinians, including a journalist and former research consultant at Amnesty International's Israel office, condemned the video conference as an attempt to normalize ties "with the Israeli enemy." Palestinian journalist Hind Khoudary tagged three senior Hamas officials on her Facebook post last week to alert the terrorist organization about the peace activists' call. Amnesty International's Israel office has since condemned Khoudary's post and clarified that she worked for the organization as a free-lance researcher in March 2019.
Like Palestinian leaders, Islamist outlets from Algeria's Al Masdar to Hizballah's Al Manar TV blame others, including Israel and the United States, for the virus's spread.
Last month, Iran's supreme leader refused U.S. assistance to fight the deadly virus spread, suggesting that "possibly your [American] medicine is a way to spread the virus more." The coronavirus has severely plagued Iran, with 4,585 recorded deaths. The commander of Iran's Islamic Revolutionary Guard Corps (IRGC) called the virus an "American biological invasion," while Iran's propaganda machine spread rumors that the virus was a "Zionist biological terrorist attack," according to an article in Foreign Policy. Even so-called biology experts in Iran claim that the "Americans and Zionist regime" created the "biological ethnic weapon" to target Iranians specifically.
If the latest Palestinian campaign of incitement does not stop, Israeli officials recently threatened to reduce security cooperation with the PA – which depends on Israeli intelligence to thwart terrorist attacks and Hamas-led plots to overthrow the Palestinian government.
By spreading these dangerous lies, the PA joins the likes of the Islamic State, Hizballah, and the Iranian regime in their efforts to exploit the coronavirus pandemic for their own terrorist and political objectives.