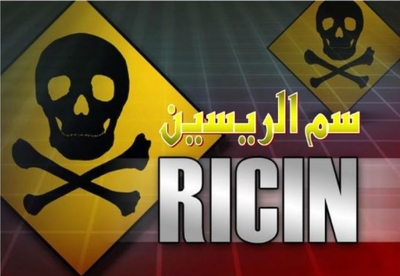 As terrorists seek to exploit the COVID-19 pandemic, counterterrorism authorities remain concerned about how malicious actors may escalate attacks or try to weaponize the coronavirus. Amid this backdrop, it is important to contextualize recent plots involving non-conventional terrorism, particularly bioweapons.
On Thursday, a German court sentenced a Tunisian man and Islamic State sympathiser, Sief Allah H., to 10 years in prison for planning a biological attack involving ricin, a lethal poison.
His wife Yasmin is accused of helping Sief build the bomb and faces a separate trial.
The couple procured enough of the toxin to kill close to 13,500 people, the presiding judge for Sief's trial said.
The CIA reportedly notified its German counterparts after discovering the couple's online order for 3,300 castor beans, required for ricin production.
German counterterrorism authorities arrested the pair in 2018 and discovered 85 milligrams of ricin, a small, yet lethal amount. A year earlier, the couple had decided to bomb a large crowd, "to kill and wound the largest possible number of people," prosecutors said before the trial.
Germany has faced a variety of Sunni and Shi'a extremist threats over the years. In January, police conducted raids across the country arresting multiple alleged Islamists suspected of planning major terrorist attacks. Raids targeted cells in Berlin and three other states including North Rhine-Westphalia – a state with a significant Hizballah and Muslim Brotherhood presence.
Germany has been increasingly vigilant against Islamist terrorism after 12 people were killed in a 2016 truck ramming attack on a Berlin Christmas market. The terrorist, Tunisian national Anis Amri, had been denied asylum. German security authorities have foiled nine Islamist terror plots since.
It is unclear to what extent the Islamic State terrorist group was involved in the planning process for the foiled ricin attack. The organization is known to use the internet to connect with sympathisers and operatives to either inspire or formally direct international terrorist attacks.
Recent incidents involving ricin highlight the dangers of non-conventional weapons use in terrorism. In 2003, a string of letters containing ricin addressed to U.S. government officials and the White House were intercepted. No one was ever charged. In the past, traces of ricin were allegedly discovered in multiple locations across Afghanistan. Investigators also identified Islamist militants in Iraq working on the development of lethal toxins, including ricin.
While terrorists across the ideological spectrum have largely failed to weaponize biological agents, ricin-related threats persist. Among a whole host of non-conventional chemical, biological, radiological, or nuclear (CBRN) material, ricin is one of the easiest options to produce.
It is relatively easy for a committed individual or cells with the appropriate level of technical knowledge to set up a laboratory in a basement to produce ricin. The main difficulty is figuring out how to properly weaponize the toxin to kill large numbers of people. To target potential victims, ricin needs to be ingested, inhaled, or injected – a difficult task for terrorists seeking to kill many people. The more complex the terror plot, the easier it is for authorities to disrupt. In the recent Germany plot, U.S. intelligence was able to intercept the suspicious purchase of ingredients required to make the toxin.
Like other foiled terrorist attempts, the latest ricin plot is another example of a thwarted attack that will be overlooked. Policymakers and terrorism researchers tend to make threat assessments based on actual attacks, which skews our understanding of terrorist threats. Exploring major attacks that could have transpired – but were foiled by security authorities – provides a more accurate understanding of the overall threat environment.
Last year, for example, jihadist terrorist attacks declined by roughly 50 percent in Europe following significant spikes in attacks the previous two years. Based on this data, some observers started to believe that the Islamic State threat was eroding in Europe. But by including foiled jihadist plots, overall terrorist activity in 2018 was actually higher than any year before 2015, including the 2000s when al-Qaida struck Europe in several high-profile attacks.
Some of the 2018 plots targeting Europe would have been devastating if executed. A terrorist cell based in Holland, for example, planned to target a public event with automatic rifles and explosives and detonating a car bomb elsewhere. In November, German security authorities foiled a terrorist plot involving Islamic State affiliated operatives launching an attack using explosives.
Europol reports show that European separatists conduct more attacks than jihadists in the continent. But these assessments misrepresent the fact that the jihadist threat is transnational, not inherently localized like separatist movements, and are more likely to inflict higher levels of fatalities.
Reports that reference terrorist attempts do not usually differentiate among various plot stages or potential devastation. The latest ricin plot, however, involves enough details and sufficient preparation to suggest that the couple was far along in the planning process. In some cases, security authorities, with alleged help from Israel's intelligence agencies, were able to disrupt major attacks in their final execution phase – as recent examples in Denmark and Australia show.
Last week, the Islamic State encouraged its supporters and operatives to exploit the COVID-19 pandemic to attack its enemies, while states remain primarily focused on preventing the virus's spread. Though many cases of biological terror attempts involve ricin, plots to weaponize the coronavirus are an emerging threat. Facing a host of malicious actors and less attention to countering terrorism, security authorities worldwide face an uphill battle against terrorism generally and non-conventional plots specifically.