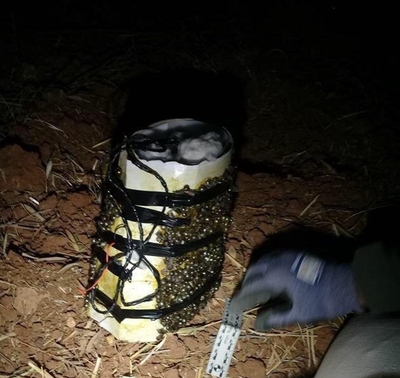 Considering the bombs that don't go off.
Since Tuesday, the Palestinian Islamic Jihad fired more than 450 rockets at Israeli communities after Israel targeted one of the terrorist group's senior leaders in Gaza. Israel responded with considerable restraint and highly selective targeted airstrikes of PIJ terrorist infrastructure and personnel. This escalation of violence is receiving widespread attention, as Egypt and the United Nations helped broker a mediate a ceasefire.
But terrorist plots that fail to be executed garner basically no media attention. The chief of Israel's Shin Bet domestic security service revealed last week that Israel foiled more 450 major terrorist attacks in the past year, the Times of Israel reported.
Nadav Argaman attributed Israel's counterterrorism successes to sophisticated technologies, cooperation with other domestic authorities, and Israel's "synergy with our counterparts around the world."
Beyond Israel's vast network of informants and human intelligence capabilities, Israeli intelligence has developed social media analytic programs to detect and anticipate potential terrorist incidents.
Organized terrorist attacks within Israel or the Palestinian territories, by groups like Hamas or PIJ for example, tend to be more lethal than individual terrorist initiatives. However, plots orchestrated by organizations are easier for Israeli authorities to identify and thwart.
For example, Israel has foiled every Hizballah attempt to recruit Palestinians online to form cells to carry out attacks against Israel. It is far more difficult to prevent a disgruntled or radicalized Palestinian to use a car for a vehicular attack or conduct a stabbing attack. Yet Israeli authorities seem to be managing the individual terrorist threat, too. After experiencing a sharp uptick in attacks during a largely popular uprising from 2015-16, Israel's diverse intelligence capabilities helped the Jewish state contain the West Bank-based terrorist threat.
In line with 2019 figures, Israel's Prime Minister Benjamin Netanyahu similarly announced that Shin Bet prevented roughly 500 terrorist attacks in 2018.
Israel's revelations concerning large numbers of foiled plots suggests that, while terrorist attacks are down, the overall threat itself remains high. Covert plots point to a major, yet poorly understood, terrorist threat to Israel.
Policymakers and terrorism researchers tend to make threat assessments based on actual attacks. Many prominent terrorist databases include only counts of attacks. But this approach skews our understanding of terrorist threats. Exploring major attacks that could have transpired – but were foiled by security authorities – provides a more accurate understanding of overall terrorist threats. Reporting foiled, significant plots and including these incidents in datasets can also help security authorities take credit where it is due and signal the virtues of specific counterterrorism measures to a concerned public.
Petter Nesser, an expert on the jihadi threat to Europe, has been at the forefront of offering more nuance by incorporating foiled plots into terrorism analysis. Last year, for example, jihadist terrorist attacks declined by roughly 50 percent in Europe following significant spikes in attacks the previous two years. Based on this data, some observers started to believe that the Islamic State threat was eroding in Europe. But by including foiled jihadist plots, overall terrorist activity in 2018 was actually higher than any year before 2015, including the 2000s when al-Qaida struck Europe in several high-profile attacks.
Some of the 2018 plots targeting Europe would have been devastating if executed. A terrorist cell based in Holland, for example, planned to target a public event with automatic rifles and explosives and detonating a car bomb elsewhere. On Tuesday, German security authorities foiled a terrorist plot involving Islamic State affiliated operatives launching an attack using explosives.
Yet most observers continue to focus only on the attacks that succeeded.
Nesser also points out that the relative threat posed by various terrorist actors can be skewed if analysts only look at realized attacks. Europol reports consistently show that European separatists conduct more attacks than jihadists in the continent. But these assessments misrepresent the fact that the jihadist threat is transnational, not inherently localized like separatist movements, and are more likely to inflict higher levels of fatalities.
By sharing intelligence with allies and partners abroad, Israel has been able to foil numerous jihadist plots targeting the West. Most of the work that goes into combatting terrorism remains under the radar and goes unnoticed in the public eye.
The latest Shin Bet figures concerning foiled terrorist plots targeting Israelis do not distinguish among different types of perpetrators, plot stages, or potential devastation. But we know from previous reporting that some foiled attacks would have caused serious damage. For example, several Hizballah-directed plots in the West Bank involved preparations to kidnap Israelis for ransom or to conduct a suicide bombing. One Palestinian cell directed by the Lebanese terrorist group was caught on its way to wage a shooting attack against Israeli military targets.
Without more consideration of prevented terrorist plots, our understanding of the overall terrorist threat is likely to be incomplete.