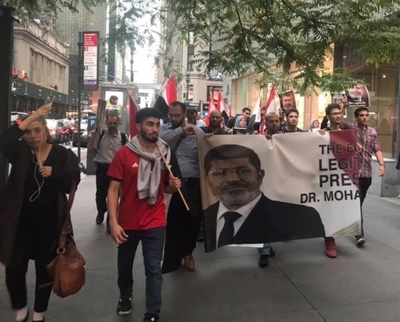 Mourners marched in New York Monday after Mohamed Morsi's death.
Former Egyptian President Mohamed Morsi's death Monday during a court hearing triggered immediate, often predictable reactions.
The Muslim Brotherhood, which Morsi spent his life serving, accused Egypt's military rulers of killing him. U.S. Brotherhood-linked groups and individuals followed suit, describing Morsi as a martyr killed by the state.
Egypt's Interior Ministry is on high alert in the wake of Morsi's death.
Morsi complained of feeling unwell during his appearance in a Cairo courtroom on Monday and died of an apparent heart attack shortly after. He quietly was buried Tuesday.
"A blatant murder will not change the features of everyone's confusion in front of the shock of news and there being no hurry to issue news about the circumstances of his death," Muslim Brotherhood spokesman Abbas Kabari wrote on the Brotherhood's website, IkhwanOnline. "...We call on the free people in Egypt to rally at a popular funeral – worthy of President Martyr Mohamed Morsi. And then popular funerals in the world is [sic] not easy and will not be #they killed him, God kill them."
Morsi was Egypt's first president elected in multiparty contested elections, but a rush toward transforming the country into a theocratic dictatorship marked much of his year in power.
He promised religious diversity in his cabinet, including the appointment of a Coptic Christian. That never materialized. His effort to ramrod a theocratic constitution and a declaration of emergency powers in November 2012 marked a turning point because it galvanized the Egyptian people against Brotherhood rule. Brotherhood gangs beat anti-Morsi protesters outside the presidential palace at a December protest against Morsi's slide toward dictatorship.
Egypt's military reacted to massive street protests by removing Morsi from power in July 2013. He was in court this week for espionage charges.
Islamist leaders from around the globe offered condolences. A Taliban statement called Morsi's death "a great loss for Egypt and the entire Muslim world." Hamas remembered Morsi for his "brave and bold stances towards Gaza and his efforts to break the Israeli siege imposed on it and repulse the 2012 Israeli aggression against the blockaded territory," and called his death a "grave loss." The Pro-Brotherhood Egyptian terrorist organization Hassm vowed to avenge Morsi's death.
Turkey's lslamist President Recep Tayyip Erdogan called Morsi a martyr.
"May Allah rest our brother Morsi, our martyr's soul, in peace," Erdogan said.
Erdogan was a close ally when Morsi was in office and, since the coup, has provided refuge for hundreds of Brotherhood officials.
Morsi had a long connection with Brotherhood activists in the United States, having joined the group while he studied at the University of Southern California in the 1980s.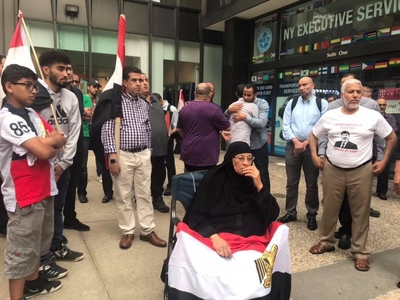 Khaled Lamada, third from the left holding the flag, at Monday's rally outside the Egyptian Consulate.
Brotherhood supporters, including Islamic Relief Board Chairman Khaled Lamada,
rallied
Monday outside of the Egyptian Consulate in New York protesting Morsi's death. An Investigative Project on Terrorism (IPT) report last year
disclosed
the depth of Lamada's pro-Brotherhood activities following Morsi's ouster, and showed him with high-ranking members of the Egyptian Brotherhood on U.S. soil.
As in the past, Lamada joined members of Egyptian Americans for Freedom and Justice (EAFJ) at this rally.
"He stuck with oppressed people in Palestine. Morsi wanted the dignity not only of Egyptians, but for all Muslim ummah. Morsi wanted dignity not only for the whole Muslim ummah, but for the whole world," EAFJ spokesman Mahmoud El-Sharkawy said at the rally. "They killed Morsi today because he represents the rights, and he does not stand with oppression. He refused to be ruled because he was representing Egypt and the representative of people."
The Majlis ash-Shura of New York, which includes representatives from area mosques, alleged that Morsi "was denied medical attention" and demanded an investigation into his death. Media reports indicate Morsi was rushed to a hospital but pronounced dead when he got there.
Morsi's election "was a sign of hope to the people in Egypt and in the Arab world that democracy can be established and the prosperity of their countries can be achieved," the Majlis ash-Shura statement said. Leaders of the Council on American Islamic Relations (CAIR), which began as an offshoot of the Muslim Brotherhood's Palestine Committee, mourned Morsi. During the 1990s, the Palestine Committee was tasked with helping Hamas – itself a Brotherhood offshoot – politically and financially in the United States.
CAIR-Los Angeles Executive Director Hussam Ayloush echoed the official Muslim Brotherhood statement accusing the Egyptian government of murdering Morsi.
"Egypt's legitimate President Morsi wasn't merely killed by bloody coup leader Sisi. He was murdered by UAE and Saudi/UAE rulers who funded the coup and immoral Egyptians who supported the criminal coup and Sisi. There will be justice in this life and on the Day of Judgment," Ayloush wrote.
The Dar al-Hijrah Islamic Center in Falls Church, Va., announced it was having a prayer service in Morsi's memory. Dar al-Hijrah members played a key role in the establishment of Egyptian Americans for Democracy and Human Rights (EADHR), a pro-Brotherhood group that sought to restore Morsi to power after he was overthrown in 2013.
"The Dar Al-Hijrah Islamic Center Community expresses its condolences to the People of Egypt and the family of President Mohamed Morsi, Egypt's first elected President in history, who died in court today due to the medical negligence of the Coup regime in Egypt," Dar Al-Hijrah's statement said.
Mosque leaders, such as Esam Omeish, a former president of the Brotherhood-founded Muslim American Society, board member Akram Elzend, and Dar al-Hijrah Executive Director Samir Abo Issa, each posted tributes to Morsi.
In an Arabic Facebook post, Omeish called Morsi a martyr and a "hero of the mujahideen." Elzend, also described Morsi as a "martyr," saying he "lived in service of his nation, an advocate for society's most vulnerable, and in his martyrdom, he will forever live in conscientious memory."
Morsi's death, Abo-Issa said, "will revive the masses, your death will be a curse on them until the Day of Resurrection."
"Your enemies have wronged you," wrote American Muslims for Palestine (AMP) Executive Director Osama Abuirshaid, a frequent Dar al-Hijrah attendee, "and many of your Brothers have wronged you, and other sophists are undertaking for you a search for false fame, your stature was high and raised above vile villainy."
Zuhdi Jasser, president of the American Islamic Forum for Democracy (AIFD), found the statements revealing.
"In death we learn now that the mask is off on western Islamists and how much pathological reverence they gave the radical Islamism of Egypt's Muslim Brotherhood and its 'Emir' Mohammed Morsi," Jasser said.
"If you have any doubts, search their press releases for condemnations of Morsi's Brotherhood's extreme theocracy and their association globally with most Sunni radical Islamist groups."