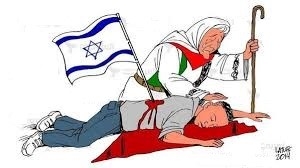 This cartoon of a Palestinian mother with her martyred son appeared in the original blog post.
Another Arabic-language newspaper has featured an article blatantly glorifying terrorism by honoring Palestinian mothers who "sacrificed" their children as "martyrs" and suicide bombers.
The article boasts of deadly terrorist operations sanctioned by Hamas and the Palestinian Islamic Jihad. But this article was not only circulated among several Arabic websites, it also was published in the Toronto-based Arabic-language newspaper Meshwar, according to a press release from the Centre for Israel and Jewish Affairs (CIJA).
Meshwar featured a story in its Aug. 3 issue which highlighted three mothers with sons who had orchestrated suicide bombings targeting Israelis as part of "the jihad for Palestine."
"Learning about the stories of (the mothers) Umm Mahioub, Umm Radwan and Umm Nidal makes you wonder. It is true that we see the scenes of the martyr's family almost daily in Palestine, but phenomena such as the mothers of the 'martyrs as a whole' are human phenomena...What is the nature of these people? Where did all this faith come from and all this iron ability to sacrifice and give and be patient and to bear pain and separation, and ask for more?" writes Muhammad Sayf al-Dawla as translated by the Investigative Project on Terrorism.
The author concludes with these rhetorical and sympathetic questions, yet this type of terrorism glorification is itself part of a systematic phenomenon that encourages many Palestinian families to produce children who engage in violence against Israelis.
Violent incitement is usually expected in Palestinian media outlets – not in North American publications.
Al-Dawla reportedly served in Egypt's previous Muslim Brotherhood-ruled government. He is a founder of the "Egyptians against Zionism" campaign which sought to upend Egypt-Israeli ties, al Ahram reported in 2012. Al-Dawla is also cited as a former security adviser for ex-Egyptian President and senior Muslim Brotherhood figure Mohammed Morsi.
His article originally appeared in a blog post last month.
Meshwar is a free weekly publication that often prints anti-Semitic cartoons and has an audience of roughly 4,000 readers in the province of Ontario, the Canadian Jewish News reports.
According to CIJA, which describes itself as "the advocacy agent of the Jewish Federations of Canada," Meshwar "has a long history of praising terrorism, Holocaust denial, and other antisemitic statements."
In 2014, Meshawar's editor Nazih Khatatba referred to a gruesome terrorist attack in Jerusalem as a "courageous and qualitative" operation. In that Nov. 18, 2014 attack, two Palestinian terrorists infiltrated a synagogue in Jerusalem and targeted worshippers and a policeman with firearms, axes, and butcher knives, killing four Israelis that day, with two more victims dying from their injuries later.
In response to the latest article, CIJA is "registering complaints with the relevant press councils" and calling "on Meshwar to apologize for publishing such a blatant glorification of murder."
Several Arabic-language publications across Canada have a history of promoting terrorism and contribute to rising anti-Semitism. In 2016, the Jewish human rights advocacy group B'nai Brith published an audit highlighting increasing anti-Semitic incidents in the country over the past decade.
"The Audit also highlights the emergence of a new and frightening trend in Canadian antisemitism: incitement against Jews in mass media, especially in Arabic-language publications," B'nai Brith reported. While the organization "was successful in exposing and removing many of the most egregious examples, the lack of response from law enforcement and government paints a worrying picture of this phenomenon going forward."
For example, in 2016 another Canadian Arabic-language newspaper, Al Saraha, published a blatantly anti-Semitic article titled: "The Question Which Everyone Ignores: Why Did Hitler Kill the Jews?"
That article accused Jews of facilitating Germany's "economic collapse" in the 1920s and encouraging "promiscuity...homosexuality...every type of sexual deviance." It also grossly underestimated how many Jews were murdered in the Holocaust – a common claim among anti-Semites and Holocaust deniers of various stripes.
This example, along with the most recent case of terrorism glorification in Canada, shows that radical Islamist incitement is not confined to the Middle East. Hateful rhetoric of this sort also continues to be propagated in the West as well.