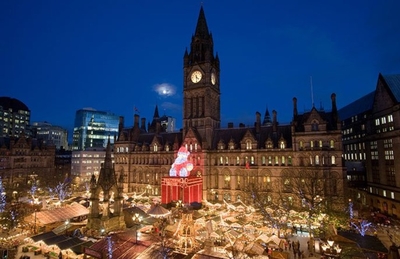 "Soon on your holidays," a sentence that would typically befit the celebrations of the Christmas festivities, was turned into a terrifying threat posted recently on an ISIS-related network vowing to attack major European cities during the Christmas holidays. The post included pictures of Santa Claus being stabbed by masked ISIS terrorists, among other chilling images, including landmarks from the Eiffel Tower to Times Square. These threats and attacks did not just target western communities, but Middle Eastern ones as well, where churches have a history of being targeted by deadly attacks such as the one in Egypt in December 2016 when St. Mark Cathedral's adjoining chapel was bombed by terrorists, killing 25 worshippers and injuring dozens of others. Since that attack, the country has increased security measures to safeguard all churches and places of worship, especially in the upcoming Christmas season.
The recent wave of ISIS threats to attack civilians during the Christmas season has forced governments to tighten security in the face of what is believed to be a serious threat from the terrorist group which has suffered major defeats in the Middle East, namely in Syria, Iraq, Libya and North Sinai (Egypt). Consequently, the U.S. State Department has issued a heightened alert for all American travelers to Europe to exercise caution, particularly at holiday events.
Accordingly, these countries have taken drastic measures to safeguard the celebrations of Christmas this year and the following are a few examples of such measures:
Germany
Six suspects were taken into custody during a Nov. 21 raid on eight apartments by a police force of about 500 officers. These preemptive strikes have saved Germany from another devious plan that aimed to kill dozens if not hundreds of people. Germany experienced one of the vicious attacks by ISIS terrorists in 2016 on a busy open air Christmas market in Berlin. German police shot Tunisian asylum seeker Anis Amri dead four days later in a shootout after he had killed 12 people and injured 56 more in the truck attack. German authorities continue to beef up security measures to protect public areas, particularly the country's estimated 2,600 Christmas markets. Organizers in Bochum, for example, decorated concrete barriers protecting pedestrian areas with festive Christmas wrapping with bows. Armed police patrols have been increased and stop-and-search checks were introduced at venues across the country.
France
France was rocked by a series of terrorist attacks and mass killings in recent years. The French Parliament approved tougher new laws giving security forces unprecedented powers during emergencies. This action was inspired by the December 2015 Paris attacks, which left 130 people dead and 413 people injured. Officials recently canceled a Christmas market in Lyon because security costs would be too high. Paris's Champs Elysees Christmas market also was cancelled due to fear of possible attacks. In the famous Strasbourg Christmas market, police patrols have been increased and 140 private security agents have been hired for added protection. During the Christmas weekend, traffic will be restricted to the Grand Ile "Great Island" in the historic center of the French city, turning into it into a pedestrian zone.
Spain
Amid political turmoil following the Catalan independence referendum and a possible repeat vote, Spain can't ignore its security priorities as Christmas approaches. Spain has been a target of al-Qaida and ISIS terrorists for years, as it remains the crown jewel of their fabled caliphate. In August, Spain woke up to an attack in Barcelona when 22-year-old terrorist Younis Abouyaacoub drove a van into pedestrians, killing 14 people and injuring 130. In the days before Christmas, the Spanish government have stepped up their security in all the cities despite fears that the numbers of police forces are not adequate to counter the threat of ISIS returnees from Iraq. For example, In Barcelona, bollards and hedges were installed in the city center and around the Sagrada Familia Cathedral to stop vehicles from approaching pedestrian areas. In the Spanish capital Madrid, authorities placed 1,100 kg concrete blocks on the famous Gran Via shopping street Dec. 1 and won't remove them until Jan. 7. Plans call for closing the street to all private vehicles by summer.
United Kingdom
Britain endured a series of seemingly lone wolf attacks this year, including May's bombing at an Ariana Grande concert in Manchester that killed 23 people and wounded 116. Security forces are using drones to give officers at a command center and other offices live images of potential targets.
Scenes of the unarmed English police "Bobbies" are being replaced by heavily armed officers guarding Christmas markets and other high volume areas. Moreover, metal detectors, large concrete barriers, and stop and search checks are highly visible at the open markets across the United Kingdom.
United States
The United States remains the prime target of all jihadist terrorist groups across the world.
Manhattan saw two terrorist attacks in the past six weeks – Sayfullo Saipov's truck rampage that killed eight people on a bicycle path, and last week's attempted suicide bombing by Akayed Ullah at Manhattan's Port Authority Bus Terminal.
New York police are using sand-filled sanitation trucks and sharpshooters to secure Times Square celebrations, which is similar to steps taken last Christmas and during last month's Macy's Thanksgiving Parade.
While ISIS and al-Qaida suffered battlefield defeats in the Middle East, they are far from finished plotting attacks and enticing lone wolf supporters across the world to do their vile bidding. So far, the 2017 holiday season has been more safe and peaceful, indicating the increased security measures may have helped.
Hany Ghoraba is an Egyptian writer, political and counter-terrorism analyst at Al Ahram Weekly, author of Egypt's Arab Spring: The Long and Winding Road to Democracy and a regular contributor to the BBC.