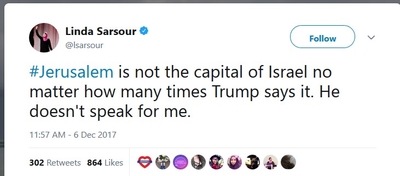 Anti-Zionist groups were quick to pounce Wednesday following President Trump's proclamation acknowledging Jerusalem as Israel's capital.
In a statement, Jewish Voice for Peace (JVP), a virulently anti-Israel organization, "unequivocally condemn[ed] President Trump's announcement that he will begin the process of moving the U.S. embassy to Jerusalem as part of recognizing Jerusalem as Israel's capital, a move that would make the U.S. the only country in the world to do so."
In contrast, Russia recognized West Jerusalem as Israel's capital in April, and after Trump's speech Wednesday, the Czech Republic also said it would recognize West Jerusalem as Israel's capital.
But for those who reject Israel's very existence, Wednesday was a difficult day.
"#Jerusalem is not the capital of Israel no matter how many times Trump says it," wrote political activist Linda Sarsour, who has argued Zionists can't be feminists and that "nothing is creepier than Zionism. "He doesn't speak for me."
Good thing she cleared that up.
Trump's proclamation "effectively hands Israel a blank political check for its illegal annexation of Jerusalem and legitimizes Israel's ongoing displacement and disenfranchisement of the city's Palestinian residents," said the U.S. Campaign for Palestinian Rights (USCPR), an organization leading the push for an economic boycott of Israel.
This statement, along with Sarsour's, ignores the reality that Jerusalem has been Israel's capital since 1949. It is home to its parliament, the Knesset, as well as the prime minister's residence. The statements also deliberately ignore Trump's specific caveat that the United States is "not taking a position of any final status issues, including the specific boundaries of the Israeli sovereignty in Jerusalem, or the resolution of contested borders. Those questions are up to the parties involved."
The relocation of the American embassy affects peace talks only if the Palestinians choose to make that so.
Still, American Muslims for Palestine's (AMP) national policy director Osama Abuirshaid joined a protest outside the White House to express outrage and say that Trump should be held responsible for any resulting violence. "Now our demand is very clear that this administration should inject some common sense, should inject some logic and withdraw this announcement," he said.
At a news conference Tuesday, Council on American Islamic Relations (CAIR) Executive Director Nihad Awad argued that the decision to move the embassy was due to the disproportionate influence of the "pro-Israel lobby" in Congress.
Recognizing Jerusalem as Israel's capital and committing to move the U.S. embassy there is "a reckless move that has put the interest of a foreign power and its domestic lobby above the interests of the United States," he said. Awad, who publicly expressed support for Hamas in 1994 and was linked to a Muslim Brotherhood-run Hamas-support network, all but called Congress corrupt for the original, bipartisan legislation that makes the move possible.
"It is really the interest of those politicians who voted, and they voted. And they voted against the interest of their own country because of the money, the pressure and the favors that they get from the pro-Israel lobby," Awad said.
He repeated that message Wednesday standing with Abuirshaid outside the White House.
The Senate voted 90-0 in June to reaffirm "the Jerusalem Embassy Act of 1995 (Public Law 104–45) as United States law, and calls upon the President and all United States officials to abide by its provisions."
As many people have commented this week, no peace proposal has ever contemplated Israel relinquishing Jerusalem as its capital. While some argue the U.S. embassy move should wait for a peace agreement, that strategy has shown no results and ignores the realities of the Israeli government.
"This may surprise you, but the embassy move does not challenge Palestinian/Arab/Muslim claims to the city," wrote Jonathan Schanzer, vice president of research at the Foundation for Defense of Democracies. "What is happening right now is reflective of the Palestinian-Israeli conflict historically: Palestine advocates fighting against Israel rather than for the Palestinian cause."
As President Trump said in his speech, "Peace is never beyond the grasp of those willing to reach."