Updated, Aug. 10: Just when you thought It couldn't get any weirder, Denmark has now embarked on a "Hug a Terrorist" program.The hope is that a simple act of kindness or affection to a wayward disenfranchised youth (not an Islamist) may turn him away from committing an act of violence. Perhaps a bouquet of flowers may work, too. But before going forward with open arms to "hug the terrorist" you may want to check for knives or a suicide vest.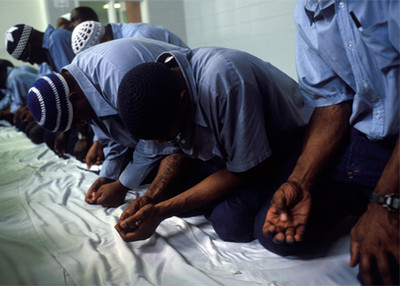 While the most positive news in the war on Islamic terrorism has come from military successes against ISIS in Mosul and Syria, the overlooked recent failures by authorities to effectively deal with home grown Islamists is a cause for growing concern.
Whether it is by downplaying the threat or attempting to come up with snappy-sounding strategies to deal with the growing list of suspected terrorists "known to the authorities," the West is struggling to reverse the tide of radicalization, particularly in the prison system. The latest example is the UK's plan to deal with imprisoned Islamic terrorists by creating "separation centers" that would "...have an individualized care and management plan which sets out realistic, achievable targets, while also taking into account the complex, ideological/political nature of some of the risks that need to be targeted."
What a bunch of gobbledygook.
Keep in mind that the type of inmates they are talking about include the likes of Michael Adebolajo, convicted in the brutal killing of British Army soldier Lee Rigby, and Anjem Choudary, the bigoted radical Islamic clergy who inspired countless attendees at his Finsbury Mosque to jihad, including ex-con "Shoe Bomber" Richard Reid. Choudary was convicted of providing material support to the Islamic State terrorist organization.
And what does the new care and management plan include? Well, one element is developing "positive personal goals." This sounds good, until you consider that the personal goal of a jihadist is to kill infidels even if it means killing themselves as well. And the method prison officials would use to attain these positive personal goals is a "collaborative approach to expressing concerns and resolving disagreements." In other words, group therapy for terrorists.
And who will oversee the progress these coddled killers are making? According to the UK Ministry of Justice, there will be a panel of experts, "including a psychologist, a chaplain, and lawyer" who will review the inmate's progression (or regression) every three months. This sounds like making of a joke – you know, "A priest, a shrink, and a legal beagle go into a bar looking for a terrorist..." Only radical Islamic terrorism is no joking matter.
One of the problems with this type of panel is the inclusion of clergy who may not have been properly vetted. The presence of radical Islamic clergy in the U.S. prison system is well documented, most recently in the case of Edwin Lemmons and the Virginia Department of Corrections. Lemmons was arrested by the Joint Terrorism Task Force (JTTF) after having been radicalized in a New York State prison and traveling overseas for "underground tactical training." Despite clear evidence of extremist views, he was hired after his release from the Florida Bureau of Prisons by the Muslim Chaplains Services of Virginia to be an imam and Arabic instructor in Virginia prisons.
The number of violent terrorist attacks in the West carried out by people radicalized in prison is growing. In April, Karim Cheurfi opened fire on a group of French police officers, killing Capt. Xavier Jugele. Responding officers shot and killed Cheurfi. Investigators found a letter in his pocket praising ISIS, along with a list of other police stations he planned to attack. Cheurfi previously spent 12 years in French prisons for attempting to kill police officers. He was "known to authorities" and was on France's radicalization and terror prevention and alert list, a notification system that was created in the wake of the Charlie Hebdo attack.
Just prior to the attack, he traveled to Algeria in violation of his parole conditions. Yet upon his return a French judge refused to revoke his parole and return him to prison.
In June, Blaine Robert Erb opened fire on a group of Baltimore police officers wounding one before being shot and killed by the responding officers. Erb was a career criminal. Video of the attack shows that, when he opened fire, Erb was wearing what appeared to be Muslim thobe and head covering, along with a long, red beard. These are indications of a conversion to radical Islam, but this is unconfirmed.
Nevertheless, his attire and methodology was similar to career criminal Edward Archer's attack on Philadelphia police officer Jesse Hartnett in January of 2016. Archer's stated motivation was to obey Allah and defend the Quran. Still, Philadelphia Mayor Jim Kenny tried to argue that the violent crime had nothing to do with Islam.
And just last week, four radical Islamic terrorists were sentenced to life in prison after being convicted of plotting to bomb military, police, and civilians in the UK. Three of them, Khobaib Hussain, 25, Naweed Ali, 29, and Mohibur Rahman, 33, dubbed the "Three Musketeers" had already spent time in British prisons for terrorist-related crimes. Now as they return to jail, they can look forward to living in a newly constructed "separation center" where they will be able to work on "positive personal goals" and meet together daily to "collaborate on expressing concerns and resolving disagreements."
That does not sound like a strong deterrent to future radicalized terrorists or returning ISIS members bent on carrying out attacks on their homelands.
Right now, the United States has approximately 450 people in prison for terrorism-related crimes. Many will be released in the next few years. We had better have a well-defined strategy in place to deal with them in prison and a more stringent supervised release program than currently exists. Simply asking them to develop "positive personal goals" will not cut it.
IPT Senior Fellow Patrick Dunleavy is the former Deputy Inspector General for New York State Department of Corrections and author of The Fertile Soil of Jihad. He currently teaches a class on terrorism for the United States Military Special Operations School.