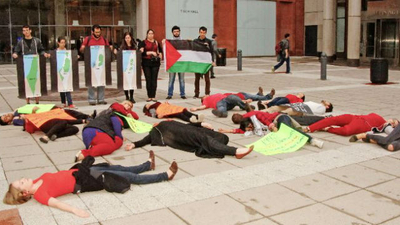 Photo: NYU SJP / Facebook
Three terrorists are shot and killed after fatally stabbing a police officer. A student activist group echoes social media accounts calling their deaths an "execution."
This warped reaction can only involve Israel and those bent on its destruction.
In this case, three Palestinians attacked and killed Israeli border police officer Hadas Malka outside Jerusalem's Damascus Gate before being killed by other officers nearby. Student's for Justice in Palestine (SJP) expressed its displeasure by sharing a Facebook post that states, "Three Palestinian teens were executed this evening by Zionist occupation forces at the Damascus Gate in occupied Jerusalem..."
ISIS claimed responsibility for Malka's murder. Hamas praised the attack, the Jerusalem Post reported, "but disputed Islamic State's claim, stating that the perpetrators were affiliated with the Popular Front for the Liberation of Palestine."
Terrorist organizations therefore are competing for credit in killing a 23-year-old woman. SJP could have condemned her death, or it could have stayed silent. Instead, it turned the attack into an opportunity to accuse Israel of wrongdoing.
Such twisted logic is entirely consistent for SJP.
Its University of Chicago chapter hosted convicted felon Rasmieh Odeh in May. Odeh spent 10 years in an Israeli prison after being convicted for her role in a 1969 Jerusalem supermarket bombing that killed two students.
SJP's New York University chapter managed to turn the controversial police shootings of Alton Sterling and Philando Castile into an attack on Israel exactly one year ago: "We must remember that many US police departments train with the #IsraeliDefenseForces," the group wrote on it Facebook page. "The same forces behind the genocide of black people in America are behind the genocide of Palestinians."
The Fordham University dean of students faced backlash after banning an SJP chapter on his campus because he said it was hard to accept a group whose entire focus was delegitimizing one country only, Israel.
SJP consistently spews anti-Semitic sentiments as well as hatred for the state of Israel. As such, it is quite skilled at making noise and getting attention, but less successful in accomplishing any of its goals.