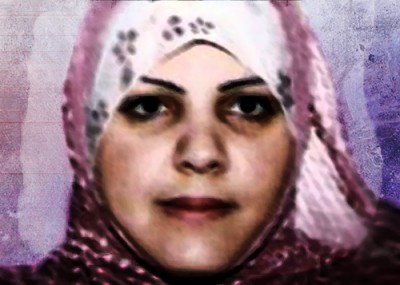 Islamist organizations sprang into action when they thought Shaima Alawadi was the victim of a hate crime, brutally bludgeoned in her El Cajon, Calif. home March 21. They linked the case to the shooting death of Trayvon Martin in Florida, saying he was considered suspicious for wearing a hoodie and she was targeted for her hijab.
Islamist groups and their spokesmen blasted what they saw as anti-Muslim rhetoric fueling the hate leading to the attack. A Facebook page was created calling for "a Million Hijab March" to protest "a world so full of hatred that a woman wearing a head scarf is afraid for her life."
Subsequent disclosures now cast that conclusion in doubt. They show that police suspect Alawadi's murder may have been a vicious act of domestic violence, and that the hate crime clues were an attempt to deflect investigators' attention.
Police found divorce papers in Alawadi's sport utility vehicle. Her daughter, who said she found Alawadi's bloody body, was fighting an arranged marriage to a cousin so vehemently that she threw herself out of a moving car to get away.
No arrests have been made, so the true motive remains undetermined. If it is an "honor killing" motivated by religious/cultural sentiment that a woman shamed her family, or straight domestic violence by an angry or jealous relative, those voices that leaped to the wrong conclusion should be just as loud in demanding a discussion on the causes.
That Million Hijab March should go forward if a relative is charged, calling attention to a subject Muslim Americans seem loathe addressing.
Sadly, that seems unlikely. An April 5 statement from the Council on American-Islamic Relations' (CAIR) Chicago office said any external debate on Muslim family violence is inherently bigoted. Even if Alawadi's death was not a hate crime, CAIR argued, it still "has brought significant attention to the inequality that prevails in American culture. It has highlighted the dangers of allowing hateful rhetoric and bigotry to go unpunished, and the fatal consequences that can result." Discussing domestic violence merely is a ploy by "those who would like to deny the prevalence of hate crimes, racism, and bigotry in the United States will use the new information in the Alawadi case to further damaging stereotypes, such as the oppression of women in Islamic communities, and detract from the xenophobic sentiment that exists in this country."
Got that? If it's a hate crime, it's their fault. If it's domestic violence and anybody says so, they're contributing to hate. Oddly, the statement is headlined "Solidarity and support for Shaima Alawadi." But it makes no reference to combating domestic violence and honor killings in Muslim homes, raising doubts about the depth of that solidarity and support.
Alawadi, 32, was an Iraqi exile and mother of five children living in a San Diego suburb. Police reports describe a vicious beating with a blunt instrument like a tire iron. Alawadi suffered four skull fractures from at least six blows to the head.
The initial clues seemed a little too neat. Scan FBI hate crime reports and you'll see a lot of vandalism and arson. Physical assaults tend to happen in public places – a home invasion hate crime is exceedingly rare.
But the initial reports focused on a Muslim woman who wore a hijab, brutally beaten in her own home. A note found near her body screamed of hate: "Go back to your country, you terrorist."
That note was a photocopy, police say. In a search warrant affidavit, they said they would try "to locate the original note and the missing torn piece of paper that would match the note found at the crime scene."
Some Islamists, including CAIR's San Diego chapter, exercised restraint and cautioned against snap judgments. "To make sure that we don't jump into any conclusions and understand that the investigation must go on because we want the right individual to be brought to justice," said chapter President Hanif Mohebi.
And the website AltMuslimah published a frank essay Tuesday by associate editor Nadia S. Mohammad, who cited data showing "statistically a Muslim woman of an immigrant family in the United States is more likely to be killed by a member of her family than to be attacked by a stranger for being Muslim."
But others saw opportunity.
CAIR's Oklahoma chapter used the murder to raise money for the organization. At its annual banquet March 31, Imam Imad Enchassi of the Islamic Society of Oklahoma City asked for donations in Alawadi's name.
"She was beat up, beaten to death, three days ago in her house and it's considered to be a hate crime against Muslims," he said. "So for the love of your mother, and for the love of standing up for our wives, and for the love of sponsoring legislation that would promote and that would help us combat hate crimes against Muslims, is there a third person here that will give us $20,000? Is there two would give us $10,000 each?"
CAIR-Michigan Executive Director Dawud Walid cracked the case long before police. "Shaima Al-Awadi's murder, like Trayvon Martin's, was a senseless murder based upon racial animus," he said. "We must come together as a society to have frank discussions about the toxic rhetorical environment which we currently live in that leads to such wanton violence."
Walid, who plows forward regardless of facts, should advocate those same frank discussions about the toxic nature of domestic violence if that is determined to be the motive.
The same goes for the Islamic Circle of North America (ICNA), a group which promotes especially conservative religious doctrine. "The brutal murders of Trayvon Martin and Shaima Alawadi are a wake-up call for all of us," said ICNA spokesman Naeem Baig. "No American should live in fear from his or her fellow American."
Neither should they live in fear of relatives. The affidavit released last week made it clear that the family had not been ruled out in the investigation. It sought access to the family home, computers and other electronic equipment and their two vehicles.
A neighbor described seeing a skinny, dark skinned young man running from the house. In November, police called Alawadi to pick up her daughter, Fatima Alhimidi, after they responded to a report of two people having sex in a car. Alhimidi, 17, was with a 21-year-old man named Rawnaq Yacub, the affidavit said.
As they drove him, Alhimidi told her mother she loved her and then jumped out as the car traveled at about 35 mph. She told paramedics she was being forced into a marriage with a cousin which she did not want and that's why she jumped out of the car. She refused to talk to police at the hospital, the affidavit said.
He and Alhimidi are just friends, Yacub told a reporter. He acknowledged being questioned by police, about the Alawadi murder, but denied involvement.
Alhimidi has been questioned, too. While that was happening, a text message was sent on Alhimidi's cell phone, the affidavit said. It read "The detective will find out tell them [can't] talk."
But Alhimidi spoke with television reporters, dramatically asking her mother's killer for an explanation. "Why? Why did you do that?" she asked. "She's a housewife. She's innocent. She hasn't hurt anybody."
None of the scenarios in play, a hate crime, an honor killing or an act of rage against a relative, is acceptable. Islamist activists were ready to pounce when it looked like a hate crime. The same vigor has been absent since the clues shifted. That's just wrong.
Law professor Sahar Aziz spoke at the CAIR-Michigan banquet March 25. She described an article she wrote documenting "case after case of head-scarved Muslim women harassed, spat on, beaten, and in Shaima's case, killed, as a culmination of the hateful, anti-Muslim bigotry permeating the blogosphere and the political discourse.
"It is time to wake up," she said. "How many more women must be beaten before we unite to stop the hate and the violence?"
That commitment should apply to family violence no matter who killed Shaima Alawadi.