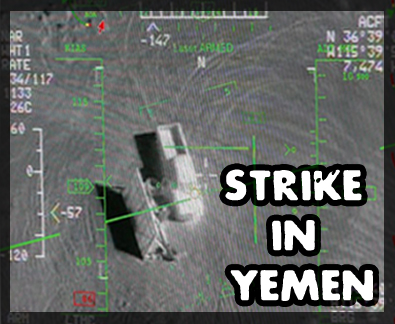 Note: This story is based on reporting with sources knowledgeable about the Awlaki operation, including three law enforcement and intelligence officials.
Anwar Al Awlaki, killed Friday morning in an American strike in Yemen, has been on the U.S. radar for several years, ever since, as one U.S. official stated, he turned from "inspirational to operational." He was believed to be behind the Nigerian "underwear" bomber who tried to ignite his explosives planted on his body as his airplane was landing in Detroit. And he was believed responsible for the cargo bomb plot targeting the United States last fall.
U.S. intelligence officials, aware of other planned attacks, had arrested several Muslim American converts who returned here after "studying" in Yemen. Most of their time was spent on terrorist training and learning from Awlaki and his advisors about the precepts of jihad and Islam. Intelligence officials believe that "hundreds" of American and European converts to Islam, along with other indigenous Muslims from Islamic countries, have trained with Awlaki, making many of them "ticking time bombs."
Awlaki lived in the southern Yemen province of Shabwa, an area beyond the reach of Yemen's military and central government. Much of Yemen is like the Wild West, with no central governing authority. The numerous tribes settle disputes among themselves. Awlaki came from the Awalik tribe.
Intelligence gathered last year from Yemeni authorities and from debriefings with several American converts who returned to the United States after training with Awlaki, helped narrow Awlaki's location to a 100 square mile area. He moved at night, often in convoys of armored SUVs in order to prevent U.S. drones and surveillance from determining which vehicle he was in. But the drones, which have advanced in the ability to recognize faces on the ground, hovered above the area where Awlaki was believed to be. Electronic intelligence – including telephone intercepts –also were used, although Awlaki was said to be careful in limiting his use of electronic communication, aware that he could be tracked that way.
In the past several months, American drone operators were confident they had identified Awlaki as he moved from among a series of underground bunkers. An initial drone missile targeting him was fired at an al-Qaida training camp but missed him.
Meanwhile, U.S. intelligence and law enforcement agents collected as much personal data about Awlaki as they could from his extended family living in western countries. For example, he had an ex-wife living in Ireland that no one knew about until a close relative living in the United States identified the family tree for agents in early January. The relative proved to be a goldmine of information about Awlaki's siblings, parents, wives, and children.
Intelligence officials learned about the American relative in January through other Yemeni expatriates living here who knew her. She agreed to cooperate and provided extensive information about close relatives living either with him, elsewhere in Yemen, or in different parts of the world. Telephone numbers belonging to a close relative living in Yemen's capital Sanaa that the American relative provided to U.S. intelligence officials proved the most critical.
The relative knew that Awlaki called that number. The National Security Agency (NSA) quickly was able to triangulate the phone numbers and determine almost exactly where Awlaki was when he called the Sanaa number. The American relative also provided information on other Awlaki relatives who apparently had direct contact with Awlaki, either through email or other electronic means. That knowledge helped track other communication and confirm Awlaki's whereabouts.
Up to a dozen additional drones were dispatched to the southern part of Yemen in a search for the exact coordinates of Awlaki's location. Drone operators felt that Awlaki was most vulnerable during the day whenever he was outside moving from one hideout to another. Officials also had recruited Yemeni informants to pose as Awlaki students to try to provide intelligence on Awlaki's location. But the drones, which could not be seen by the naked eye, hovered nonstop in a massive effort to cover large parts of southern Yemen and ensure that Awlaki had not left. He knew the United States wanted to assassinate him, as evidenced by the lawsuit brought by his father, Nasser Al-Awlaki—a U.S. citizen living in Yemen. The suit challenged the legality of a presidential order to kill Awlaki, an American citizen, without due process.
In the last month, drone operators became convinced they had identified Awlaki in various convoys. Previous strikes were considered but withheld out of concern of causing too many civilian casualties. Although the Yemen central government claims that it was in charge of the operation, the reality is that the United States acted independently.
A recent intelligence tip indicated that Awlaki was going to be traveling Thursday or Friday in a multi-SUV convoy. By early Friday afternoon Yemen time, the drones had clearly identified Awlaki's convoy—which apparently was distinct from other traveling cars in the poor region of his province—providing a clear video to drone operators in Virginia. President Obama had already given the orders to kill Awlaki if a clear shot was available.
The president was notified on Thursday about Awlaki's expected travel via convoy and that drone operators likely would have a clear shot at him. The president authorized the strike and was joined overnight by aides to monitor the video that was beamed from the drones. At one point, believed to be around 4 a.m. in Washington, the drones broadcast images of Awlaki's convoy traveling openly and without any cloud cover. Several missiles were fired. At least two of the vehicles were destroyed. Within hours, Yemen's military has secured the area and taken DNA samples from several of the remains of the bodies in the decimated vehicles. The samples were flown to Washington this morning and matched with Awlaki's relatives living here.
One source offered a slightly different version of events, saying that the relatives' DNA samples were within the U.S. Embassy in Yemen. In either case, forensic scientists compared the DNA samples and confirmed the match.
In addition, two other top lieutenants to Awlaki were also killed. One was Samir Khan, also an American, but the name of the other top assistant could not be obtained.
There was jubilation at the CIA, the Pentagon and the White House as the leading global al-Qaida recruiter had finally joined his mentor, Osama bin Laden. The FBI and Department of Homeland Security issued a warning to field offices around the country to be on guard against any revenge attacks. The charismatic English speaker and leader of al-Qaeda in the Arabian Peninsula had been eliminated.