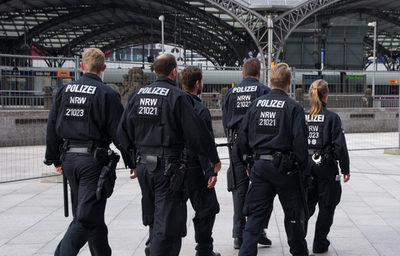 Cologne, North Rhine-Westphalia, Germany June 11, 2016: Police patrolling in Cologne railway station. Photo Credit: Pradeep Thomas Thundiyil/Shutterstock.com
German and Dutch security officers
arrested
nine Islamic State members on July 7 in a major sweep operation in both countries. Seven of the arrested were allegedly in Germany
planning
a new wave of terrorist attacks in the country. The German federal prosecutors
charged
the group with forming a "domestic terrorist group" and with supporting the Islamic State.
The terrorist group's leader Abu al-Hussein al-Husseini al-Qurashi was killed in northern Syria during clashes as announced last Thursday by the group, and Abu al-Hussein al-Husseini al-Qurashi has taken the helm of the group. These losses by the group did not deter it from extending its tentacles to Western countries. Germany suffered vicious waves of terrorist attacks orchestrated by the Islamic State in the last decade. Many have attributed these attacks to the lack of scrutiny and open-door immigration policies adopted by former Chancellor Angela Merkel. Another major concern is that German nationals are joining terrorist groups inside Germany and abroad.
"Germany has received a large number of immigrants, especially during the last ten years and for several reasons was not able to integrate all of them into the German society sufficiently. This led to the establishment of some 'parallel societies' where especially the younger and unemployed have a higher risk of radicalization," said Wolfgang Pusztai, Austrian security expert and Senior Advisor at the Austrian Institute for European and Security Policy (AIES), who spoke to the Investigative Project on Terrorism.
Last July's arrest of central Asia-originating terrorists looks like a growing concern in the European Union recently. Central Asian countries include a number of former Soviet Union republics which declared their independence post 1991. These include Tajikistan, Kazakhstan, Turkmenistan, Uzbekistan and the Kyrgyz Republic. The consecutive arrests of central Asian IS elements appears to be a growing shift from the traditional illegal immigrants from the Middle East who flocked to the country post the Arab Spring.
"Central Asia has always been one of the hotbeds for Islamic extremists. So, with the increasing number of migrants from this area, it is no surprise that there are some terrorists among them. Actually, this is not the first time that terrorists from Central Asia were arrested in Germany. For example, in April 2020, a cell of five IS members from Tajikistan was dismantled, also in North Rhine-Westphalia," said Puztai.
Last year, a German court sentenced the five Tajik Islamic State members in May 2022 to up to 9.5 years in prison for joining the Islamic State and planning attacks against US forces stationed in Germany.
"The western mindset is quite confused where immigration, human rights and the fight against terrorism and extremism are concerned," said Amb Anil Trigunayat, India's former Ambassador to Jordan, Libya and Malta and current political analyst. "For the terrorist groups including ISIS, this is a green field for their operations. Moreover, there is lack of assimilation in the local society even if employment opportunities are afforded to immigrants."
The German government's focus on the Middle Eastern terrorist cells parallel to the chaos following the Russian invasion of Ukraine may have led to what appears to be breaches in German security in recent years. The German government, which has approved the asylum applications of millions of immigrants in the past year, is facing surmounting challenges even to provide necessary housing for them, as German cities reached their limits, according to German newspaper Handelsblatt and reported by German weekly Die Zeit.
"Many cities and municipalities have long been at their performance limits when it comes to accommodating refugees and displaced persons," said Gerd Landsberg, the chief executive of the Association of Cities and Municipalities on January 24.
Shoddy Immigration Policies
Former German Chancellor Angela Merkel has received flak over her immigration policies which, according to her critics, opened the gates to extremist elements from the Middle East without proper vetting, leading to a wave of terrorism over the last decade.
One million asylum seekers, mostly of whom were Syrians, entered Germany as recently as 2015, causing a noticeable demographic change and a new security challenge, given that some Islamic State members managed to infiltrate the country during that period. But this time, Central Asian terrorists are presenting themselves as a new challenge.
It is "completely irresponsible that untold thousands are streaming into the country uncontrolled and without registration," said Former German Interior Minister Hans-Peter Friedrich, describing the immigration policy in an interview in 2015.
Terrorist attacks in Germany increased by 316 percent between the years 2014 and 2015. This massive hike in the terrorism percentage coincided with a 45.7 percent increase in the number of UNHCR mandated refugees in Germany and an 86 percent increase in asylum-seekers.
The German state of North Rhine-Westphalia has the largest proportion of inhabitants with a migrant background in Germany. In 2022, it was estimated that 33.5 % of its population of 17.9 million had a migrant background. More than 0.5 million of these migrants are of Central Asian descent. In Germany there are about three million people overall with their roots in Central Asia.
While consecutive terrorist attacks on German soil in the last two decades have placed German authorities on constant alert and resulted in security agencies thwarting 21 potential terrorist attacks since 2000, these efforts are hindered by the existence of lone wolves who are recruited by the likes of Al Qaeda and ISIS.
"I am sure the security authorities are doing their best to dismantle terrorist cells before they can start their 'campaign.' While this approach probably more often works with regard to larger groups, it is extremely difficult to counter 'lone wolves' who conduct terrorist attacks 'in the spirit of IS,' frequently with improvised means and without direct contact to the IS," said Pusztai.
The increase in the presence of IS central Asian component.
Losing its leader Abu Bakr al-Baghdadi in an American raid on his compound in 2019 did not deter ISIS from becoming a global threat, thanks to the many affiliates of the group worldwide that stretch from Central Asia to West Africa. While the group's capability was severely reduced given the consecutive security hits, it can still operate as individual lone wolves and in smaller cells which are able to dodge the security in many countries.
While expansion in Central Asia remains the Islamic State in Khorasan Province's [ISIS KP] main goal, it has also focused on infiltrating European countries recently. Turkish authorities arrested ISIS KP's alleged leader, Shaim Hukumatov, aka Abu Miskin, last June in Istanbul.
The Central Asian component within the terrorist groups is growing significantly and it is in communication with terrorist elements in Afghanistan. A 2018 report by the Wilson Center noted that 0.005 percent of Central Asia region's population has joined a terrorist group.
"Some of the recently arrested persons were in touch with IS in Afghanistan, the "Islamic State Khorasan Province," and there is also a large Afghan community in Germany (0.4 million). It might well be that IS tries to infiltrate these communities to recruit more terrorists for attacks in Germany," said Pusztai.
The activity of ISIS has been rapidly escalating, parallel to a rise of Islamist activity in Libya and west Africa this year where ISIS established a strong foothold.
"Libya and other conflict zones have become a confluence of terror outfits from Al Qaeda to AL Shabab to Boko Haram to ISIS," said Trigunayat.
As an expert on Libyan and African affairs, Wolfgang Pusztai agrees with the assessment of the mounting threats to Europe presented by ISIS, from Libya and West Africa.
"Yes, absolutely! The more unstable these regions are, the more likely is a spill-over of terrorism to Europe. One must not forget that because of the colonial past quite a number of people from these countries already live in Europe, especially in France and the UK. This might make it easier for terrorist organizations to establish their networks, especially if these people are not properly integrated in the respective societies," said Pusztai.
ISIS-Related Court Cases Continue in Germany
German courts are still trying cases involving German resident ISIS returnees who fled back to the country after the initial defeat of ISIS in Syria and Iraq, after contributing to the Yazidi genocide during the Syrian civil war. Many of these trials involve crimes against humanity. For example, a German woman who held Yazidi women as slaves in Syria and Iraq for 3 years was sentenced by a court in Koblenz in June to nine years in jail. Similarly, another German woman was sentenced to 10 years in jail in 2021 for the crime of enslaving a Yazidi woman in partnership with her husband.
Last year, a German court sentenced a group of five Tajik terrorists with Islamic State of Khorasan (Afghanistan) to prison terms ranging from three to nine years.
Moreover, the impact of President Joe Biden's ordered, rapid and disorganized withdrawal of American troops from Afghanistan in 2021 still echoes across the world as the Central Asian-based terrorist groups feel more liberated to act now, more than at any time in the past decade.
Afghanistan is witnessing a massive increase in ISIS KP attacks against civilians, and the US intelligence community warned last March of ISIS KP's intent to attack Western targets.
"ISIS–Khorasan almost certainly retains the intent to conduct operations in the West and will continue efforts to attack outside Afghanistan," noted the Annual Threat Assessment Report of the U.S. Intelligence Community.
"They can do an external operation against U.S. or Western interests abroad in under six months with little to no warning," said Gen. Michael Kurilla, head of U.S. Central Command who spoke to the Senate Armed Services Committee last March.
"The Afghanistan situation remains critical where ISIS KP and AQAP (Al Qaeda in the Arabian Peninsula) in Yemen have all become more emboldened," said Trigunayat.
Even without getting directly involved in terrorist activities, European-based Islamists played a major role in recent riots across Europe, as for example in the riots in France last month following the death of a French teenager of Algerian descent.
This development is a direct outcome of the lack of efficient integration policies as Islamist societies tend to reject such policies to preserve the ideology. Hence, the danger of such violence being replicated in Germany remains present.
"The more parallel societies are established and the more they are controlling whole districts of larger cities and the more repressive the police acts, the more likely these kinds of riots are. I think Germany and Austria are not yet there, but they are on the way towards it, especially Germany, which is slowly "accelerating," said Pusztai.
"While on the face of it, each country or a group in the case of Europe may have robust intelligence exchanges and counter terrorism policies, they are overlooking the origins and continuing sources of terror outfits, and their sophisticated networks have dented their counter terrorism efforts," said Trigunyat. "We must remember that international extremist/terrorist networks are proliferating and taking advantage of the partisan approaches and confusion by the civilized world."
Pusztai boiled down the unprecedented terrorist threat to Germany and similar European nations to the single issue of uncontrolled undocumented illegal immigrants, resulting in a herculean task of vetting such droves of immigrants entering and residing in Germany and other EU countries.
"One thing is for sure, the more migrants enter Europe illegally without any documents proving their identity, the more difficult it is to challenge the terrorist threat," said Pusztai.

IPT Senior Fellow Hany Ghoraba is an Egyptian writer, political and counter-terrorism analyst at Al Ahram Weekly and a regular contributor the BBC. He is also the author of Egypt's Arab Spring: The Long and Winding Road to Democracy
Copyright © 2023. Investigative Project on Terrorism. All rights reserved.