This article originally was published in the National Review.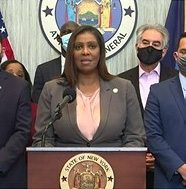 New York Attorney General Letitia James
New Yorkers are currently suffering through an epidemic of violent crime that is diminishing the quality of life of the nation's
most-burdened taxpayers
. And what is state attorney general Letitia James doing about it? Pushing back against the so-called
bail-reform
laws that every day turn violent offenders back out on the street? Devising new ways to protect tourists and residents? Conducting a forensic investigation into all that
missing Covid-19 relief
cash that was stolen?
No, she's coming to the defense of the Council on American-Islamic Relations (CAIR) in its efforts to stop its own members from talking to reporters about the potentially illegal activities of the group's leaders. On April 1 (this couldn't have been an April Fool's Day joke, can it?), the Office of the Attorney General of the State of New York sent a cease-and-desist notification to Steven Emerson, founder and director of the Investigative Project on Terrorism (IPT), ordering the end to "any ongoing or contemplated unlawful espionage operations against Muslims and Muslim organizations within the State of New York."
The press release announcing the letter begins: "On the eve of Ramadan, New York Attorney General Letitia James today warned a known anti-Muslim hate group to stop spying on Muslim communities." The second paragraph begins: "As we enter the holy month of Ramadan, it's more important than ever that we show our support for our Muslim communities and stand up to Islamophobia and hate of any and every kind."
The flurry of pro-Muslim virtue-signaling from the AG's office comes in the aftermath of last year's media-driven phony "scandal" in which CAIR accused Emerson of espionage against its Ohio office. Earlier this year, CAIR petitioned the Department of Justice to investigate the IPT. It was an absurd request, and no one took it too seriously. Except for New York's attorney general.
The cease-and-desist notification makes ridiculous claims: "The IPT has reportedly paid spies for over a decade to infiltrate Muslim organizations, record confidential conversations, and forward confidential emails." Aside from the vague word "reportedly," the word "infiltrate" is inaccurate and inflammatory.
The letter states that the "IPT reportedly infiltrated the Ohio chapter of the Council on American-Islamic Relations (CAIR), through its longtime leader, Romin Iqbal, who reportedly leaked confidential documents and recordings in possible violation of his fiduciary duties." The logic of the "infiltration" accusation is belied by James's own assertion that Iqbal was a "longtime leader." In fact Iqbal was a CAIR employee long before he began to pass information on to the IPT, and if he gave information "in violation of his fiduciary duties," then he's the one who acted illegally, not the recipient of the information.
Iqbal was not a mole but a whistleblower. It's beyond belief to think that James would make a similar statement about any of employees who gave information "in violation of their fiduciary duties" to the Trump Organization.
Next, the letter asserts that "public statements from those involved in the operation suggest that IPT targeted these organizations in a concerted effort to hamper Muslims in the exercise of their civil rights, including the right to worship, to peacefully assemble and organize politically, to petition government, and to vote." This too is absurd. James treats the IPT as though it were a government entity rather than an investigative news organization. I'm surprised she didn't accuse it of "McCarthyism."
The letter mentions Tariq Nelson, of the Dar Al-Hijra mosque in Virginia, claiming that he recorded "confidential conversations without other participants' knowledge," but that case seems beyond the jurisdiction of the New York State AG. The letter concludes with a request to contact the Special Council for Hate Crimes in the Civil Rights Bureau of the AG's office, warning that "failure to comply with this directive may result in further action."
Also on April 1, James's office sent to Merrick Garland a letter making the same claims about the IPT and requesting a "DOJ investigation into IPT's possible violations of federal law," asserting that "it would send the message that the federal government will also use its powers to protect Muslims' rights." With subway-pushers, gun-toting teenagers (and preteens), and homeless encampments in New York City, and carjacking now a regular occurrence throughout the state, James has used her office and political clout to make investigative reporters stop investigating and reporting while sticking up for a group with intimate ties to Hamas. Excelsior!

A.J. Caschetta