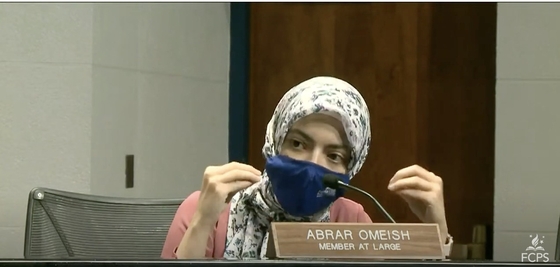 Provided Image
Dear Fairfax County School Board Members,
On the eve of the 20th anniversary of 9/11, the single greatest terrorist attack on the home soil of the United States of America, the Fairfax County School Board entertained a resolution for a moment of silence to honor the victims who died that day in New York City, Shanksville, Pa., and the Pentagon, those who suffered injuries, and the first responders who rushed to save lives.
In a county with one of the nation's largest populations of veterans, military personnel, and federal civilian employees, we expected that such a resolution would be unanimously supported without debate.
As citizens and families watched horrified, however, the cruel and hostile words of your fellow School Board Member Abrar Omeish emanated from the dais. With an established history of anti-Semitic rhetoric and inexplicable decisions to use phrases like remember "jihad" in a recent graduation speech, Ms. Omeish has long-demonstrated a concerted effort to to use her position to spread her radical ideology instead of performing her duties as a member of a governing board meant to serve the education needs of the children and their families in Fairfax County.
Ms. Omeish's shocking claims that a resolution for a moment of silence for the 9/11 victims was not "anti-racist" and that the resolution failed to address "state-sponsored traumas" was as tone-deaf as it was patently anti-American and callous to the pain of a nation mourning a tragedy 20 years later.
Ms. Omeish unbelievably went further, attempting to take her own well-publicized traffic incident, when she repeatedly failed to produce her license and registration, then refused to exit the vehicle, in compliance with a police officer's direction and tie it -- as "one of the most traumatic experiences" of her life -- to the "pain and trauma" of the victims of the 9/11 terrorist attack.
The events of September 11, 2001, were not "jarring," as Ms. Omeish off-handedly minimized. That day witnessed a brutal terrorist attack by Muslim extremists that resulted in the murder of 2,977 people, the injury of more than 6,000 others, plus the deaths of countless first responders who have since succumbed to 9/11-related cancers and diseases. It is unfathomable that Ms. Omeish's focus was to use a national tragedy to put forward her political grievances. Our county sits in the very shadow of the nation's Capitol and the Pentagon, two of the three targets of the terrorists' attack.
Ms. Omeish embodied profound cultural incompetence from the School Board dais Thursday evening, even as she asserted: "I vote against this today because our omission of these realities causes harm. We are elevating a traumatic event without sufficient cultural competence".
As Fairfax County School Board Members, you must immediately issue a public statement separating yourselves from the hateful and callous rhetoric of your colleague and hold Ms. Omeish accountable for her words and actions, once and for all.
We call for you to 1) immediately censure Ms. Omeish, 2) strip her of all roles assigned by the Chairman, and, 3) to the extent allowed by law, terminate all of Ms. Omeish's responsibilities assigned by the Board.
That which you tolerate, you proliferate. If you do not affirmatively disavow Omeish's words and conduct, you are complicit in promoting her hateful and culturally repugnant stance. Please contact at @BeaconsUnited on social media or BeaconsUnited@ProtonMail.com.
Sincerely,
Army of Parents
Chinese American Parents Association of Northern Virginia
Coalition for TJ
DoBetterFCPS
Fight For Schools
Hispanics for STEM
Muslim Reform Movement
National Society for the Advancement of Black Americans
OpenFCPS Coalition
Stand Up Virginia
The American Hindu Coalition
The Patriotism Coalition of Former Fairfax County School Board Members
United Against Antisemitism-NOVA
The Virginia Project
Virginia Mavens
Voices of Fairfax
---
This article originally appeared on Fairfaxtimes.com. Reprinted with permission.