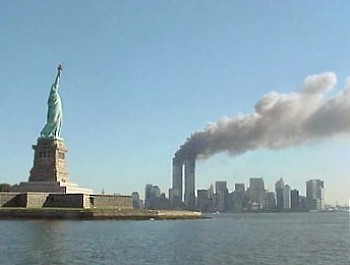 September 11, 2001 (National Park Service/Wikimedia Commons)
With a new generation of American adults born after 9/11, the simple reminder to "never forget" that dark day in human history remains as urgent as ever. Yet, unknown to most Americans, a campaign is underway that seeks to dramatically alter the way that children learn about 9/11, transforming the United States from victim to villain and rejecting any Islamist links to the massacre.
Trafficking in this new, revisionist narrative is an ideological cousin of the jihadists who executed the 9/11 attacks. Though they may differ in strategy and tactics — and indeed may swear off violence altogether — Islamists who embrace some of the same anti-Western, supremacist beliefs as al-Qaida are pressuring educators to rethink how they teach 9/11 to young American students.
The Council on American-Islamic Relations (CAIR), a self-described civil advocacy group notorious for its origins as a Hamas affiliate, spent years denying Islamic links to the 9/11 attacks, strongly implying that Israeli Jews and other Western conspirators were responsible. Twenty years later, the same radical group is providing resource guides for educators, hoping to absolve Islamists of any responsibility for the attacks, while framing Muslims as the foremost victims of the tragedy.
If CAIR had its way, students and teachers would commemorate 9/11 by donning "cultural items from Muslim countries," such as a "scarf," while spending the day deploring America's "endless wars" in Iraq and Afghanistan. The focus would not be on national unity and courageous first responders, but on schoolyard bullies and controversial "no-fly lists."
Ahead of the 20th anniversary of 9/11, CAIR published a suggested lesson plan for the benefit of educators titled, "Remembering and Reflecting: Teaching September 11, 2001 in Diverse Classrooms." However, the report is negligently short on details about that fateful day, or indeed, any of the events leading up to it.
In fact, CAIR's 9/11 lesson plan appears to begin the following day with a description of the invariably positive "Muslim responses to the 9/11 attacks." It characterized these as "widespread condemnations" of the attack and "international expressions of solidarity with America from Muslim-majority nations."
While the overwhelming majority of Muslim Americans grieved the human loss of 9/11 just like their neighbors, it wasn't all fundraisers and unified fronts from Islamic extremists, including CAIR, whose officials refused to acknowledge without qualification Osama bin Laden's responsibility for the massacre. The al-Qaida commander's name emerged almost immediately as the mastermind behind the attacks, but many CAIR leaders remained unconvinced of his guilt.
Al-Haaj Ghazi Khankan, executive director of CAIR's New York office, was among the first of the organization's officers to punt when asked about the identity of the 9/11 attackers, telling ABC News on September 15, 2001, that Bin Laden was innocent until proven guilty, but that the U.S. should "re-examine our foreign policy in the world, especially in the sensitive area of the Palestine question."
A month later, Khankan's suspicions about the nature of the 9/11 attackers began to crystallize around another theory. "At least two of the supposed hijackers are still alive in Saudi Arabia," Khankan told Newsweek, citing an alleged conversation with "the Saudi ambassador."
"So who stole their identities and for what purpose?" he asked. "And who really benefits from such a horrible tragedy that is blamed on Muslims and Arabs? Definitely, Muslims and Arabs do not benefit. It must be an enemy of Muslims and Arabs," Khankan said.
Khankan was hardly alone at CAIR. Writing for Salon, journalist Jake Tapper grew frustrated when CAIR communication director Ibrahim Hooper similarly deflected when asked about Bin Laden's role in the mass murder of nearly 3,000 Americans. Hooper promised to "condemn him by name," but only "if Osama bin Laden was behind it," despite Tapper's reminders that the al-Qaida chief had ordered Muslims to kill Americans and was the architect behind other deadly terror attacks.
Even after Bin Laden admitted coordinating 9/11, and the 9/11 Commission Report left no doubts about al-Qaida's culpability, there were holdouts at CAIR. Jamal Badawi, a CAIR-Canada board member and valued public speaker at Islamist conferences, was still unsure who to blame in June 2005.
"First of all I strongly condemn the September 11 attacks on the U.S., whoever did it," he told the Saudi Gazette. But if the identity of the 9/11 attackers was unclear to Badawi, he was certain that "terrorists are the ones who occupy others' land by force, subjugate people, and take away their rights by killing them and destroying their property."
According to the Saudi Gazette, Badawi went on to accuse U.S. service members of planting bombs on Iraqi civilians at security checkpoints, before sending their vehicles into large crowds and detonating the explosives.
American students deserve to know the truth — that popular conspiracies endure among Islamists who continue to view America and its allies as the persistent enemies of Islam. Although CAIR may recall that the greater Muslim community universally condemned 9/11, this is contradicted by celebrations in Cairo, Beirut, and the Palestinian Territories, as well as CAIR's own leaders denouncing the U.S. and Israel and refusing to condemn one of the most murderous figures in world history.
Furthermore, CAIR's teaching directives advise educators to "avoid using language that validates the claims of the 9/11 attackers by associating their acts of mass murder with Islam and Muslims." Fair enough, but what about associating these acts with "Islamism," the fundamentalist ideology that inspired the perpetrators?
Elsewhere, CAIR makes the false claim that Islamism is a "fictional term with no Arabic equivalent," effectively denying students the ability to explore the radical worldview that motivates terrorist groups to violence. Ultimately, it is the majority of moderate, non-violent Muslims who benefit when such distinctions are made.
According to CAIR, words such as "Islamic terrorists," "jihadists," or "radical Islamic terrorists" are likewise inappropriate for describing the 9/11 hijackers and their enablers, even though senior CAIR officials have employed this prohibited terminology to describe 9/11 in the past, calling Al Qaeda a "Muslim extremist group." Yet, recognizing a spectrum of extremism among Muslims, as with any religious group, is somehow considered detrimental to developing young minds.
If descriptors such as "jihadist" and "Islamist" should be stricken from commemorative lessons on 9/11, what glossary of terms should educators offer to provide an accurate accounting of the event and its aftermath?
In its "9/11 Anniversary Response Guide For Educators," CAIR's Ohio chapter implores teachers to avoid discussions on terrorism altogether. Instead, "exact words" such as "white supremacist" are preferred to describe the event.
CAIR-Ohio's curriculum overwhelmingly focuses on "the bigotry and hate crimes that impacted Sikh Americans, Muslim Americans, Arab Americans and other minorities in the days, months and years after the attack." Its 9/11 history begins on 9/12, ignoring the fiery wreckage of downed airliners, the choking dust that engulfed lower Manhattan, or the acts of heroism aboard United Flight 93.
If "Islamophobia" is the most important and enduring lesson from 9/11, CAIR's Ohio chapter wants children to know that the War on Terror was motivated entirely by America's hatred of Muslims and other minorities. It recommendsusing the term "endless wars" when describing military operations in Iraq and Afghanistan.
This purportedly captures the "never-ending harm, inflicted upon innocent Black and brown people," and "reinforces the fact that the wars abroad and at home have no clear target, and only harm Black and Brown communities." The document even describes "policies enacted after 9/11" as "just the latest rendition of policies inspired by xenophobic and white-supremacist ideologies that many Black Muslims have been experiencing since the foundation of this country."
However ineffective or misguided post-9/11 policies may be in the eyes of their detractors, it is absurd to claim that they are nothing more than the continuation of discriminatory policies targeting Muslims since America's foundation, rather than a reaction to a very real attack committed by Islamists.
Moreover, even CAIR should have an appreciation for the efficacy of counterterrorism policies enacted after 9/11. The organization is an unindicted co-conspirator in America's largest terror finance case, and seven of its officials have been arrested, convicted, or deported on terrorism charges.
CAIR's tips aren't just abstract lessons internalized by a few ultra-progressive educators. According to CAIR-Ohio, the organization "receives requests from teachers looking for tools to improve the way they teach and talk with students about what happened." In fact, the Virginia Department of Education recently received 9/11 sensitivity training that focused almost entirely on "anti-Muslim racism" and refused to refer to al-Qaida as terrorists.
An organization that continues to deny Islamist involvement in the deadliest terrorist attack in history has been invited into American classrooms. To accept CAIR's revisionist, sanitized version of 9/11 is to betray the victims and surviving family members who continue to implore the world to "never forget" the hard facts of that day.
Benjamin Baird is the deputy director of Islamist Watch, a project of the Middle East Forum. Martha Lee is research fellow of Islamist Watch.
This article originally appeared in The American Spectator and was republished with permission.