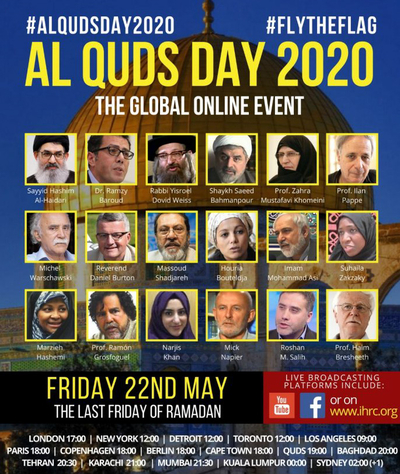 For the last 40 years, on the last Friday of Ramadan, the Islamic Republic of Iran has organized international "Al-Quds Day" rallies. Al-Quds is the Arabic name for Jerusalem and the rallies are supposed to show worldwide Muslim solidarity against Israel.
In reality however, the rallies are a propaganda tool for the Iranian regime, as well as a focal point for Iran to find and recruit people for its growing network of cohorts in the West.
The Al-Quds Day rallies take place in London and many other European cities as well as in Iran. Iran's embassies and other affiliated bodies across the world are tasked with organizing the rallies and making sure they are well attended.
European governments have mostly allowed the rallies to go ahead unrestricted, with Hizballah flags waving and choruses of "Death to Israel" and "Death to America" in their major cities and capitals.
This year however, for the first time, there will not be any Al-Quds rallies in Europe's streets. European governments have not suddenly realized, after 40 years, that the rallies promote Hizballah and provide a platform for anti-Semitic speakers. No, the rallies are shut down because of COVID-19. Instead, this year's Al-Quds Day event will take place Friday as an "online rally."
"As the Coronavirus rips through countries everywhere, nowhere is the disease likely to be more keenly felt than in Palestine, particularly in Gaza where millions of people live cheek by jowl in one of the most densely populated places on earth," a promotion for the rally said.
"Their suffering is amplified by Israel's weaponisation of Covid-19 to prevent the entry of much needed medical equipment into Palestine and the passage of Palestinians across checkpoints to access health care in Israel or outside."
Thus far, however, COVID-19 appears contained both in Gaza and in the West Bank.
To compensate for the lack of street rallies, and to ensure its sympathizers that Iran's anti-Israeli ideology has not diminished, the Iranian parliament approved a double-urgency motion Monday - meaning it became a parliamentary priority - called "Confrontation against the Zionist regime." The motion has 16 articles, including a ban on any Israeli software, a ban on any cooperation with anyone "affiliated with the Zionist regime," and developing programs "aimed at exposing the Zionist regime's nature and atrocities."
But the original article 11, which stipulated a ban on Iranian nationals competing against Israeli athletes in sport events, has been removed.
The request to remove article 11 came from the government's sports ministry, fearing that it would lead to a disqualification of all Iranian sports from international events.
Mohamad Javad-Jamali, spokesman for Iran's parliamentary national security and foreign policy commission, explained the reason for exclusion of article 11 by telling reporters, "We realised that there was a possibility that this article would be used as an excuse by the Zionist regime to ban Iran from sporting events, like it happened with Judo."
That doesn't mean Iranian officials are ready to see their athletes compete against Israelis. Iran is trying to maintain the policy without inviting any other sporting federations to punish it.
The International Judo Federation (IJF) indefinitely banned Iran from international competitions last summer until Iran lifts its ban on its athletes competing against Israelis.
Iranian Judo champion Saeid Mollaei was pressured by Iranian authorities to deliberately lose his quarter-final bouts in the 2018 world championship in Tokyo to avoid facing Israel's Sagi Muki.
The IJF's swift reaction surprised Iran.
"We all believe the Zionist regime is a false state and do not recognize it," Javad-Jamali said. Removing the ban on competition with Israelis from the motion "was not because we are backtracking from our stand against Israel but we didn't want to give them anything in writing to use against us."
Other international sports bodies have not followed the IJF's example. FIFA, the international soccer federation, and the International Volleyball Federation (FIVB) have criticized Iran's ban on women attending matches and asked Iran to reconsider its discriminatory policies, but none has gone as far as imposing a ban on Iran like the IJF did.
Yet Israel was expelled from Asian Games Federation in 1981 and has not been able to compete since.
As for the Iranian Judo champion, Saied Mollaei, and the Israeli, Sagi Muki, they are now close friends: True sportsmen who represent the best of sportsmanship and what sports should really be about.
Mollaei defected to Germany in 2019 and now competes as a member of the International Judo Federation's Refugee Team.
"I am friends with Sagi Muki, as I am with all other athletes. He supports me and I thank him for this. It doesn't matter who wins, what matters is friendship," Mollaei said in an interview last year with Deutsche Welle.
And Sagi Muki posted the picture below on his Instagram in February and wrote, "Friends for life!!! Tag Israel and Iran people for peace!"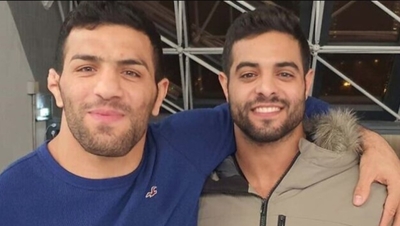 Saeid Mollaei (left) and Sagi Muki in a 2019 photograph Muki posted on Istagram.
Until the 1979 Islamic revolution, Israel and Iran cooperated in agriculture, construction, military, intelligence as well as competed against each other in sports. Despite the intimidation by the Islamists and extremists, citizens of the two countries are very fond of each other and share a common love for joyous activities and sense of humor.
The Iranian parliament can pass any number of motions against Israel it wants, but as one American visitor to Azerbaijan once noted, "In the nightclubs of Baku, when everyone else leaves, it is the Israeli and Iranian tourists who stay behind dancing together."
IPT Senior Fellow Potkin Azarmehr, is a London-based investigative journalist, business intelligence analyst, and TV documentary maker who was born in Iran. He regularly contributes to several newspapers and television stations on Iran and Middle East related news. You can follow him @potkazar.