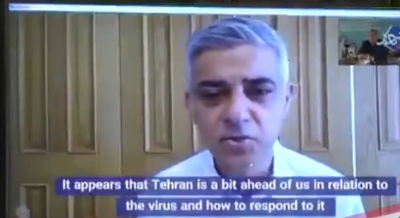 An Iranian news outlet reports that London Mayor Sadiq Khan praised Tehran for being "ahead of us in terms of combating the coronavirus. I congratulate the Iranian officials for this."
The comments reportedly came last Friday in a video call with Tehran Mayor Pirouz Hanachi. In the same conversation, the Tehran Times reports, Khan pledged he will "discuss the problems that Tehran is facing due to sanctions" with British government officials, "and I hope that this is solved in the near future."
Khan has yet to comment on the report, but the government acknowledges the call took place.
Iran faces crippling economic sanctions imposed by the United States due to its support for terrorism. Britain has urged that those sanctions be eased during the pandemic, but they do not apply to medicine and other humanitarian relief. President Trump has said in his recent press briefings that he will consider helping Iran if they asked. Trump, however, has promised to block a $5 billion emergency loan Iran requested from the International Monetary Fund (IMF), saying Iran will spend the money on sponsoring terror instead of helping its citizens.
Iran has been overwhelmed by coronavirus cases, with more than 90,000 people infected and nearly 6,000 reported dead. There is widespread skepticism that Iran is grossly under-reporting the true casualty rate.
Iran's regime is desperate to contain the growing public dissent and dissatisfaction towards its handling of the coronavirus outbreak.
In March, Iran tried to quell the public's anxiety with a visit by a World Health Organization (WHO) delegation. It praised Iran's handling of the situation with statements aired on state television. But those statements were so contrary to the evidence Iranians were witnessing that the exercise backfired.
That makes Khan's praise, if accurately reported, difficult to understand.
The United Kingdom was slow to impose stay-at-home orders to slow the virus's spread, and has suffered nearly 21,000 deaths and 153,000 infections, including Prime Minister Boris Johnson, who recently recovered.
Press TV, the foreign language arm of Iran's state television, also reported on Khan's statement.
"Iran has been doing its utmost to contain the respiratory disease caused by COVID-19 despite the hardships caused by the sanctions," the Press TV report said.
"Tehran has repeatedly said it does not want Washington's help in the fight, but wants the White House to lift the illegal economic sanctions so that Iran could mobilize its own resources to tackle the pandemic."
Multiple pictures of Khan's call with Hanachi have surfaced, and one brief video clip shows Khan making that statement congratulating Iran for being "ahead of us in terms of combating the coronavirus."
UK news outlets have not yet reported on the call or Khan's statements, but those who have seen the clip are responding with confusion and anger on social media.
The UK Foreign Office has denied it had anything to do with arranging the video call. The London Mayor's press office told Manoto TV, a Persian speaking television station which broadcasts programs from its London studio to Iran, the video call had taken place but at the request of the Tehran mayor.
Khan, however, refused to give an interview with Manoto TV and set the record straight as to what was said during the video call.
Khan needs to address the Iranian reports. If he believes they misrepresent his words, he can say so. If not, the question is why he went out of his way to praise Iran's government for a response that clearly failed the Iranian people.
Potkin Azarmehr, is a British investigative journalist and documentary maker based in London who was born in Iran. He regularly contributes to several newspapers and television stations on Iran and Middle East related news. You can follow him @potkazar.