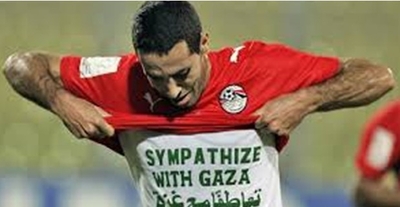 Mohamed Abu Trika showed support for Gaza just after Hamas took control there.
Desperate attempts by the Muslim Brotherhood to garner sympathy after ousted Egyptian President Mohamed Morsi's death last month fell mostly on deaf ears. Most Egyptians were unsympathetic to a president who almost led his country into a civil war, triggering the worst wave of terrorist attacks in its history.
Instead, Brotherhood supporters in Egypt shifted toward exploiting Egyptians' endless passion for soccer, particularly one its most famous stars – and Muslim Brotherhood supporter – Mohamed Abu Trika. Abu Trika once was one of the most successful Egyptian and African players. The 2008 BBC African player of the year won 24 national and continental titles with the Egyptian club Al Ahly, and three AFCON titles with the national team in the past decade.
With Egypt hosting the African Cup of Nations (AFCON 2019) June 21, the biggest soccer tournament on the continent, supporters launched a "Cheer for Trika" campaign. Crowds would cheer at the 22-minute mark of each game in honor of Abu Trika's jersey number. Moataz Matar, a TV anchor with the Brotherhood's Turkey-based "Al Shark" network, promoted the idea for weeks. Another pro-Brotherhood outlet, the Qatari-based online news service Al Arabi Al Gadeed, also promoted the cheer, saying the crowds promised and delivered.
The campaign generated cheers from some gathered in the Cairo stadium but not the mass reaction organizers sought. Al Jazeera tried to downplay the disappointing reaction, claiming that security personnel threatened fans if they joined in. Tweets, videos and articles about Abu Trika glories were intensified with Al Jazeera labeling him the man of the week.
Abu Trika was known for his piety and sportsmanship during his playing career. But he also was part of several controversies, including the AFCON 2008 tournament, when he wore a T-shirt underneath his national team jersey that said, "Sympathize With Gaza."
He drew a yellow card warning after revealing the shirt while celebrating scoring a goal: FIFA has strict regulations prohibiting political messages. Abu Trika wore the shirt just six months after Hamas seized control of the Gaza Strip after street battles with the Fatah movement that runs the Palestinian Authority.
Abu Trika shocked many fans before Egypt's 2012 presidential election with his open support for the Muslim Brotherhood.
"I love Egypt and I believe the country needs Islam and men who know Islam and seek Islamic Sharia. In light of the current events and the presidential candidates, I only found [the Brotherhood] to support, and I believe Egypt needs a big organization such as the Freedom and Justice Party and the Muslim Brotherhood who are spread all across Egypt," he said in a video issued by the Brotherhood. "I feel they work with love and dedication. This video is to endorse Dr. Mohamed Morsi for the position of the president of the republic because we love Egypt!"
The next year, Abu Trika formed a tourism company with Muslim Brotherhood member Anas Omar. When Morsi's regime fell, Abu Trika's assets were frozen by the government as part of a crackdown on Brotherhood interests. He also was blacklisted for his ties to the Muslim Brotherhood and alleged terrorism support. He moved to Qatar, working as a sports analyst for Al Jazeera's BEIN Sports network.
Although an Egyptian court lifted the ban on his assets, he remains on Egypt's wanted list and was sentenced in absentia to one year in prison for tax evasion.
From Qatar, Abu Trika continues to send political messages on his Twitter account. He wrote a eulogy for Morsi last month, asking that "God grants him heaven and may he forgive his sins and rest him in peace."
He also mocked the recent U.S. "grand bargain" unveiled in Bahrain by President Trump's son-in-law, Jared Kushner.
"My little Kushner the Zionist entity is occupying Palestinian territory and this auction held in Manama will not change that," he wrote June 25. "Thank you to all who boycotted this auction ... Our sacred sites are not sale."
The Abu Trika/The AFCON 2019 campaign is just the latest Brotherhood attempt to try winning public support through the adoration Egyptians have for their sports heroes. It hoped that international soccer star Mohamed Salah, the two-time African player of the year and Liverpool's lead striker would be the movement's new symbol. For years, the Brotherhood claimed that he was a member, but Salah categorically denied this in 2013.
Salah eliminated any doubt in 2016, when he donated 5 million Egyptian pounds to the "Tahya Masr" fund, which was founded by President Abdel Fattah al-Sisi to support the Egyptian economy. Al-Sisi was the defense minister who led the drive to oust Morsi in 2013 following massive public protests against Morsi's regime. Egypt banned the group later that year and, under Sisi, has arrested hundreds of Brotherhood officials.
Abu Trika's promotion of Islamism and the Muslim Brotherhood's rebranding effort is the subtlest yet because it relies on a beloved sports figure and a passion that is shared by most Egyptians.
Fortunately, after years of Muslim Brotherhood terrorist activities in the country, it appears a majority of Egyptians can't entertain the thought of a revival of the Brotherhood through any form even through a beloved soccer icon.
The Muslim Brotherhood's desperate attempts to regain its popularity is failing again.
Hany Ghoraba is an Egyptian writer, political and counter-terrorism analyst at Al Ahram Weekly, author of Egypt's Arab Spring: The Long and Winding Road to Democracy and a regular contributor to the BBC.