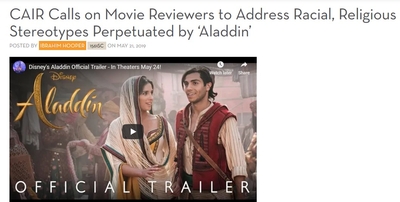 What happens when you take a classic story created by a Syrian writer, modernized with a multi-ethnic, multi-national cast, that tops the box office from the United States to the Middle East?
If the Council on American-Islamic Relations (CAIR) is involved, you get empty cries of "Islamophobia."
It wants "movie reviewers nationwide to address concerns about racial and religious stereotypes perpetuated by the Disney film 'Aladdin.'"
The summer blockbuster is based on the famous "Arabian Nights" story and is a live action remake of the classic Disney animated film.
"The Aladdin myth is rooted by racism, Orientalism and Islamophobia," CAIR Executive Director Nihad Awad said in a May 21 statement. "To release it during the Trump era of rapidly rising anti-Muslim, anti-immigrant and racist animus only serves to normalize stereotyping and to marginalize minority communities."
Three weeks after its release, there have been no reports that the film is being embraced by the president's supporters or fueling any political sentiment whatsoever. That's because it's a movie.
And that may explain why CAIR's protest has not garnered much traction.
A Seattle Times review described the movie as "misconceived" and said it "lacks real magic." It briefly mentioned the CAIR complaint, but countered with Disney's emphasis that "its cast is the most ethnically diverse in the company's history." CAIR's complaint is an odd one, since Muslims do not constitute a race, and represent ethnicities from across the globe. As for claims that the story is rooted in Orientalism, the "Arabian Nights" stories are a Middle Eastern creation that has existed for more than a millennium. "Arabian Nights" stories originate from Persian, Indian, Egyptian, Syrian and Iraqi stories. According to Egyptian actress Lubna Abdel Aziz, television shows based on the "Arabian Nights" often premiered during the Muslim holy month of Ramadan.
It's also odd that Awad labels the film an example of Islamophobia when it is based on a story that has been popular among children and adults in predominantly Muslim countries. The story of "Aladdin and the Wonderful Lamp," is believed to have been created by 18th century Syrian writer Hanna Diyab, and added to the "Arabian Nights" stories by French Antoine Galland.
"Arabian Nights," also known as "The Tales of Thousand and One Nights," is a world-renowned series of fables from the Middle East and one of the most popular collection of fantasy stories of all time. These include the world famous "Aladdin," "Sinbad the Sailor" and "Ali Baba and the 40 Thieves." CAIR's release claims the story is "[a]n invention of French orientalist Antoine Galland and made popular in English by Richard Burton who overly-sexualized the story to further exotify Arabs and Muslims."
"Arabian Nights" was shown on Arabic television networks for decades. Television networks in Egypt, Kuwait, and Morocco produced their own versions. Egyptian television, radio and cinema produced many versions of the stories since the 1940s including modern adaptations of "Aladdin." All of these versions share the trappings of the original "Arabian Nights" stories, including magic carpets, forbidden love, genies, bazaars and crooked politicians, which Awad describes as Orientalist and Islamophobic.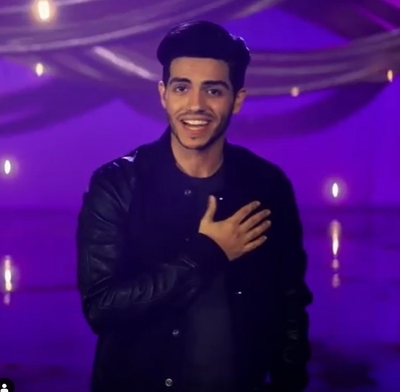 Actor Mena Massoud repeating "Long Live Egypt" in his Instagram message to fans.
The new Disney's Aladdin star is the Egyptian-born Canadian
Mena Massoud
. Massoud sent an Arabic-language Instagram
message
to Egyptians expressing his pride to be part of the movie and hoping that they would enjoy it. The message sent the social media in a frenzy of
support
for the young actor who
ended
his message with the slogan, "Tahya Masr," or "Long Live Egypt," three times. This is a slogan for the June 30, 2013 revolution that prompted the Egyptian army to oust Islamist President Mohamed Morsi.
Massoud's use of the phrase angered Islamists and their allies, who called for a boycott of the movie.
In predominantly Muslim Jordan, where most of "Aladdin" was filmed, its stars were introduced by Crown Prince Al Hussein Bin Abdullah during a private screening for children hospitalized at Amman's King Hussein Cancer Center. The movie became an instant hit in Jordan and Egypt, and topped the box office charts in the United Arab Emirates, where the film was praised for its accurate use of Arabic language. The movie was even played in cinemas in Saudi Arabia and topped the box office there.
In the United States, the film grossed $240,458,331 at the box office in its first three weeks and $615,493696 worldwide to date.
Attacking works of art and cinema has been part of the Muslim Brotherhood agenda in Egypt for decades. When it reached power in Egypt in 2012, one of its first orders of business was targeting elderly comedic actor Adel Imam. He was convicted of insulting Islam and blasphemy because of his anti-Islamist stance. A court later dismissed the charges.
During his time in Parliament, Morsi called for the banning of ballet dancing. An anti-ballet campaign was initiated by his Muslim Brotherhood Minister of Culture Alaa Abdel Aziz during Morsi's year as Egypt's president. Most Islamists believe that all forms of dance and music are religiously prohibited.
CAIR was created in 1994 within a Muslim Brotherhood network and continues to embrace many of the same issues as the Egyptian Islamist movement. It condemned the Saudi Arabian murder of Washington Post columnist Jamal Khashoggi, but ignores systemic abuses journalists endure under Turkey's Islamist President Recep Tayyip Erdogan.
CAIR's offense at "Aladdin" seems to indicate it feels better qualified to judge what is bigoted against Muslims than the Muslim audiences in Jordan, Egypt, Saudi Arabia and the UAE, which seem to enjoy the film. It has anointed itself the guardian and watchdog for what is anti-Islamic.
Thankfully, it does not appear that many people are listening.
Hany Ghoraba is an Egyptian writer, political and counter-terrorism analyst at Al Ahram Weekly, author of Egypt's Arab Spring: The Long and Winding Road to Democracy and a regular contributor to the BBC.