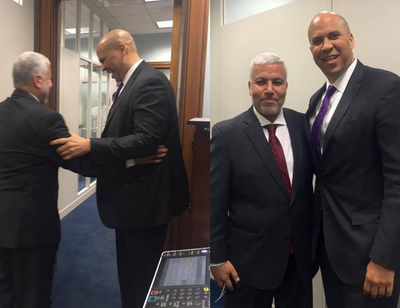 Shedeed with U.S. Sen. Cory Booker before the 2016 State of the Union address.
A New Jersey travel agency owner tied to a business network with alleged terrorist financing has become a go-to Muslim for top New Jersey politicians including Democratic presidential candidate Cory Booker. Ahmed Shedeed's agency, Dar El-Eiman Travel,
included
late al-Qaida terrorist Anwar al-Awlaki as a guide in 2001 and again in 2002 while he was under investigation for his connection with two of the 9/11 hijackers – an inquest that was not publicly reported at the time – and people with Hamas ties, the Investigative Project on Terrorism (IPT) has found.
Shedeed, who works with anti-Semitic U.S.-based Muslim Brotherhood activists who support terrorist attacks in Egypt, also was appointed to the New Jersey Attorney General's Muslim Outreach Committee by former New Jersey Gov. Chris Christie, while current Gov. Phil Murphy hosted him last year at the governor's Ramadan iftar dinner.
Shedeed's highest profile moment came in 2016 when Sen. Booker, D.-N.J., made Shedeed his guest at the State of the Union address.
Jersey City politicians honored Dar El-Eiman Travel last year with a small business service award. "Throughout his life Mr. Shedeed has spoken out for religious tolerance and mutual understanding," Booker said in explaining why he chose Shedeed as his State of the Union guest. "His life and his work are examples of how the diversity of America makes us all better."
But an annual Egyptian flag raising ceremony at Jersey City Hall on Jan. 25 showed how Shedeed can fool area politicians. The event attracted Jersey City Mayor Steven Fulop, and Shedeed introduced him. Fulop described Shedeed as a model citizen.
No one mentioned anything controversial and by all appearances, it was a routine event aimed at honoring a minority community.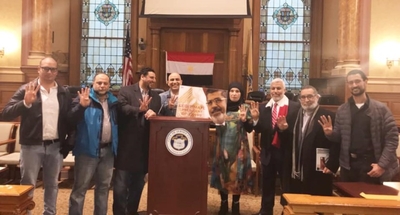 Ahmed Shedeed and others flash a pro-Muslim Brotherhood gesture in Jersey City's City Hall.
After the politicians left, however, Shedeed and his friends
took pictures
holding up four fingers in the City Council chamber, a gesture that came to represent the Egyptian Muslim Brotherhood. The group also placed a photo of imprisoned former Egyptian President Mohamed Morsi on a podium, proclaiming that he is the country's legitimate president. Morsi was the Muslim Brotherhood's candidate who was deposed by the Egyptian military in July 2013.
Traveling with Terrorists
Evidence about Dar El-Eiman Travel's terrorist connections was publicly available when Booker invited Shedeed to the State of the Union and when local officials honored Dar El-Eiman. The agency's stated purpose is to take Muslims on hajj and umrah pilgrimages to Saudi Arabia.
Dar El-Eiman's 2002 brochure lists Ghaddour Saidi and Fawaz Mushtaha as Shedeed's business partners. Saidi and Mushtaha were members of the Muslim Brotherhood's Palestine Committee, evidence from the 2008 Hamas-financing prosecution of the Holy Land Foundation shows. The Brotherhood established the Palestine Committee to support Hamas in the U.S., which was headed by top Hamas leader Moussa abu Marzook.
Mushtaha also was a board member of the defunct Islamic Association for Palestine (IAP). Marzook funded the IAP, which provided a propaganda outlet for Hamas and helped organize fundraisers.
The Brotherhood founded IAP in 1981 "to serve the cause of Palestine on the political and the media fronts," an internal Palestine Committee document entered into evidence in the Holy Land prosecution said.
The 2002 Dar El-Eiman pamphlet lists al-Awlaki as participant on the hajj trip to Mecca. Al-Awlaki was under investigation by the FBI at that time for his relationship with 9/11 hijackers, two of whom he knew both in San Diego and in Virginia.
There is no evidence that Shedeed was aware of Awlaki's terror connections when his company booked the tour.
Al-Awlaki wasn't the only terror-linked individual listed by Dar El-Eiman Travel as a participant in its 2002 hajj tour. Others included:
· Late Hamas fundraiser Sheikh Mohammed al-Hanooti, who raised more than $6 million for Hamas, a 2001 FBI memo said.

· Muslim Brotherhood leader Sheikh Salah Soltan, who once expressed his desire "To live happily. To die as a martyr" on his online resume. He issued a 2011 fatwa sanctioning the murder of Israelis on Egyptian soil. In 2013, Soltan accompanied Muslim Brotherhood ideologue Yusuf Qaradawi when he met then Hamas Prime Minister Ismail Haniyeh during a trip to Gaza. Qaradawi has lamented that Hitler didn't finish the job during the Holocaust and endorsed suicide bombings.

· Sheikh Muhammad el-Mezain, former board chairman of the Holy Land Foundation and a former member of the Palestine Committee's Central Committee, and Marzook's cousin. He also served as HLF's director of endowments and is serving a 15-year sentence for his involvement in the group's "financial support to the families of Hamas martyrs, detainees, and activists knowing and intending that such assistance would support the Hamas terrorist organization."
Anti-Semitic, Pro-Terrorist Associations
Shedeed's relationships with influential political figures have limits.
This was true when Booker scolded Shedeed in December 2017 after his imam, Aymen Elkasaby, at the Islamic Center of Jersey City went on an anti-Semitic rant following President Trump's decision to recognize Jerusalem as Israel's capital. Jews "are the most cowardly of nations," Elkasaby said, adding that "so long as the Al-Aqsa Mosque remains under the feet of the apes and pigs, this nation will remain humiliated."
Shedeed is the mosque's president. Booker called on Shedeed to disavow Elkasaby's statement so they could continue to cooperate.
"... [I]t is your responsibility to make clear that there is no room in your mosque for the hatred of Jews and for the incitement of violence against them," Booker wrote in a letter to Shedeed.
Shedeed condemned Elkasaby and announced the imam was being placed on leave for a month without pay.
Nonetheless, Shedeed did not distance himself from his anti-Semitic friends afterward.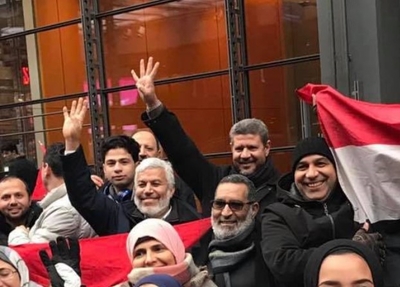 Shedeed and Elkadi on March 3.
Shedeed appears in multiple photos with Hani Elkadi, a
noted
Muslim Brotherhood supporter, including an August 2017 photo where
both displayed
the Brotherhood's four-fingered salute. The two were
together again
earlier this month for a rally against the Egyptian government's execution of opponents, many of whom belong to the Muslim Brotherhood. That same day, Elkadi
invoked
the memory of a Ninth Century caliph who expelled Jews from medieval Mesopotamia.
"You mean going back to the time where a Jew defiled a (Muslim) woman's garment, she screamed Help O Mu'tasim, Mu'taism led his army and kicked the Jews out of land, but today, we see women being raped and our rulers are happy with it!" Elkadi wrote in a Facebook post.
Shedeed's radical roots date back to the 1990s, when he served as president of the Muslim Arab Youth Association (MAYA) and managed its 1996 regional convention in New Jersey. MAYA also held joint conferences with IAP.
MAYA conferences were hotbeds of anti-Semitic propaganda. Hamas military wing leader Muhammed Siyam spoke at the 1995 New Year's convention in Los Angeles. "Finish off the Israelis." he said. "Kill them all! Exterminate them! No peace ever! Do not bother to talk politics." Copies of the notorious forgery Protocols of the Elders of Zion were sold in the bazaar at the same conference, and Soltan invoked it in the same conference hall.
"We can achieve this by concluding a pact with God, for Jihad and martyrdom. We have to change our lifestyle, and we have to protect our children from not being prisoners for Jewish products and from the sex that Jews are spreading everywhere based on the Protocols of the Elders of Zion," Soltan said.
Mezain, the HLF fundraiser who was on Shedeed's 2002 hajj trip, then raised more than $200,000 for "the cause," an FBI memo said. Other terrorists who attended MAYA conferences in the late 1980s and early 1990s included Osama bin Laden mentor and father of modern jihadism Abdullah Azzam, top Hamas leader Khaled Meshaal, and Qaradawi. Al-Awlaki spoke at the 1998 MAYA conference, but what he said is unavailable.
Ties to Muslim Brotherhood Fronts
Egypt's El-Watan newspaper identified Shedeed as a Brotherhood member in 2013. His connection with institutions spawned by the Palestine Committee continues. The Council on American Islamic Relations (CAIR) New Jersey chapter listed Shedeed as a board member on its 2016 IRS tax filing. CAIR was listed as a Palestine Committee organization in an internal 1994 document.
Shedeed is the registered agent for Egyptian Americans for Democracy and Human Rights (EADHR) in 2013 New Jersey incorporation documents. EADHR later identified itself as an affiliate of International Coalition for Egyptians Abroad (ICEA), which is part of the London-based International Organization of the Muslim Brotherhood. ICEA confirmed that EADHR is a subsidiary in a 2015 letter to then-U.N. Secretary General Ban Ki Moon.
EADHR held a 2014 rally at the Saudi consulate in New York, where members yelled anti-Semitic chants saying that the Saudis were "dirtier than Jews."
Shedeed offers a glimpse into the life of a two-faced world of the Islamist activist who pretends to be a moderate in front of politicians but who maintain a double life as an extremist when no one is looking. Publicly, he's the model citizen. Privately, he's a man who associates with terror supporters and visceral anti-Semites.
Note: Journalist Paul Sperry first reported that Anwar al-Awlaki served as a tour guide on its 2001 hajj tour in his 2005 book Infiltration.