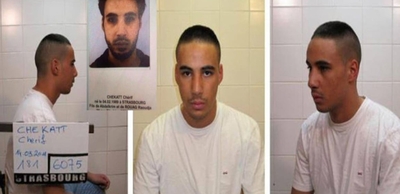 Cherif Chekatt mug shots.
"Ladies and gentlemen, the story you are about to see is true. Only the names have been changed to protect the innocent." That was the opening line for the well-known TV and radio show "Dragnet," which told the story of criminals and law enforcement authorities' efforts to stop them.
The abbreviated version of that slogan, "Only the names have been changed" may well be applied to the latest terror attack that occurred in Strasbourg, France. A gunman identified as Cherif Chekatt shouting "Allahu Akbar" opened fire last Tuesday on a crowd enjoying the annual Christmas Market, snuffing out the lives of five innocent people and wounding 13 others. ISIS has claimed credit for the heinous attack.
A close examination of the incident and the perpetrator reveals an all too familiar pattern.
Cherif Chekatt, a French Moroccan with an extensive criminal history, was radicalized in prison, "known to authorities" and was on a terrorist watch list.
We have heard that description too many times in recent years to not feel both frustration and anger.
In 2016, Tunisian immigrant Anis Amri drove a truck into a crowded Christmas Market in Berlin killing 12 and injuring 56. Amri, like Chekatt, was a common criminal, radicalized in prison, known to authorities and on a terror watch list.
ISIS also claimed credit for Amri's truck attack.
Many of the terror attacks that have occurred in the European Union since 2012 fit the same mold. Only the names have changed. Names of terrorists, many of whom we have written about in the past, such as, Mohammed Merah, Saïd and Chérif Kouachi, Ahmedy Coulibay, Omar El-Hussein, Brahim and Khalid el-Bakraoui, Salah Abdeslam, Karim Cheurfi, Khalid Masood, all came out of prison fueled with the fire of a radical Islamic ideology, bent on killing others in the name of Allah.
In the United States, people like Alton Nolen, Edward Archer, and Casey Spain paint a similar picture of career criminals migrating to radical Islamic ideology and terrorism after a prison stint.
We knew they were coming out of prison and yet they were still able to inflict death and destruction. What could have been done to prevent them from acting?
Clearly there needs to be a more robust program that effectively deals with radicalization and notification, including post release supervision.
Numerous studies have affirmed that. One such report also noted that "significant similarities are shown to exist between terrorists and...criminals."
Here in the United States, an interesting collaboration between a noted counter-terrorism official and a former jihadist has produced a report examining radicalization and the anticipated release of terrorists from prison. The report's authors are Mitchell Silber, former director of the NYPD's Intelligence Analysis Unit, and Jesse Morton, formerly known as Younus Abdullah Muhammad. Morton spent several years in federal prison for his role as the founder of Revolution Muslim, a terrorist recruitment organization that had ties to a significant number of terrorists both here in the United States and in Europe.
The report, "When Terrorists Come Home" stresses the need for a viable de-radicalization program that begins in prison and continues through post release. The Tracer Act, presently awaiting passage in the U.S. Senate, would require authorities to provide state and local law enforcement with "release information from a Federal correctional facility, including the name, charging date, and expected place and date of release, of certain individuals who may pose a terrorist threat."
The Silber/Morton report also reveals the reluctance of the U.S. Bureau of Prisons to acknowledge the need for such a program claiming that "its current re-entry and reintegration programs are sufficient."
While the BOP provides specific programs for drug offenders and sex offenders, it does not believe in having specific programs for convicted terrorists. That is absurd.
Given the high rate of recidivism for common criminals like Strasbourg attacker Cherif Chekatt, we cannot afford to gamble on releasing terrorists without placing stringent safeguards in place. If we fail in this area, we will continue to see terror attacks where only the names have been changed while the deadly pattern from prison to jihad remains the same.
IPT Senior Fellow Patrick Dunleavy is the former Deputy Inspector General for New York State Department of Corrections and author of The Fertile Soil of Jihad. He currently teaches a class on terrorism for the United States Military Special Operations School.