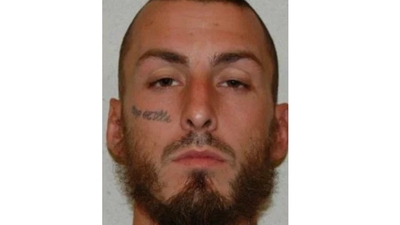 Often what comes out of prison is much worse than what went in. How else do we understand (explain) the case of Casey Charles Spain. He went to jail as a registered sex offender in 2010. Last August, three weeks after his release from a Virginia prison, he was arrested and accused of being a committed jihadist who had sworn allegiance to Abu Bakr al Baghdadi and was willing to kill innocent men, women, and children for the cause of ISIS.
He was charged with illegal possession of a firearm by a convicted felon. The FBI's Joint Terrorism Task Force conducted a sting operation to dupe Spain into thinking he was meeting with an ISIS soldier who would provide him with a weapon necessary to kill American infidels. When investigators approached him, Spain took off running, at one point jumping a fence, as he tried to elude capture.
We are now faced with the question of how someone like Spain became radicalized while incarcerated.
Over the years since 9/11, we have learned that several factors contribute to the radicalization process. The influence of the prison chaplain has been proven to be one. Fifteen years ago, a little known New York state prison official named Warith Deen Umar told an interviewer that the 9/11 hijackers were heroes and that prison was the ideal place for converts to Islam to become jihadists. As the director of Ministerial Services for New York, Umar was responsible for hiring and vetting all Islamic chaplains. He was also a chaplain for the Federal Bureau of Prisons. A subsequent investigation by the Department of Justice's inspector general found that unvetted Muslim chaplains were a contributing factor in prison radicalization. Also during that time, the for New York State Department of Corrections and the New York Police Department investigated prison radicalization in what was called "Operation Hades." It uncovered numerous inmates who had been converted to a radical form of Islam that was being taught in prison mosques by both unvetted chaplains and their inmate assistants, some of whom had ties with terrorist organizations such as al-Qaida, Hamas and the Islamic Jihad.
One such inmate was Edwin Lorenzo Lemmons. Lemmons was convicted of attempted robbery and sentenced to four years in a New York prison. He converted to Islam while in custody and was appointed the imam chaplain's assistant. He then enrolled in a prison class to learn Arabic. The inmate instructor was a Jordanian-born inmate who investigators later learned had once pledged bayat (allegiance) to Osama bin Laden and was helping released inmates travel to the Middle East to receive "underground tactical training." Lemmons was paroled in 1998 with time off for good behavior.
He traveled overseas six months after completing his parole, visiting several Middle Eastern countries including Jordan, Egypt, Saudi Arabia. There, he met with contacts provided to him by the Jordanian inmate. He also enrolled in Egyptian madrassas controlled by the Muslim Brotherhood. During his time abroad, investigators intercepted phone calls from him to a New York prison chaplain's office, where he was allowed to speak with some of the prisoners. He expressed his commitment to jihad to the inmates, along with his disdain for non-believers. Lemmons returned to the United States from Egypt in September 2003. FBI agents arrested him when the plane touched down in Orlando, and charged him with possession of a firearm by a convicted felon. Agents saw Lemmons holding an AK-47 at a Melbourne, Fla. shooting range during another visit. He pleaded guilty to the charge and spent three years in federal prison.
Spain's case mirrors Lemmons' in many ways – including a prison conversion and a similar firearms charge – but with a more ominous connection. Following his release from federal prison, Lemmons was hired by the Muslim Chaplain Services of Virginia (MCSVA) It is contracted with the Virginia Department of Corrections to provide Muslim chaplains for the prison system. The MCSVA receives some of its funding from the Islamic Relief (IRUSA), an organization that has in the past been suspected of financing terrorists.
Lemmons was thus granted statewide access to Virginia inmates, making regular monthly visits to conduct Jummah services and teach Arabic.
According to Virginia prison records obtained by IPT, Casey Charles Spain was listed to attend Sunni/Jummah services at two facilities where Lemmons taught.
From 2015-2017, Lemmons and Casey Charles Spain were in the Greensville Correctional Center, prison records show, with Spain as an inmate and Lemmons as the chaplain/imam.
The Virginia Department of Corrections policy allowing an ex-inmate to re-enter its facilities to speak to inmates is not the issue. Many ex-offenders have had a positive effect in helping others turn their lives around. But when it comes to terrorism and prison radicalization, however, permitting an inadequately vetted chaplain to minister to the flock is a recipe for disaster.
In June, the Virginia corrections director and operations support manager were informed of Lemmons background by the Investigative Project on Terrorism. They were advised to contact the law enforcement agencies that investigated him in the 2004 terrorism case. The officials said they didn't know about Lemmons' background or 2003 arrest.
Casey Charles Spain pleaded guilty Nov. 3 to illegal possession of a firearm and faces up to 10 years in prison when he is sentenced in February. We can only hope that when he returns to prison he will not be assigned as a chaplain's assistant like his mentor Edwin Lemmons. And certainly he should not be allowed to re-enter any prison when he is released to work as a prison imam/chaplain. Otherwise the process of radicalization will then have come full circle again.
IPT Senior Fellow Patrick Dunleavy is the former Deputy Inspector General for New York State Department of Corrections and author of The Fertile Soil of Jihad. He currently teaches a class on terrorism for the United States Military Special Operations School.