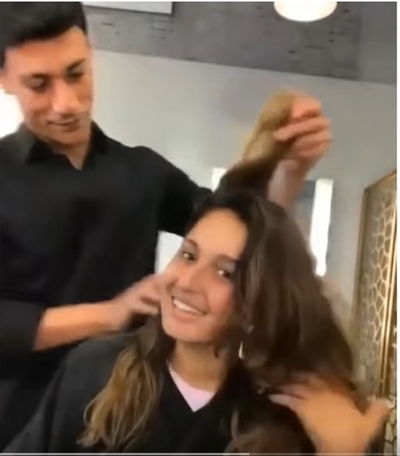 Hala Shiha (YouTube image)
She once was one of Egypt's most popular actresses. Now,
Hala Shiha
has created a row by
announcing
she no longer will wear a hijab in public. Wearing the hijab was her decision, she
said
, and so was removing it.
Modest dress for women, including the hijab's covering of the head, or the niqab's full face veil, has always been a point of contention among Islamic scholars and Muslims in general. Anti-hijab activists claim that these coverings are not mandated in the Quran, while advocates claim the exact opposite. The Muslim Brotherhood and most Islamists have adopted both the niqab and hijab as political symbols and a banner for their global expansionism.
The "veil was and is still used in the Egyptian society as a divine weapon for discrimination against women," said Egyptian women's rights activist and blogger Mona Al Ashry. "It is not a personal choice by free will as they claim. No! it is used to stigmatize and degrade whoever woman (sic) refused to wear it."
Shiha's announcement about giving up the hijab also included word that she will resume an acting career that was halted in 2007. She was immediately rebuked by Khadiga Al Shater, the daughter of the imprisoned Muslim Brotherhood leader and chief financier Khairat Al Shater. Khadiga Al Shater waged a campaign against Shiha through her Facebook page, claiming the two had been close friends. "Be strong and don't assist the devil by allowing our enemies to gloat," Al Shater wrote. "...They wanted to destroy Islam and Muslims, they attempted to slaughter us with their brutality but they couldn't and now you removing hijab today have slaughtered me with a blunt knife!"
Shiha denied being Al Shater's friend and said the two know each other because their children attend the same school.
A Salafi preacher named Mohamed Al Sawy claimed that Shiha's husband called him and said that he feels that his honor is desecrated and advised Shiha to wear her veil again and return to the path of God. Al Sawy also said that good people can be lured by bad company such as directors, actors, journalists, celebrities and artists and one must avoid them. Shiha denounced the video and said that Al Sawy made up the story about her husband. Al Sawy's video was taken down from his Facebook page but appeared elsewhere on social media.
Rejecting all calls for her to change her mind, Shiha taunted her critics with a video of her at the hair dresser.
Enforcing a dress code has been on the Islamist agenda since the Muslim Brotherhood's rise in 1928. Founder Hassan al-Banna wanted to change society from within by introducing Islamist principles. Aiding him in that quest was Zainab Al Ghazaly, who founded the Brotherhood's sisterhood branch, Al Akhawat. She wore a traditional headscarf and urged other women to do the same.
Muslim Brotherhood Supreme Guide Hassan al-Hudaybi tried to push President Gamal Abdel Nasser to force the hijab on Egyptian women in 1953. Nasser publicly mocked the idea, saying that even the al-Hudaybi's daughter does not wear a hijab. If he can't force it upon her, Nasser asked, how could he try to force it on millions of Egyptian women?
Even though there's no law mandating it like in Iran or Saudi Arabia, Islamists' dreams of changing Egyptian society seemed to work. By 2007, an estimated 90 percent of Egypt's Muslim women were covered in some form.The trend started during the 1970s, and targeted mainly female artists and belly dancers, some of whom accepted after Islamists offered substantial financial rewards. "In the 1970s, Islamic cleric Mohamed Metwali Shaarawi managed to persuade the late beloved megastar actress and singer Shadia and actress Shams el Baroudi to wear hijab," said Egyptian media expert Amina Tharwat Abaza. "Both of them ended retiring from acting and wore hijab."
"I lived a very unstable life and I want God to forgive me," Shadia said at the time.
Hala Shiha is not the first female artist to remove her hijab and return to acting. She was preceded by more than a dozen Egyptian actresses and artists in the past decade. She was the most prominent actress to give up her career, however, and wore her niqab and hijab longer than the others. At the time, the move was seen as a major win for Islamists.
"The emptiness that characterizes the Brotherhood and Salafists makes them always in fear of losing their unwanted products and accordingly they treated Hala Shiha moving away from their sphere of influence as a threat to their destructive project," Egyptian writer Fatima Naout told Egyptian daily Al Masry Al Youm.
Today, the trend in Egypt seems to be moving away from the hijab and niqab. "Women are becoming more vocal, and the reason for that is they finally realized that many sheikhs and Islamist clerics they once respected were just crooks and hypocrites" Abaza said.
While the decision to wear a hijab or a bikini remains a woman's prerogative and choice, Islamists feel that they should strip women of that right of choice, and even cement that aggression on women's rights by Islamizing women's attire and creating symbols out of them.
The trend toward removing the hijab picked up steam after the June 2013 revolution that pushed the Muslim Brotherhood from power.
Egypt's new cabinet features eight women ministers for the first time, and some hope the country is witnessing a dramatic change in women's rights after decades of stagnation. There remains a lot of room for improvement, but an anti-Islamist sentiment seems to be taking hold. Hala Shiha is a symbol of that progress.
Hany Ghoraba is an Egyptian writer, political and counter-terrorism analyst at Al Ahram Weekly, author of Egypt's Arab Spring: The Long and Winding Road to Democracy and a regular contributor to the BBC.