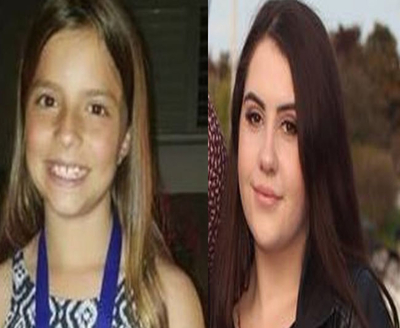 Shooting victims Juliana Kozis and Reese Fallon
It's been more than three weeks since the murderous shooting attack on Toronto's Danforth Avenue, which is a famous outdoor dining location that is also home to the city's Greek community. Canadians were understandably horrified when they saw video images of 29-year-old Faisal Hussain casually walking down the street and opening fire on people who were doing nothing more than enjoying themselves on a Sunday evening. The shooting continued as Hussain crisscrossed the street firing dozens of shots from a handgun, which he repeatedly reloaded.
Hussain killed 18-year-old Reese Fallon and 10-year-old girl Juliana Kozis and wounded 13 other people, including a young woman who may be paralyzed for life. Toronto Police were quick to arrive on the scene and unconfirmed reports say that Faisal Hussain shot himself to death after exchanging gunfire with police.
Unlike other attacks targeting crowded public areas, there was no immediate indication of why Hussain carried out his July 22 attack. He made no statements during the attacks and apparently police have found no evidence that suggests a motive. This uncertainty has created understandable public concern.
Toronto Police identified Hussain as the shooter shortly after the attack and said they were in the process of executing search warrants to examine his electronic devices for any insights into his motivation.
On the day after the mass shootings, Hussain's Pakistani-born and Toronto resident parents issued a professionally crafted media statement claiming that their son's actions were due to a long history of "severe mental health challenges" which Canadian medical practitioners were unsuccessful treating. Media reports subsequently revealed that the Hussain's family spokesperson was a self-described supporter of the National Council of Canadian Muslims.
The cone of silence which descended on this case since then is largely because the shooter had violent interactions with the police. Ontario law grants the Special Investigations Unit (SIU) control of all public communications regarding the incident as they decide if the police acted appropriately. While independent police oversight is important, it seems clear that the police acted appropriately by trying to stop the killer, whose suicide was in no way a consequence of police misconduct. SIU oversight should not needlessly obstruct the public's right to know the truth, especially in cases like this one.
Journalists have filled some of the void with details about Hussain, including his past apprehension under the Mental Health Act, his threats of violence as a student and his older brother's association with a street gang that was active in both the drug and illegal gun trade. Initial speculation suggested that he targeted women like the April van attack in Toronto by Alek Minassian that killed 10 people.
Not surprisingly, speculation also emerged that Hussain's motivation was Islamist terrorism, which was reinforced by the nature of the attack that has unfortunately become a recurring reality with violent attacks in France, the UK, the EU, Canada and the US. The Islamist motivation speculation was significantly strengthened days after the attack when ISIS released a statement saying Hussain "was a soldier of the Islamic State and carried out the attack in response to calls to target the citizens of the coalition countries."
Toronto Police Chief Mark Saunders said that police had uncovered no such links but that the motive was still under investigation. He did not provide any information about what had been found on Hussain's digital devices – and that remains the case today.
News reports indicate that a fully armed Hussain sat outside the grocery store where he worked for six hours before walking to Danforth Avenue. It is not known why he chose Danforth Avenue.
It's been more than three weeks and Canadians still don't have an official explanation of exactly what happened and what motivated the attack. Consider what we do know about a possible Islamist motivation:
1. The murderous random attack in a highly populated venue carried out by Faisal Hussain is a technique previously used by Islamists.

2. ISIS has engaged in an online campaign to encourage domestic attacks such as Hussain carried out.

3. Hussain was a practicing Muslim and attended a mosque that reportedly preaches extremist interpretations of Islam.

4. ISIS has claimed Hussain was one of its "soldiers."

5. Violent Islamist ideology has an undeniable history of motivating people with mental health issues to carry out terrorist attacks against citizens in Western countries.
Unconfirmed media reports also say that Hussain had been questioned by police and the Canadian Security and Intelligence Service (CSIS) about his Islamist connections and had traveled to Pakistan and Afghanistan. The silence from police officials on this specific issue has been deafening.
Murderous attacks such as what Faisal Hussain carried out on Danforth Avenue clearly affect public confidence in the safety and security of the societies in which we live. Indeed, eroding and undermining that public confidence is a goal of the terrorist groups that engage in or seek to inspire such attacks.
Western societies have successfully deployed multiple strategies to prevent and respond to terrorism. Supporting public confidence in our public systems, including law enforcement, needs to be a component of that strategy and that includes not succumbing to political correctness or bureaucratic self-interest. The Toronto Police need to tell the public what it knows about Hussain's murderous motivation. And if they can't make a determination, they should say so. People can judge for themselves the credibility of what they are told but, above all else, Canadians deserve to know the truth.
Scott Newark is a former Alberta Crown Prosecutor who has also served as Executive Officer of the Canadian Police Association, Vice Chair of the Ontario Office for Victims of Crime, Director of Operations to the Washington D.C.-based Investigative Project on Terrorism and as a Security Policy Advisor to the Governments of Ontario and Canada. He is currently an Adjunct Professor in the TRSS Program in the School of Criminology at Simon Fraser University.