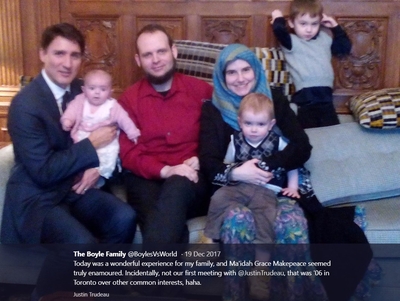 The bizarre case of Joshua Boyle and his family is back in the news in Canada as a result of two strange recent developments.
Boyle and his American wife Caitlan Coleman made headlines in October 2012 when they were apparently taken hostage by the Haqqani network in a region of Afghanistan controlled by the Taliban. According to Boyle, he and his seven-month pregnant wife were backpacking when they were kidnapped. His story shifted several times since then, saying they were mistakenly in Afghanistan, that they were there as 'pilgrims' to help the local Afghans, and that they were kidnapped because the terrorists thought his wife's pregnancy could be leveraged for ransom from the U.S.
Most intriguing is Boyle's apparent continuing support for the Taliban, a legally designated terrorist entity under Canadian law. Boyle continues to refer to the Taliban by their preferred title of 'Islamic Emirate of Afghanistan,' and has even gone so far as to explain that the Taliban refused to cooperate with the Haqqani network in the hostage taking and that the Haqqani thugs tried to recruit him to join with them. Boyle's seeming support of the Taliban remains unchallenged.
As strange as this sounds, Boyle has an activist history in Canada that suggests this may have been his real motivation. Boyle was born into a well-to-do, devout Christian family, and his father was a Canadian Federal Tax Court judge.
Boyle first came to public attention in Canada during 2008 protests at Parliament Hill demanding suspected terrorist Omar Khadr's release from Guantanamo Bay. The Khadr family organized the protests, including Omar's niqab-wearing sister, Zaynab. She infamously stated in an interview that the U.S. deserved the 9/11 attacks and dismissed her brother Omar's killing of a U.S. soldier by snorting "big deal."
"Canada's first family of terror" is supported by their close connections to al-Qaida (AQ) in Afghanistan and Pakistan and the fact that Osama bin Laden and current AQ leader Ayman al Zawahiri actually attended Zaynab Khadr's previous wedding in Afghanistan.
Boyle became the Khadr family's spokesman and, in 2009, he married Zaynab Khadr. The marriage only lasted 18 months. He reconnected with Caitlan Coleman after his 2011 divorce. The bizarre trip to Afghanistan and abduction took place the following year. The couple had three children while in captivity, claiming that one other died following a forced miscarriage.
This connection to Zaynab Khadr is revealing because an Alberta judge refused to allow Omar Khadr – now back on the streets in Canada – unsupervised visits with her because of her continuing Islamist extremist views and connections.
Meanwhile, new information from Khadr family associates indicates that, contrary to what Boyle has said, he had actually met Zaynab and her family in 2006 when he joined them at court appearances in support of the just arrested Toronto 18 terrorists. Remember that 2006 date.
We now know that the Boyle's rescue occurred in October after U.S. Special Forces located the family and told the Pakistanis to secure their release or the U.S. forces would do it themselves. Canada was advised of the operation once it had commenced. Boyle's oddity started immediately when he refused to allow his family to board a U.S. plane, apparently because he feared his Khadr links would send him to Gitmo. After a short delay, the family took commercial flights and returned to understandably huge media attention.
Since his return, Boyle has given multiple interviews which can be summed up in this revealing comment: "In the final analysis, it is the intentions of our actions, not their consequences, on which we all shall eventually be judged."
In late December, Canadians learned that Prime Minister Justin Trudeau had met with the Boyle family in his official office at Boyle's request. Strangely, this fact was not revealed by the PM but rather through a tweet from Boyle's account that included photos and the comment:
"Incidentally, not our first meeting with @JustinTrudeau, that was '06 in Toronto over other common interests, haha."
Why would the Canadian PM meet with a supporter of a legally designated terrorist entity that has killed Canadian soldiers? What does that say to Canadians, including family members of other Canadian hostages murdered by Islamists, with whom he has refused to meet? And what is the 'common interest' from 2006 that Boyle is referencing? Did Trudeau meet with members of the Khadr family, including Zaynab, during the protests that year? If so, is another $10.5 million payoff coming for the Boyles?
Less than two weeks later another bombshell dropped. Ottawa Police announced that they had arrested Joshua Boyle and charged him with 15 criminal offenses committed since he was freed. Charges include eight counts of assault, two counts of sexual assault and two counts of unlawful confinement, and single counts of uttering threats, administering a noxious substance, and obstruction of a peace officer.
The alleged crimes began a day after the family returned to Canada and lived with his parents, and continued through the end of December, when Ottawa police responded to a complaint. Reportedly, 14 of the charges involve an adult woman, while a child also is an alleged victim. Interestingly, Boyle's wife's parents were in Ottawa visiting with their daughter and grandchildren when the complaint that led to the charges was made. Boyle has had four court appearances but has yet to enter a plea as his lawyers are apparently trying to arrange an acceptable bail release. He'll be back in court Jan. 26. Is this case going to be resolved by a plea bargain?
This strange case has understandably attracted significant attention. Hopefully, elected officials will learn to exercise greater caution in grabbing photo ops with sketchy people, and our secular court system will now deal appropriately with Joshua Boyle, including protecting his own children from harmful influence. One thing is certain: there will be more to come. Stay tuned.
Scott Newark is a former Alberta Crown Prosecutor who has also served as Executive Officer of the Canadian Police Association, Vice Chair of the Ontario Office for Victims of Crime, Director of Operations for Investigative Project on Terrorism and as a Security Policy Advisor to the governments of Ontario and Canada. He is currently an Adjunct Professor in the TRSS Program in the School of Criminology at Simon Fraser University.