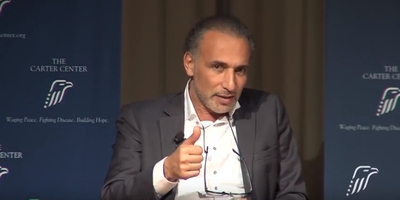 "Islam has no problems with women," Tariq Ramadan once said, "But Muslims clearly have serious problems with them."
The controversial Islamist speaker would know. Two French women came forward last week to accuse him of sexual abuse, and it is rumored they are not alone. In one case, Ramadan allegedly forced himself on a physically disabled woman, beating her and keeping her imprisoned in his hotel room overnight. Throughout, reports Paris Match, he subjected her to "repeated humiliations."
"The more I screamed, the more he struck me," the woman, a convert to Islam, has said.
The allegations came only days after French Muslim activist Henda Ayari filed a complaint accusing Ramadan of attacking her at a congress of the Union of Islamic Organizations of France (UOIF) in 2012. Ayari is well-known in French circles as a former Salafist who now works to empower Muslim women against fundamentalism and misogyny and to promote secular ideals.
She even wrote about the incident in her 2016 book, I Chose To Be Free (J'ai Choisi d'Etre Libre), , giving her assailant the name "Zoubeyr." Concerns for her privacy and safety, particularly when "Zoubeyr" threatened the lives of her children if she went public, have kept her silent since.
But Ayari felt emboldened after the Harvey Weinstein allegations transformed into a social media movement with the hashtag "#metoo." She revealed Zoubeyr's true identity on her Facebook page, and announced she had filed a complaint with the Rouen public prosecutor's office.
The details of what Ayari suffered at Ramadan's hands closely resemble those of his other accuser, as well as stories Ayari claims to have heard from several more women: insults, beatings, repeated humiliations. "It isn't so great for an ethicist of Islam," she wrote in I Chose To Be Free. "Yet, he continues to give lessons in Islamic morality, to pose as an enlightened philosopher, calm defender of a modern Islam."
The word "pose" is apt. Ramadan, the grandson of Muslim Brotherhood founder Hassan al-Banna, and son of Brotherhood leader Said Ramadan, grew up in Switzerland, where his father was forced to flee after being expelled from his native Egypt. He is fluent in several languages, is a professor at Oxford, and in 2004, was offered another teaching position at Notre Dame University. Yet revelations about donations he had made to charities that support Hamas soon created concerns among American officials. Days before Ramadan and his family were to relocate to Indiana, his visa was revoked. It was restored in 2010 after a court fight.
In 2007, the Dutch government invited Ramadan to advise on "bridge-building efforts" in Rotterdam, inspired by his speeches advocating integration by Western Muslims. But two years and €1.79 million later the government fired him, disturbed by his statements against homosexuality and his regular broadcasts for Press TV, the media propaganda arm of the Iranian regime.
Ramadan's "pose" has given him a reputation as "Janus-faced," or as French journalist Caroline Fourest has put it, leading a "double life." For all his talk about Muslims integrating into Western culture, he refused to denounce the stoning of adulterers in a 2003 debate with former French president Nicolas Sarkozy. He has called homosexuality "deviant" and "a sickness." Of women, he has written, "When walking in the streets austerity requires that you always cast you eyes down to the pavement." And of Islam in Western culture, he has stated, "We are in favor of integration, but it is up to us to decide what that means. ... I will abide by the laws, but only insofar as the laws don't force me to do anything against my religion."
If the allegations in Ramadan's case are proven, it seems "what that means" includes the right to sexually violate women. And as he himself notes, that appears to be a common "problem" for Muslim men in general.
Take, for instance, Mohammed Abdullah Saleem, the founder of the Institute for Islamic Education in Elgin, Ill., who pleaded guilty to multiple accounts of sexual molestation in 2016. One of his victims, a student at the school, was 14 at the time.
But that would not surprise people like the hundreds of women attacked in Cologne on New Year's Eve 2015. Nor would it surprise someone like writer Sufiya Ahmed. In a recent article for the Independent, Ahmed revealed the stories of several women who, despite being covered, had been sexually molested in the UK, sometimes by strangers. Many Muslims believe that lack of "modesty," or dressing in Western clothing, encourages sexual assault. "We receive calls on the helpline from Muslim women who disclose sexual assault and rape," Shaista Gohir, the chair of a helpline for Muslim women, told Ahmed. "They have been fully dressed. Some have been wearing the headscarf, [full robe], and even the face veil. The offenders have included family friends, family members, and also respected religious leaders in the community."
Such public statements, let alone the filing of charges against him, must come as a shock to someone like Ramadan, who has counseled, "Do not respond to attacks with attacks. Respond with mercy and respect." No doubt, "mercy" was exactly what he and his fellow rapists have been counting on. Instead, their accusers listened to another of his messages: "Be committed! Be courageous!" These women, coming forward with the truth, have been exactly that.
Abigail R. Esman, the author, most recently, of Radical State: How Jihad Is Winning Over Democracy in the West (Praeger, 2010), is a freelance writer based in New York and the Netherlands. Follow her at @radicalstates.