A New Jersey imam fighting deportation may have harmed his case to stay in this country and avoid deportation by hosting a radical Syrian cleric last week.
Sheikh Mohammad Qatanani is due back in immigration court next month. He failed to disclose connections with Hamas when he applied for permanent residency in the United States. That omission, immigration officials say, renders him ineligible to stay in the country.
Israeli military court records show he was arrested in 1993 and convicted of providing support to Hamas. Qatanani claims he was merely detained and never charged.
While his case is in recess, Qatanani's mosque, the Islamic Center of Passaic County (ICPC), hosted Sheikh Mohammed Rateb Al-Nabulsi last Friday. Al-Nabulsi is a Syrian imam who defended Palestinian suicide bombings in April 2001.
"All the Jewish people are combatants" acceptable as targets for attacks in Israel, Al-Nabulsi wrote in his "ruling on martyrdom operations in Palestine."
Al-Nabulsi praised "our Mujahidin Resistance Brothers in Palestine and Lebanon" in a 2006 article on his website.
"We say Allah-u Akbar to all our Mujahidin brothers in South Lebanon and Palestine who embodied with their heroic deeds the meaning of Jihad," Al-Nabulsi said.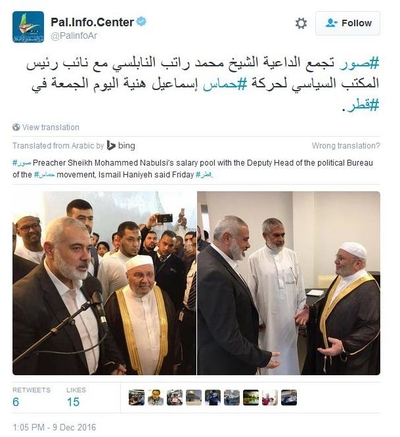 During a  visit to Qatar earlier this month, Al-Nabulsi posed for a photo with Ismail Haniyeh, a top Hamas leader who served as its prime minister in Gaza.
Qatanani also hosted Al-Nabulsi in January 2014.
Al-Nabulsi's defense of suicide bombings might be added into the record in Qatanani's immigration court case to help build the argument that he supports extremists. It also could contradict Qatanani's statement at his Dec. 7 deportation hearing that he did not know anyone in Hamas or connected to Hamas apart from his brother-in-law, who he met once in 1994.
Both Qatanani and Al-Nabulsi are slated to speak at next week's MAS-ICNA Convention in Chicago.
Al-Nabulsi's ICPC appearance last Friday focused on Muslim unity in response to the Syrian civil war and the slaughter in Aleppo. Qatanani sought to tie the fight against Assad in Aleppo with the Palestinian struggle with Israel in Gaza.
"The blood of the Syrian Muslim child of Aleppo is the same blood of the Palestinian child of Gaza," Qatanani said.