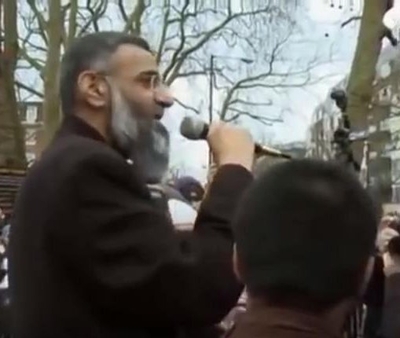 With the United Kingdom's successful prosecution of noted radical Islamic preacher Anjem Choudary for providing material support to ISIS, British officials are now faced with the dilemma of what to with him when he is sentenced Sept. 6.
While he is sure to receive a lengthy period of incarceration, that may create even more problems for counter terrorism officials. In going to prison, he is not actually moving from the frying pan to the fire. A more appropriate analogy is akin to the fox in the hen house. Anjem Choudary has spent the better part of 20 years preaching, proselytizing, and recruiting individuals to a radical form of Islam that encourages jihad as a necessary tenet of the faith. He has done it on street corners, mosques, and in front of television cameras. And like a sly fox, he avoided prosecution in the past because no direct contact between him and a terrorist organization could be proven until now. British authorities uncovered a video of Choudary pledging allegiance to ISIS leader Abu Bakr al Baghdadi.
When he goes into prison, Choudary will have the opportunity to continue his evil work in an environment that guarantees him a captive audience of people who already have a disdain for government and a predisposition for violence. It is fertile soil.
How successful will he be? We already know of his effectiveness with ex-cons such as shoe bomber Richard Reid, who attended the Finsbury Mosque after his release from prison. Finsbury was one of the places that Choudary was allowed to preach his message of hatred and intolerance to all things non-Muslim. Many of his converts are already in prison for committing terrorist acts.
One of them is Michael Adebolajo, convicted in the brutal murder of 25-year-old Lee Rigby, a Fusilier in the British Army as he was returning to barracks. Since his incarceration, prison officials have had to transfer Adebolajo from the general prison population in Belmarsh because of his attempts to influence and radicalize other inmates. Another Choudary protégé, Richard Dart, was sentenced to six years in prison in 2013 for his part in a plot to bomb a memorial service for British soldiers at Royal Wooten Basset. Also in prison is Junead Khan, convicted last spring for conspiring to kill U.S. servicemen stationed at the RAF Lakenheath Base.
Authorities believe Khan was radicalized by Choudary and inspired to act in similar fashion as the Lee Rigby killing.
Prison walls are porous and it is virtually impossible to completely isolate one inmate from others. It remains to be seen whether Choudary will have direct contact or will communicate through kited letters or other illicit prison communication methods. But he will continue to get the radical Islamic message out unless authorities stay one step ahead of him.
The effects of Islamic radicalization in the prison system have been well documented both in the United States and Europe. The threat has been acknowledged by counter terrorism officials around the globe, although effective ways to combat it have not been clearly defined. We know that one catalyst in the radicalization process is the presence of unvetted Islamic clergy in prison mosques. We have also seen what can happen when a convicted Islamic terrorist is allowed to work in the chaplain's office or the prison mosque as in the case of El Sayyid Nosair, who was the chaplain's clerk in Attica State prison when he plotted with others to bomb the World Trade Center and other New York City landmarks in 1993.
This poses serious questions as to what Choudary will be allowed to do while incarcerated. Will he be allowed to attend religious services, or be allowed to participate in congregational prayer with other Muslim inmates? Before you think that could never happen, we should remember the case of convicted Islamic terrorist John Walker Lindh. Lindh was captured in Afghanistan in 2001 fighting against the United States alongside members of al-Qaida and the Taliban. He was sentenced to 20 years in prison under special administrative measures, including solitary confinement, for his treasonous crimes.
He sued the U.S. Bureau of Prisons in 2010 for the right to gather openly five times a day with other Muslim inmates in the maximum security prison at Terre Haute, Ind. In 2013, U.S. District Court Judge Jane Magnus-Stinson ruled in his favor.
Another question surrounding Choudary's sentence involves rehabilitation. What efforts should be afforded to inmates prior to their release to lower the risk of recidivism? Does the U.K. have an effective or successful de-radicalization program designed specifically to address Islamic radicalization? Recent attacks in Paris and Brussels by radicalized ex-cons show whatever officials have now isn't working. We know that the United States does not have any program aimed at de-radicalizing inmates.
Our latest endeavor in dealing with incarcerated Islamic terrorists has been to send 15 of them from Guantanamo Bay to the United Arab Emirates.
Hopefully the United Kingdom would not seriously consider sending Anjem Choudary to such a country for any type of alternative to prison supervision.
Sadly it seems that what will probably happen is that another fox will be let loose in the hen house. And nobody wins with that except the fox.
IPT Senior Fellow Patrick Dunleavy is the former Deputy Inspector General for New York State Department of Corrections and author of The Fertile Soil of Jihad. He currently teaches a class on terrorism for the United States Military Special Operations School.