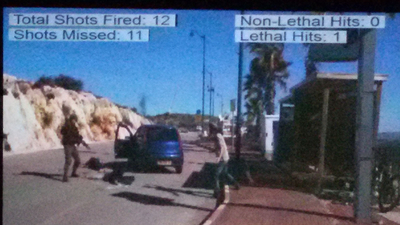 Have you ever wondered how it feels to suddenly find yourself in the midst of a terror attack, and how you would react? It's everyone's worst nightmare, but for a growing number of people in Israel over the 5 ½ months since the latest Palestinian uprising began, it has been a shocking reality.
Since September 13th, 32 Israelis and one Palestinian have been murdered, most by Palestinian attackers. Israel's Ministry of Foreign Affairs counts "195 stabbings and attempted stabbing attacks, 79 shootings, and 40 vehicular attacks" involving the ramming of pedestrians. The attacks continue and the figures are updated almost daily.
More than 170 Palestinians reportedly have been killed by Israeli security forces or armed Israeli civilians during the same period, most during or in the aftermath of a terror attack; the remainder in clashes at violent demonstrations.
Apologists for the terrorists cite a perceived lack of hope and opportunities for Palestinian youth, but a 17-year-old attacker killed by Israeli security forces on Friday held a U.S. passport. This attempted attack provided yet another apparent example of the deep-seated, institutional indoctrination of young Palestinians considered to be a major part in their decision to attack Israelis. Urged on by Palestinian state media that routinely glorifies attackers, and lauded by Palestinian Authority President Mahmoud Abbas, who recently told the families of 11 terrorists "Your sons are martyrs," the violence shows no sign of ending.
In October, Jerusalem Mayor Nir Barkat told citizens with licensed firearms to carry them at all times as a response to the random killings. Last week, following the stabbing to death of unarmed 21-year-old off-duty soldier Sgt. Tuvia Weissman in a West Bank supermarket, Israel Defense Forces (IDF) Chief, Lt. Gen. Gadi Eisenkot reversed a previous directive and instructed all off-duty soldiers and those traveling home on leave to carry their weapons with them.
But even if a soldier has his weapon, how well equipped is he to react to a sudden attack in the midst of chaotic scenes?
I was invited recently to an IDF base in the south of the country to see new cutting edge technology, including tank and armored personnel carrier simulators. In view of current events though, it was the hi-tech simulators recreating potential terror scenarios that were of particular interest.
"Some come to us for three or four-day courses, others come for longer periods," the lieutenant in charge of training said. "The courses are tremendously helpful to new soldiers and those who have trained before and need to keep their shooting skills up-to date. We use a wide variety of weapons including the M4 and Micro Tavor rifles. People develop their skills for many different units within the army. This new technology brings you as close to real situations as it is possible to get."
A simulated shooting range recreates both urban warfare and battlefield conditions. Even crosswinds are added to train as realistically as possible. Computer graphics show where each bullet went. Alongside the instructor's guidance, it highlights when a soldier is aiming too high or too low, if his stance is wrong, or even using his elbows incorrectly when in a prone position, for example. After the range, the soldiers move on to the terror attack simulator. I was invited to try it out alongside the lieutenant. I was somewhat skeptical that it would come close to recreating the feeling of a real, unprovoked attack.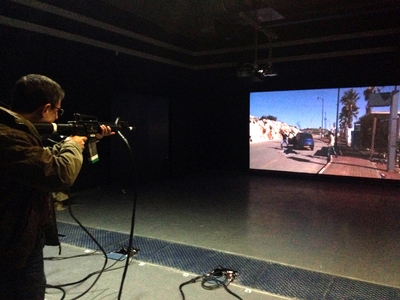 Photos courtesy of the IDF
Facing a cinema-style screen, I am a soldier waiting at a bus stop where something may or may not happen. The images are filmed on location and are uncannily realistic. A man walks towards me on screen and asks if I have a cigarette. I felt like answering him. People are waiting close by for the bus. A car approaches at speed, but it's just dropping someone off. I'm prepared for the worst but he goes peacefully on his way. Then another car pulls up and, without warning, a man wielding a large knife suddenly charges in our direction after stabbing a passer-by. Even though I know this is not real, I feel a surge of panic, take aim and fire a series of shots. Unarmed civilians are close by.
The attacker soon falls to the ground. If he hadn't been hit, I am told, he would have stabbed again. My heart is pounding. For me, unexpectedly, the simulator vividly brought back to mind a real attack I endured 17 years earlier. It went quite a long way toward recreating the utter shock and split-second decision-making that can be the difference between life and death when confronted with someone intent on ending your life.
The simulator's computer system recorded all that happened. 12 shots were fired; 11 missed. There were no non-lethal hits, but there was one lethal hit, and that was the one that killed the terrorist in this instance. Clearly, I'm no sharp shooter. Trained soldiers would react faster and with more accuracy, particularly after undergoing training.
The instructors note that no figures are available showing how much this new, enhanced training has helped soldiers during real attacks, but anecdotal evidence suggests it is making a difference. However, the wholly unpredictable nature of people's reactions to a sudden attack was tragically demonstrated in an almost copycat real-life tragedy that uncannily occurred just 48 hours later.
The Jerusalem Post, February 24, reported as follows:
"Capt. (res.) Eliav Gelman, 30, was killed by 'friendly fire' in the midst of a stabbing attack at the Gush Etzion junction in the West Bank on Wednesday afternoon. Soldiers from an IDF unit securing the junction saw a Palestinian armed with a knife charging at Gelman, an IDF spokeswoman said. They fired at the assailant, striking both him and Gelman... Gelman died from a gunshot wound to the chest. The terrorist [26-year-old Mamdouh Tousef Amru, a Palestinian from the Hebron area] is in moderate condition."
Through the use of the latest technology, efforts are being made to minimize "friendly fire" incidents, but as unpredictable terror attacks continue to occur anytime, anywhere, there can never be a cast-iron guarantee that innocent bystanders will not be caught in the crossfire.
Paul Alster is an Israel-based journalist. Follow him on Twitter @paul_alster and visit his website: www.paulalster.com.