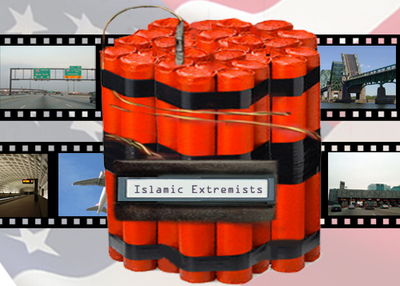 Foreigners, including refugees, have no basic or universal right to enter the United States; that entry is granted as a privilege. In today's complex and dangerous environment, and in light of the growing worldwide terror threat, entry into this country is a matter of national security.
In a new white paper, the Investigative Project on Terrorism examines gaps in the immigration system which could allow terrorists to enter the United States as refugees, to apply for asylum once in the U.S., or to simply enter as passport holders from the 38 countries in the Visa Waiver Program.
The U.S. House is expected to vote this week on legislation to tighten the Visa Waiver Program's conditions, but the white paper makes it clear that such action is one small step in a long journey toward buttressing the system against abuse by terrorists.
Weaknesses in the system include the general tendency to give refugees and asylum seekers the benefit of the doubt in their accounts of their plight and background; the excessive speed with which Lawful Permanent Resident status is granted to asylees and refugees; the problems that arise from the fact that many refugees cannot provide documentation of their actual birth dates; inconsistency in the vetting process; inadequacies of the various application forms; and more. Congress needs to address these problems immediately – before the system is overloaded to the breaking point.
Among the paper's recommendations:
The Department of Homeland Security should seek access to the watch list of countries in the Visa Waiver Program (VWP), as well as access to their criminal records and fingerprint databases. VWP countries which do not keep electronic records of arrests of their citizens or lack electronically searchable fingerprint databases should be encouraged to develop such a program as a condition of continued enrollment.

The United States should increase its use of the information sharing and fingerprint exchange along with our allies in the Five Country Conference, a consortium of immigration agencies in the United Kingdom, Canada, Australia and New Zealand. Similar electronic fingerprint efforts should seek access to fingerprints with EUROPOL, and used for voting in places like Yemen, and for United Nations programs in Malawi, Chad, Thailand, and all refugee camps in the future.

Ask the United Nations to explain its "benefit of the doubt" policy and further explore Citizenship and Immigration Services' high approval and low denial rates for immigration benefits. Congress has stated that a "rubber stamp" culture exists at CIS, which seems to be corroborated by statistics.

Extend the statute of limitations for lying on visa waiver, refugee, and asylum applications from five years to 10. The existing statute provides a relatively brief window in which to catch someone. Having the ability to prosecute someone within 10 years would be a valuable tool for rooting out people who may turn to terror after establishing a life in the United States. There is already a 10-year precedent for similar immigration related crimes including passport and naturalization fraud.

To combat the problem of stolen passports, which terrorists have used in numerous plots, VWP countries that fail to report passport thefts or other irregularities should immediately be suspended.
President Obama has consistently downplayed the terror risks involved in the refugee crisis. Speaking shortly after the Paris terror attacks led to widespread reluctance to admit these refugees into the U.S., Obama admonished his critics: "We are not well served when, in response to a terrorist attack, we descend into fear and panic. We don't make good decisions if it's based on hysteria or an exaggeration of risks."
It is highly doubtful, however, that critics of Obama's plan really are exaggerating the risks, since there are multiple cases of individuals coming to the U.S. as refugees only to get involved in terrorist activity later. In addition, the U.S. refugee system already is overtaxed and could be overloaded to the point of breakdown with the new refugee influx. Moreover, it is not just America's refugee program that is vulnerable: virtually every aspect of our apparatus for immigration, particularly our systems for granting asylum and refugee status, including the Visa Waiver Program, is broken and on the verge of collapse.
Terrorists are taking advantage of three potential points of entry into the U.S.: the Visa Waiver Program, the system for admitting refugees, and the system for granting asylum.
The Visa Waiver Program (VWP) enables citizens of 38 designated countries to travel visa-free to the United States for up to 90 days. More than 21 million people entered the U.S. from VWP countries in 2013.
The VWP gives travelers the privilege of bypassing the State Department's visa screening process and presenting themselves to U.S. border officials at any port of entry without a background check conducted overseas.
Terrorists have frequently exploited the VWP to gain entry into the U.S. Zacarias Moussaoui, a French citizen of Moroccan descent, entered the U.S. under the VWP on February 23, 2001. Moussaoui flew from London to Chicago and then on to Oklahoma City, where he attended flight school. Moussaoui was arrested by the INS in Minneapolis on August 16, 2001 as a visa waiver overstay. He was subsequently tried and convicted of conspiring to kill Americans as part of the terrorist attacks of September 11, 2001. Moussaoui will spend the rest of his life in jail.
The European Union (EU) Terrorism Situation and Trend Report of 2007 stated that several Islamic terrorist suspects were arrested in VWP countries in 2006: one was arrested in Belgium, nine in Denmark, 139 in France, eleven in Germany, 34 in Italy, 51 in Spain, three in Slovakia; and three in Sweden.
Meanwhile, the United States admitted 588,364 refugees between 2004-13, an average of 58,836 per year. As of August 2014, the State Department had 2,500 Syrian referrals for the refugee program and anticipated similar numbers in 2016. The administration now wants 10,000 Syrian refugees resettled in America. That is a 277-fold increase over the 2013 total (when only 36 were admitted into the country).
Terrorists have exploited the refugee and asylum process as well. The mastermind of the 1993 terror bombing of the World Trade Center, blind sheikh Omar Abdel Rahman, and two other terrorists involved in that attack sought asylum in the U.S. Many other terrorists have also taken advantage of the weakness of the refugee and asylum system. Boston Marathon bombers Tamerlan and Dzhokhar Tsarnaev came to the United States as children and received asylum through their parents. A set of Albanian brothers of Macedonian origin involved in the foiled plot against soldiers at Fort Dix in New Jersey were from a refugee family who came to the U.S. illegally as minor children with their parents.
America's asylum and refugee system needs major repair. It needs a massive top-to-bottom overhaul, including a thoroughgoing reevaluation of the institutional culture and attitudes that prevail among officials who are charged with admitting refugees and asylees into the United States. As Barack Obama prepares to overload an already seriously dysfunctional system to the point of almost certain collapse, the reform and repair of this system is an urgent national security issue.
Absent that, the various agency leaders, administration officials, and politicians of both parties who failed to act should be held accountable for any terror attacks from refugees and asylees admitted into the United States under the purview of this severely damaged system.
Read the white paper in its entirety here.