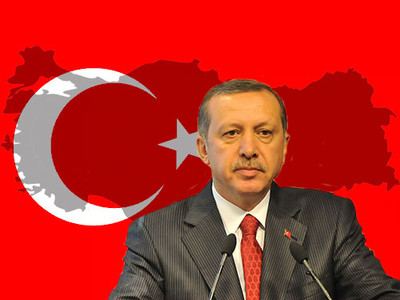 First, he promised to build a new, "religious generation." Now, Turkey's President Recep Tayyip Erdogan appears to be going one step further: creating, too, a new generation for jihad.
If that sounds a bit like the Islamic State, there is one significant distinction: IS leaders shape their youth by teaching them to use Kalashnikovs and knives. Erdogan is shaping children's minds. And that can be far more dangerous.
This is not to say that Erdogan is himself a terrorist leader, despite his cozy relationships with Hamas and the Muslim Brotherhood. And perhaps has has never realized the full gravity of his programs. But is there, leaving many in Turkey's Western, secular, intellectual elite to worry about their children's future.
Throughout his leadership, beginning with his election to prime minister in 2003, Erdogan has restructured the formerly-secular education system overseeing the growth of imam hatip, or religious training schools, throughout the country. According to the Financial Times, such schools boasted 63,000 students in 2002-2003; by 2014, the number of imam hatip students had exploded to 983,000.
What makes this particularly disturbing is the fact that tens, if not hundreds of thousands of these students never signed up for imam hatips to begin with. Rather, Erdogan systematically reshaped existing secular public schools and redesigned the student examination system so that thousands of children are assigned to imam hatips even against their will.
But he hasn't stopped there. As of a year ago, all public schools also provide mandatory "religious culture and ethics" courses beginning at age nine. Yet despite a 2007 European Court of Human Rights ruling requiring education in all religions, human rights lawyer and columnist Orhan Kemal Cengiz writes in Al-Monitor, "Sunni Islam continues to be imposed, with students required to memorize Islamic prayers and Quranic verses."
Now Turkey's first democratically-elected president has, through his education minister, expanded such "morality" classes to begin in nursery school, where six-year-olds will receive such lessons as "patience protects young people's chastity in environments full of illegitimate desires." Children throughout the Republic, according to newspaper Milliyet, will also learn that "death is a blessing according to our faith. It means salvations from the heavy burden of living."
Can calls for martyrdom be far behind?
Moreover, the "morality" and "values" lessons being taught to many of Turkey's youth are being given by teachers whose religious and political leanings heavily tint their "moral" views. At Istanbul's 500-year-old Galatasaray academy, a student's mother told me, one teacher taught her class that green is the color both of inner peace and of Islam. But be careful, the teacher said. Starbucks' logo is also green, yet she would never buy her coffee from them: "the owners of Starbucks are Jews, and the Jews are killing our Muslim brothers." A Jewish girl in the class remained silent; but when her mother complained to the school's director, he did nothing.
And so goes "morality" for the future of the Turkish people.
These latest moves follow another, significant effort: requiring schools to teach the Ottoman language and alphabet, both of which were banned by Mustafa Kemal Ataturk in 1928, five years after the founding of the Republic.
This, as Al Jazeera recently pointed out, is no small matter. Ataturk banned Ottoman as a language, including its written form – which melded Arabic and Farsi script –as a critical part of his program to turn the country Westward: modern Turkish uses a Western, Latin alphabet and incorporates words from English and German. Few contemporary Turks can read Ottoman, and even fewer understand Arabic or Farsi.
But a culture rests profoundly on its language. Stanford University psychology professor Lera Boroditsky has found that "if you change how people talk, that changes how they think. If people learn another language, they inadvertently also learn a new way of looking at the world ... All this new research shows us that the languages we speak not only reflect or express our thoughts, but also shape the very thoughts we wish to express. The structures that exist in our languages profoundly shape how we construct reality."
By reintroducing Ottoman as a language, especially alongside religious educational systems, Erdogan is returning his country to its Ottoman, Islamic past both in knowledge and in thought – and away from the modern secular state that has long been a partner and ally of the West. And in his oft-underestimated shrewdness, he is using the minds of Turkey's youngest to lead the way: those six-year-olds now learning to honor death and memorize the Quran and identify with the glory of the Ottomans will, in 12 years, enter the nation's military.
Which seems to be just what Erdogan has had in mind all along. Writing in World Affairs Journal in 2013, Hillel Fradkin and Lewis Libby pointed to a little-noticed remark then-Prime Minister Erdogan made to his congress, in which he called on the country's youth to look beyond the 100th anniversary of the Republic in 2023 and to prepare for the year 2071. "This is a date that is unlikely to be meaningful for Westerners," Fradkin and Libby observe, "but is evocative for many Turks. 2071 will mark one thousand years since the Battle of Manzikert. There, the Seljuk Turks—a tribe originally from Central Asia—decisively defeated the leading Christian power of that era, the Byzantine Empire, and thereby stunned the medieval world. At the battle's end, the Seljuk leader stepped on the Christian emperor's throat to mark Christendom's humiliation. The Seljuk victory began a string of events that allowed the Seljuk Turks to capture the lands of modern Turkey and create an empire that would stretch across much of Palestine, Iraq, Syria, and Iran.
In evoking Manzikert, Erdogan recalled for today's Turks the glories of their aggressive warrior ancestors who had set out to conquer non-Muslim lands and, along the way, fought off the hated Shias of their day to dominate much of the Middle East."
Less than two years later, with ISIS building its caliphate-by-blood just across the border, the shaping of the new Erdogan generation looks more threatening than ever.
Abigail R. Esman, the author, most recently, of Radical State: How Jihad Is Winning Over Democracy in the West (Praeger, 2010), is a freelance writer based in New York and the Netherlands.