State Department officials met with leaders of the Hamas-linked Council on American Islamic Relations (CAIR) to discuss the group's inclusion on list of terror groups issued by the United Arab Emirates (UAE), a CAIR news release issued Monday said.
The UAE listed CAIR and the Muslim American Society (MAS) among 80 Islamist groups worldwide it linked to terror last month. The State Department questioned the designation, saying it wanted "more information from the Emirati authorities" justifying the designation, with a spokesman adding that "the U.S. does not consider them to be terrorist organizations."
According to CAIR's news release, the State Department renewed its pledge to try to get the two Islamist groups removed from the UAE terror list.
It's an example of one branch of government treating CAIR as an innocent, legitimate organization while law enforcement, backed by investigative material, takes a more skeptical view. The FBI broke off official contact with CAIR in 2008 after records seized during a terror-financing investigation placed CAIR in a network of U.S.-based organizations supporting Hamas.
Government evidence in the prosecution against the Texas-based Holy Land Foundation creates "at least a prima facie (face value) case as to CAIR's involvement in a conspiracy to support Hamas," wrote U.S. District Court Judge Jorge Solis.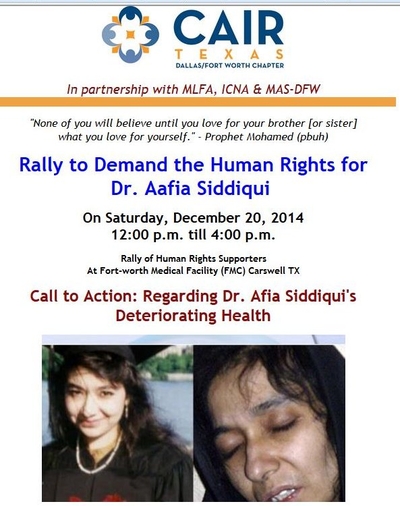 Meanwhile, at the same time it fights a Muslim nation's terrorist designation, CAIR officials continue to go to bat for convicted terrorists and their enablers. Officials from CAIR's Dallas office helped organize a protest last Saturday lamenting convicted Al-Qaida operative Aafia Siddiqui's conditions . CAIR was joined by MAS and the Islamic Circle of North America to stand up for Siddiqui, also known as "lady al-Qaida."
Shortly after her conviction for trying to kill two FBI agents, al-Qaida leader Ayman al-Zawahiri vowed to exact vengeance on her captives. Last summer, Islamic State terrorists mentioned her as part of a proposed prisoner exchange to spare the life of American journalist James Foley, who later was beheaded.
MAS, meanwhile, has its own lengthy record of defending accused terrorists and terror supporters. It was formed as the Muslim Brotherhood's overt arm in the United States. Co-founder Abdurrahman Alamoudi, who pleaded guilty in 2004 to engaging in illegal transactions with Libya and facilitating a Libyan plot to assassinate then-Saudi Crown Prince Abdullah, testified in 2012 that MAS's connection with the Brotherhood cannot be disputed.
UAE officials have been adverse to the Brotherhood at least since 2013 when they accused the Islamist group of attempting to subvert its national security.
The State Department ignores this, and grants undeserved credibility to deceptive organizations like CAIR and MAS, when it agrees to challenge the UAE designations.